Thousands of Haitians immigrants to be released for lack of detention space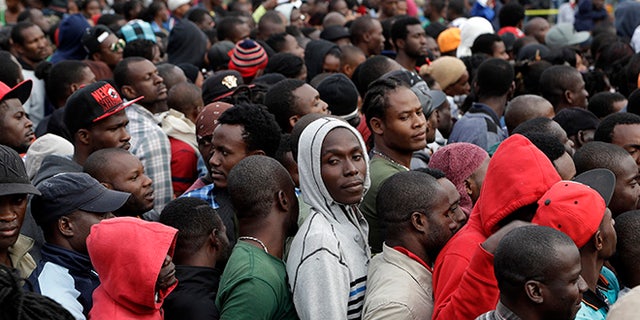 Federal officials say they are releasing Haitian immigrants who have been entering the country by the thousands since last year, backtracking on a pledge to jail them before they are deported.
A U.S. government official told The Associated Press that the decision to free Haitians arriving in Arizona and California is in response to a lack of jail space.
Between October of 2015 and late September, about 5,000 Haitians have arrived at San Diego's San Ysidro port of entry, overwhelming border inspectors. Another 40,000 are on their way, officials have said.
They arrive at the U.S. border with Mexico, many after traveling 7,000 miles by foot, taxi and bus from Brazil through eight nations.
The decision to release Haitians will likely add to the growing backlog of more than half-a-million cases already pending in immigration court. That backlog has effectively meant that immigrants routinely wait years for a judge to decide if they should be kicked out of the country.
The official said releasing immigrants with orders to report later to immigration court is a tactic used when detention space is scarce, under certain humanitarian conditions or as part of efforts to keep families together.
Before the Haitians are released, they will be subjected to a criminal background and national security check. The official was not authorized to discuss the matter publicly and insisted on speaking on condition of anonymity.
The Department of Homeland Security last week said there were about 41,000 people in immigration detention facilities, compared to a typical population of 31,000 to 34,000.
It was unclear how many Haitians have been released since the change, although ICE says it has deported 203 Haitians to their home country and that about 4,400 remain detained.
The influx of migrants and lack of jail space on the border will be one of the most immediate immigration challenges for Trump.
Among the issues Trump will face is growing opposition to conditions at Border Patrol holding cells and ICE detention centers.
For example, the Border Patrol in Arizona faces a lawsuit from immigrants who say its holding cells are overcrowded, dirty and extremely cold. A federal judge in Tucson on Tuesday said he was inclined to direct the Border Patrol to improve sleeping conditions, although he hasn't issued a directive yet.
Immigrants who enter through Texas also report that Border Patrol holding facilities – known as "hieleras" – the Spanish word for "freezers," are difficult to sleep in. CBP has said it is "committed to the safety, security and welfare of those in our custody, especially those who are most vulnerable."
Includes reporting by the Associated Press.