An Op-Ed writer for The Nation was forcibly removed from a press conference with President Trump and Russian leader Vladimir Putin on Monday after holding up a sign that read "Nuclear Weapon Ban Treaty."
Sam Husseini, the communications director at the Institute for Public Accuracy in Washington D.C., and an opinion writer at the liberal magazine The Nation, was physically taken from the room by Finnish security shortly before the two world leaders entered to begin their press conference at the Presidential Palace in Helsinki.
"Sam Husseini, communications director of the Institute for Public Accuracy, received press accreditation from The Nation to cover the summit between President Donald Trump and Russian President Vladimir Putin in Helsinki," Caitlin Graf, the vice president for communications at the Nation, said in a statement sent to Fox News. "At a time when this administration consistently denigrates the media, we're troubled by reports that he was forcibly removed from the press conference before the two leaders began to take questions. This is a developing situation that we will be following closely."
The press conference followed a more than 2 hour-long meeting between Trump and Putin and just three days after the U.S. Justice Department charged 12 Russian government officials with interfering in the 2016 U.S. presidential election.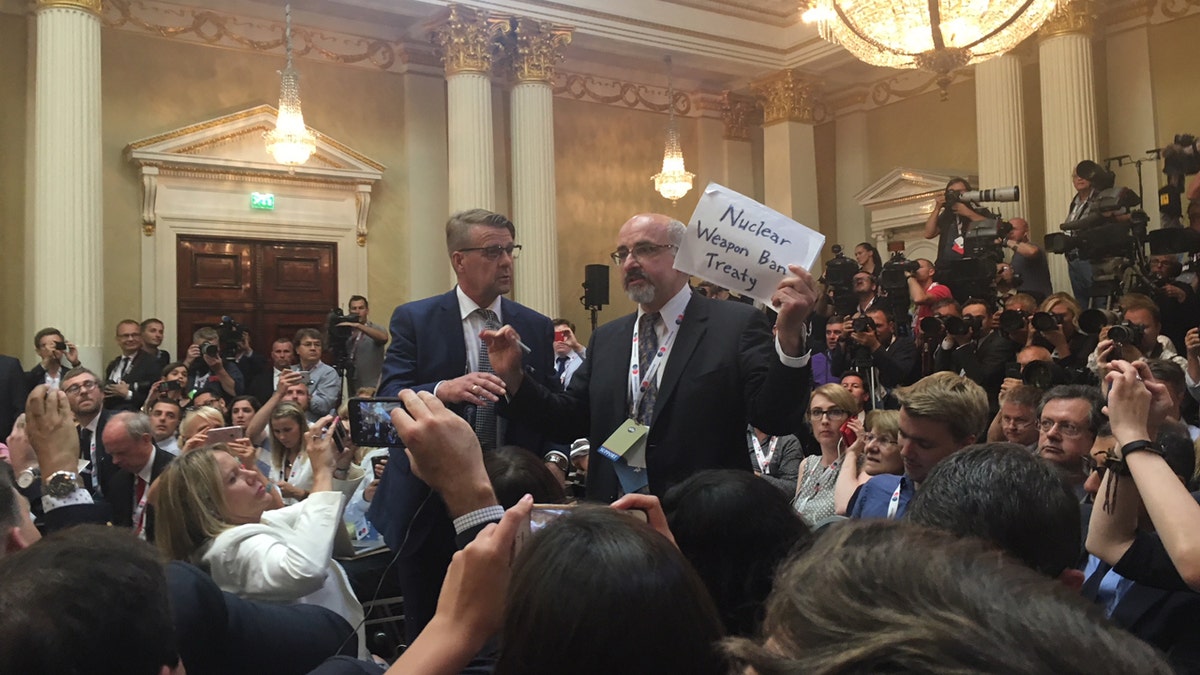 Putin said the "so-called Russian interference" in the U.S. 2016 presidential election was brought up by President Trump during their summit in Helsinki.
Speaking at the joint news conference, Putin said: "I had to repeat that the Russian state never interfered, and does not plan to interfere, in internal American electoral process."
Serafin Gomez contributed reporting to this piece.