The most diverse Congress ever is sworn in and gets to work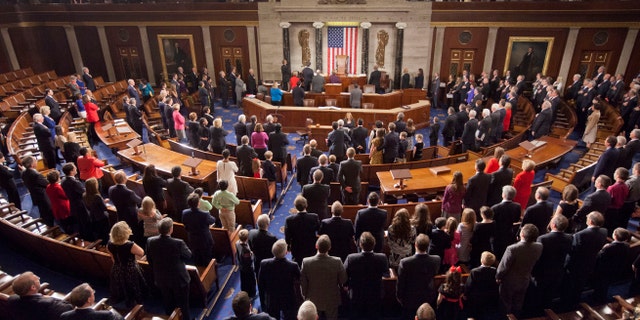 NEWYou can now listen to Fox News articles!
For the first time in eight years, Republicans took control Tuesday of both chambers of Congress, which is the most diverse ever.
The 114th Congress, which counts more minorities and women than any before it, convened at noon, as required by the Constitution.
On the Senate floor, newcomers mixed with veterans as, with Vice President Joe Biden presiding, Mitch McConnell of Kentucky was automatically ascended to majority leader following the approval of rank-and-file Republicans last year.
Across the Capitol in the House, a similar scene unfolded as familiar faces and new ones crowded the aisles and lawmakers of both parties recited the Pledge of Allegiance. But in the House, there was an element of slight suspense as Speaker John Boehner of Ohio faced a tea party-backed effort to unseat him, though it looked certain to fall short.
A record 104 women are serving in Congress, and for the first time, African-American members of both genders and representing both parties are among the ranks on Capitol Hill. There are 37 Latinos serving, 34 in the House and three in the Senate.
The number of female lawmakers is up slightly from 100 at the close of the last Congress, but represents about 20 percent of the total in Congress. It's far less than the nearly 51 percent of the U.S. population.
The incoming classes bring close to 100 black, Hispanic and Asian lawmakers. The newcomers include the youngest woman elected to Congress, 30-year-old Elise Stefanik of New York, and the first black Republican woman, Mia Love of Utah.
As the new members prepared to arrive on Capitol Hill, several said they brought hopes of curbing the often partisan atmosphere in Washington, showing the public that they really can govern and, just maybe, getting Congress' approval rating back up past 20 percent.
"This election was not an endorsement of either party, it was a condemnation of, yes, the president's policies, but also of government dysfunction," said GOP Rep.-elect Carlos Curbelo, who defeated a Democratic incumbent in Florida. "I hope we can be different. ... I hope we focus on getting things done."
There are 100 senators and 435 seats in the House.
The House will have 246 Republicans and 188 Democrats. One seat is vacant following the resignation on Monday of Rep. Michael Grimm, R-N.Y., who pleaded guilty to a felony tax evasion charge.
The Senate will have 54 Republicans and 44 Democrats, plus two independents — Maine's Angus King and Vermont's Bernie Sanders. Both caucus with Democrats.
Seeking unity despite the internal party dissension, the GOP moved swiftly toward a veto showdown with President Barack Obama over the long-stalled Keystone XL pipeline, a taste of things to come in divided government.
Other fights between Congress and the president are expected to include Obama's normalization of relations between the United States and Cuba, and his executive order on immigration.
At the White House, Obama planned to meet with the new congressional leadership next week as both sides positioned themselves for two years of clashes and, perhaps, occasional cooperation that will help shape the outcomes of the 2016 presidential and congressional elections.
McConnell replaces Democrat Harry Reid of Nevada, who was a surprise no-show from the day's proceedings after he injured himself exercising.
Reid, who broke several ribs and bones in his face when a piece of equipment snapped last week, said his doctor had ordered him to work from home Tuesday. A photo Reid posted to Twitter showed him with his right eye taped over as he met with lawmakers.
Newcomers and veterans alike were to raise their hands to swear the oath of office, many with spouses, children and grandchildren looking on to witness the biennial display of pageantry. The spectacle drew political veterans back to the Capitol as former Vice President Walter Mondale, a Democrat, and former Senate Majority Leader Bill Frist, a Republican, mixed with lawmakers on the Senate floor.
McConnell and Boehner both were to deliver remarks as they began laying down markers for legislative battles ahead.
GOP lawmakers in the House and Senate remain overwhelmingly white and male, but some of the new Republican arrivals break that mold.
In addition to Stefanik and Curbelo, who is Hispanic, the GOP now claims two black House members, Love and Will Hurd of Texas. There is also one black senator, 10 Hispanic House members and two Hispanic senators. There are 22 Republican women in the House and six in the Senate.
The newcomers could add diversity of ideas to the Republican conference. Curbelo said he would push House GOP leaders to support immigration overhaul legislation, something the party has resisted.
"Of course as a freshman our influence is limited but we can work within our class, our freshman class to build support," Curbelo said.
Based on reporting by The Associated Press.
Follow us on twitter.com/foxnewslatino
Like us at facebook.com/foxnewslatino