The house that haunts Rubio: Presidential hopeful can't unload nightmare home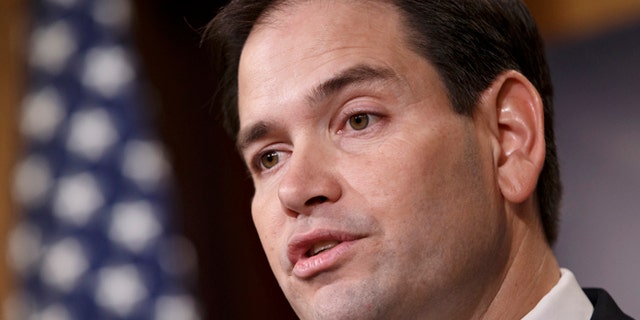 NEWYou can now listen to Fox News articles!
Homeownership woes do not spare the powerful, even men who would be president.
In Florida, that would be Sen. Marco Rubio.
Rubio is co-owner of a Tallahassee home in which he paid $135,000 10 years ago with now-former U.S. Rep. David Rivera, a friend and – more important to many – the target of a federal campaign finance investigation.
The 1,228-square-foot home, which has a brick façade, went into foreclosure in 2010, when Rubio ran for the U.S. Senate, according to Politico.
In recent days, Rubio and Rivera, who bought the home when the two were state legislators and spending a lot of time in the state capital, have put the house up for sale – again – for $125,000.
It's been on the market before, Politico said, but has failed to sell. It didn't help matters any that some years ago a tropical storm flooded the entire neighborhood, forcing people to use canoes to move around.
Some believe Rubio is making the new effort to unload the toxic home – and tangible tokens of his friendship and business partnerships with the beleaguered Rivera – as he prepares for a possible presidential run.
"Marco wants little to do with David, and you can't blame him — who would want that guy by their side as they're running for president?" Politico quoted Rivera's former girlfriend Ana Alliegro, who pleaded guilty to campaign-finance violations and perjury involving Rivera.
Reportedly because the mortgage on the Rubio-Rivera home went unpaid for five months, Deutsche Bank began foreclosure proceedings, Politico said. Rubio and Rivera said the mortgage problem stemmed from a dispute with Deutsche over the nature of the mortgage, which was interest-only.
The foreclosure dogged Rubio's senatorial campaign, as well as Rivera's congressional run. Rivera paid nearly $10,000 to resolve the mortgage arrears, Politico said.
"There is no foreclosure," Rivera then announced to reporters. "The mortgage is paid and up to date."
Politico noted that Rubio was incensed over the foreclosure and mortgage mess, and insisted on handling the monthly payments from that point. Both men also rented the house out to a single mother who lived in it until recently, Politico said.
The tenant gave a written statement to Politico that said Rubio and his wife were "extraordinary landlords" and "have been very gracious and understanding of my circumstances."
A friend who was unnamed was quoted in Politico as saying: "The reality is Marco wants to sell this house because it's horrible. It's been nothing but trouble for him. There was the foreclosure. There was a flood that made it tough to get to without a canoe at one point. And there's David. Marco won't turn his back on David. But we all wish he would."
Political observers say the house could come back to haunt Rubio.
"This will be an issue," said Craig Smith, an adviser for the Ready for Hillary super PAC, according to Politico. "When you run for president, voters and the press have an insatiable appetite for people's histories, what they've done, who they are. … It raises questions about his judgment, about the kind of people he would bring with him into government, into a campaign."
Like us on Facebook