The Edge: Trump gets 25 times more media mentions than GOP field combined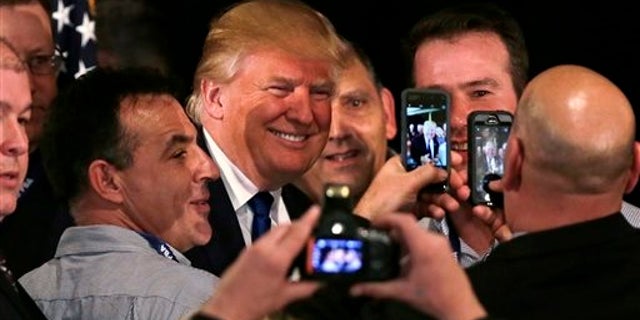 NEWYou can now listen to Fox News articles!
**Want FOX News First in your inbox every day? Sign up here.**
Buzz Cut:
• The Edge: Trump gets 25 times more media mentions than GOP field combined
• Trump tries to pick a fight with Cruz
• Rubio, Cotton, Ernst team up on NSA
• Power Play: Terror means trouble for Hillary
• You expected Bibi to have a lap dog?

THE EDGE: TRUMP GETS 25 TIMES MORE MEDIA MENTIONS THAN GOP FIELD COMBINED
Just how much is the news media shaping the GOP primary race? In the past three days, Donald Trump's name has been mentioned 25 times more than the rest of the Republican field combined.
The data gurus at The New Analytics Company measure "scrub" television, radio, print, internet and social media for mentions of the 2016 candidates to produce scores for each candidate that we bring you each week in The Edge.
But given this week's absolute media meltdown over Donald Trump's plan to refuse entry to the United States any Muslim from any country, there's really no comparison.
So here's a slightly different, ahem, angle on The Edge: On Monday, the day before he proposed the religious test for entry, there were 19,355 unique mentions of Trump across all media in the U.S. Way more than his rivals, but within a measurable range.
His average for the Tuesday, Wednesday and Thursday was 64,638 mentions, a 234 percent increase in the size of his already huge media footprint. The combined score of every other candidate combined added up to the paltry average of 2,566 mentions over the same time.
We've always known that Trump's skill at creating and exploiting media hysteria gave him an advantage over his rivals. Now we know how big that advantage is: about 62,000 more mentions than everyone else put together.
[Ed. Note: While I'm quite flattered by Charles Krauthammer's kind mention of my bacon sandwich test for domestic entry, I must take issue with the name for it he coined. I was saving "The Stirewalt Solution" for my character on "The Jersey Shore." Back to the drawing board…]
AEHQ In Depth: The Trump Effect - Howard Kurtz analyzes the new level reached in the Trump media coverage imbalance over the Muslim ban. The other candidates are voicing their frustration, and resulting in an uneven playing field far beyond what any previous front-runner has enjoyed. Tune in tonight on "Special Report with Bret Baier" at 6pm.
[#mediabuzz - Watch Howie go even deeper on Trump on "#mediabuzz" Sunday at 11 a.m. ET, with a second airing at 5 p.m.]
Fox News Sunday: Trump, Round Two - Mr. Sunday sits down with Donald Trump for a second time this cycle. Watch "Fox News Sunday with Chris Wallace" at 2 p.m. and 6 p.m. ET on the Fox News Channel. Check local listings for broadcast times in your area.
Power Play: Does Trump have enough leverage to seal the deal? - Donald Trump may be making waves in the current cycle, but he's been a consistent frontrunner with a stable share of the vote. Is that core support broad enough bring him the Republican nomination? Republican Emily Jashinsky and Democrat Holly Shulman dig into the details with Chris Stirewalt. WATCH HERE.
[Trump got a bump in a New Hampshire poll from a Boston NPR affiliate after news of his proposed Muslim travel ban. The poll also has big ups for New Jersey Gov. Chris Christie, too.]
TRUMP TRIES TO PICK A FIGHT WITH CRUZ
On Twitter today, Trump went after Ted Cruz after the Texas senator knocked the Republican frontrunner at a private fundraiser late last week. Cruz said, "People run as who they are. I believe gravity will bring both of those campaigns down," referring to both Trump and Ben Carson's campaign. Although Cruz has refused to publicly knock Trump his private statements indicate a coming change in that stance. For Trump's part, he has already said that he's ready to "go to war" with Cruz if necessary.
Cruz responds to Rubio -Appearing on "The Kelly File," Sen. Ted Cruz defended his efforts to curtail domestic electronic surveillance against criticism from Sen. Marco Rubio. "These attack ads suggest that I and Mike Lee and Tim Scott and the National Rifle Association and somehow conservatives in the house and senate are responsible for the Paris terrorist attack. It is silly." Watch here.
Drucker: Rubio early state ground game impresses - WashEx's David Drucker spoke with operatives in the three early states – Iowa, New Hampshire, and South Carolina – who say Sen. Marco Rubio's ground game is on point.
Rubio, Cotton, Ernst team up on NSA - Sens. Marco Rubio, Tom Cotton, R-Ark., Joni Ernst, R-Iowa, teamed up to write an op-ed on the importance of keeping the meta-data collected by the NSA in face of Obama's plans to end the collection and keeping of such data.
[Rep. Darrell Issa, R-Calif., makes his case for Sen. Marco Rubio in a new op-ed at Fox News Opinion. Another member of Congress, Rep. Scott Rigell, R-Va., signed on with Rubio today, as well.]
Huckabee's leads day of prayer - Former Gov. Mike Huckabee hosts a day of prayer today for those in the San Bernardino attacks, and as a message to those who mocked the idea of prayer in wake of the terrorist attack.
WITH YOUR SECOND CUP OF COFFEE…
While many know Pope Leo X as either the pope who brought the Renaissance to the Church, or the pope who didn't take the criticisms of German priest Martin Luther seriously, those of the Jewish faith know him as the pope who fostered a tolerance of their religion where they were previously outcasts. Pope Leo X, born this day in 1475 as Giovanni de' Medici, refused to burn the Talmud – the central text of Rabbinic Judaism – as other Christian rulers had done before him. Instead he had the entire text printed without censor. Leo also ended the required badge for Jewish people to wear in France and did not enforce such a policy in Italy. Some believe his refusal to impose harsh censorship on Jewish people was a result of the turmoil he saw his own faith going through in the Protestant Reformation.
Got a TIP from the RIGHT or the LEFT? Email FoxNewsFirst@FOXNEWS.COM
POLL CHECK
Real Clear Politics Averages
Obama Job Approval: Approve – 43.9 percent//Disapprove – 52.0 percent
Directions of Country: Right Direction – 24.5 percent//Wrong Track – 67.3 percent
POWER PLAY: TERROR MEANS TROUBLE FOR HILLARY
Foreign policy was supposed to be a strong suit for Hillary Clinton, but current concerns over terrorism may make it a liability. Chris Stirewalt discusses the ramifications for the former secretary of state with Democrat Holly Shulman and Republican Emily Jashinsky. WATCH HERE.
Will Hillary return donation from controversial Muslim cleric? - Free Beacon: "An Islamic Turkish religious leader whose followers have donated up to $1 million dollars to the Clinton Foundation is being taken to court on charges that he is using U.S. taxpayer dollars to fund a reclusive cult that is indoctrinating U.S. children and silencing critics by force, according to a copy of the legal complaint filed Wednesday in a U.S. District Court. Fethullah Gülen, a Muslim cleric whose movement has been described by critics as cult-like, stands accused of using hundreds of millions in taxpayer funds to establish more than 120 charter schools in the United States that are used to proselytize and indoctrinate American youths."
MEANWHILE BACK AT THE RANCH
Lawmakers wrangling for a long-term funding deal under threat of a government shutdown at midnight are giving themselves more rope. A five-day extension of current spending levels passed the Senate Thursday and is expected to pass the House today. While horse trading continues on the $1.1 trillion tax and spending legislation a new political wrinkle is in play as Democrats push for changes in gun policy.
WashEx: "Democrats added a demand to the spending bill talks Thursday when they suddenly insisted that an agreement must include lifting a federal law preventing the Centers for Disease Control from studying the impact of gun violence…The current law that Democrats oppose…prevents the CDC from spending federal funds 'to advocate or promote gun control.'…a string of mass shootings has emboldened Democrats to push Republicans to lift the ban, and it has suddenly become one of the main sticking points in the omnibus negotiations."
YOU EXPECTED BIBI TO HAVE A LAP DOG?
BBC: "A dog recently adopted by Israeli Prime Minister Benjamin Netanyahu, Kaiya, bit two visitors, one a lawmaker, during a religious event. The incident happened during a candle-lighting ceremony to mark the Jewish festival of Hannukah at Mr Netanyahu's residence. MP Sharren Haskel and the husband of Tzipi Hotovely, the deputy foreign minister, were not seriously hurt. Mr Netanyahu's son took the dog in from a rescue home earlier this year. Prime Minister Netanyahu tweeted a picture of himself with the 10-year-old mixed breed in August. 'If you want a canine, find an adult dog to rescue. You won't regret it,' he wrote. Kaiya has met several high profile visitors including US Secretary of State John Kerry."
AND NOW, A WORD FROM CHARLES…
"I don't think this actually happens at the [Republican National Convention], which would be nice. It would be great television – the drama, breaking news every second. I think it gets the decided I think in the run-up. At the end of the primary season, we will all know who has got how many numbers. And that's when the brokering would happen, and that's when, if there is an establishment, and who knows if it will still exist, would insist on one anti-Trump candidate. And that's how they would enter the convention. It would be a done deal." – Charles Krauthammer on "Special Report with Bret Baier."

Chris Stirewalt is digital politics editor for Fox News. Want FOX News First in your inbox every day? Sign up here.