The Edge: Media gets back on the Trump train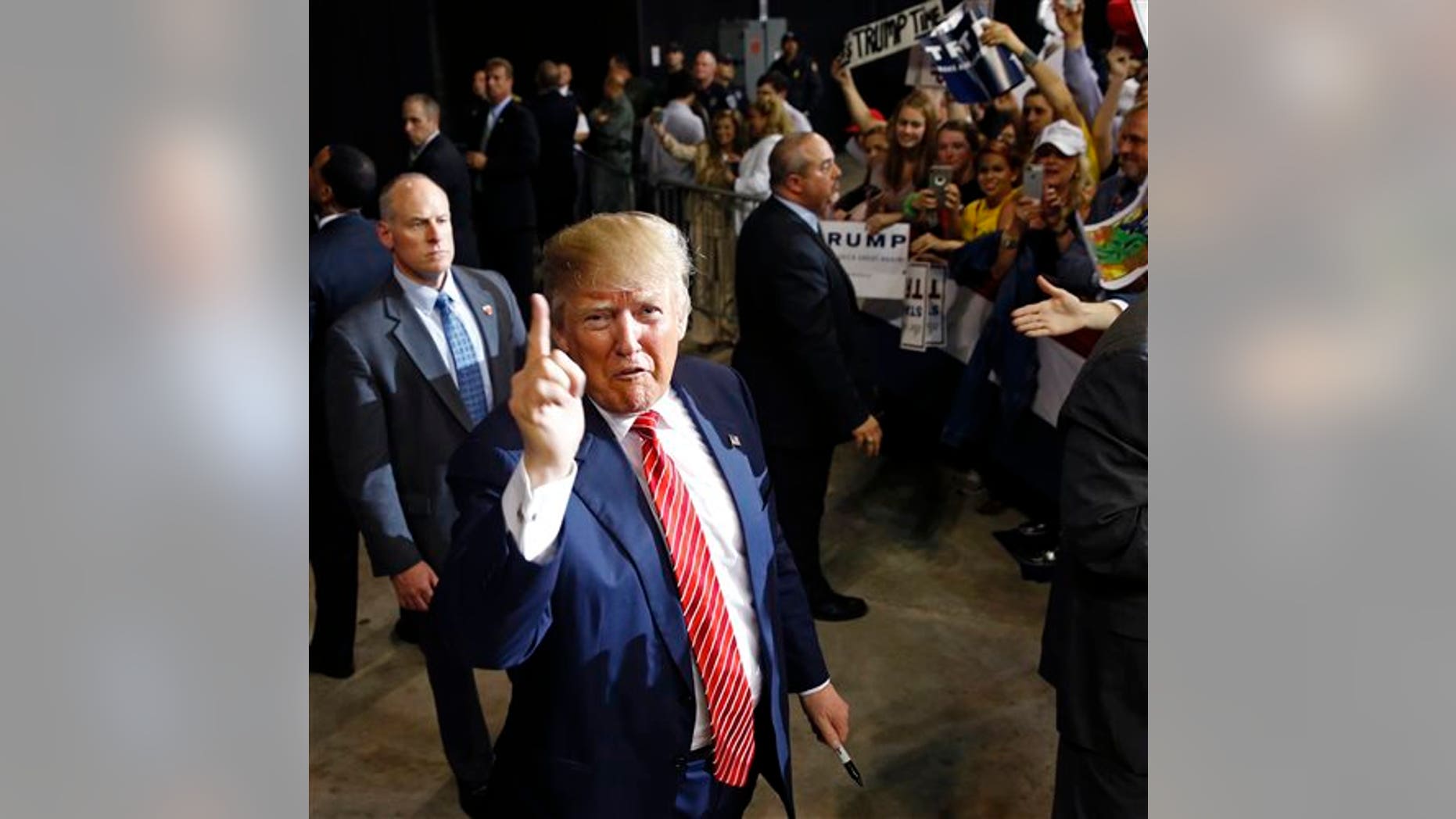 **Want FOX News First in your inbox every day? Sign up here.**

Buzz Cut:
• The Edge: Media gets back on the Trump train
• Power Play: Dirty South
• Ugliest Dem debate yet
• Hillary super PAC jumps in early
• Talk about 'nonessential personnel'
THE EDGE: MEDIA GETS BACK ON THE TRUMP TRAIN
The national media's Donald Trump obsession is back and as intense as ever. After falling into something like parity with his chief rivals after his Iowa defeat, media mentions of Trump skyrocketed after his New Hampshire win.

A media measurement taken by New Analytics before and after Tuesday's primary shows that Trump is back to doubling up the media mentions of his next closest competitor. Number two this week is Ohio Gov. John Kasich, who saw media mentions spike on his runner-up finish in New Hampshire.

As for the rest of the pack, media attention was spread evenly among the trio that essentially tied for third in the Granite State: Ted Cruz, Marco Rubio, and Jeb Bush. Ben Carson, on the other hand, is approaching absolute zero.

The team at New Analytics has built The Edge, a unique tool to measure which candidates are being talked about the most, and provided the first look to Fox News First.

Here are the percentages for the candidate's shares of national mainstream media mentions on Feb. 10. Points gained or lost from before New Hampshire are listed in brackets. See the full results here.

Donald Trump 41.6 [+7.57]; John Kasich 19 [+11.2]; Ted Cruz 12.9 [-1.1]; Marco Rubio 12.9 [-11.6]; Jeb Bush 12 [-3.25]; Ben Carson 1.1 [-3.3]

Trump turns up Bush bashing ahead of Dubya's campaign debut - The Hill: "Republican presidential candidate Donald Trump is mocking rival Jeb Bush for bringing his brother, former President George W. Bush, to help campaign. 'Don't fall asleep when I mention the name,' Trump said, when he brought up Jeb Bush during a rally in Louisiana on Thursday. 'I see he's bringing his brother in now. He tried the mother, who's a very nice lady, I'm sure, but he tried the mother. That didn't work out so good,' he said. 'Now he's bringing in his brother.'"

[USA Today: "Former president George W. Bush will make his long-awaited public debut on the campaign trail with his brother, former Florida governor Jeb Bush, on Monday. They'll appear at a rally in North Charleston, S.C., a campaign official confirmed."]

Getting rougher - Conservative group Club for Growth Action, launched a new anti-Trump ad in South Carolina backed by $1.25 million that hits the celebrity billionaire for not having conservative values.

[Watch Fox: Bret Baier anchors "Fox News Reporting: Voter Revolt" on what is fueling the rise of Sanders and Trump. Tune in tonight at 10 p.m. ET and catch additional airings Saturday and Sunday at 8 p.m. ET]

Oh, because political ads are so much classier? - NYT: "The campaign of Senator Ted Cruz of Texas released a biting negative ad against Senator Marco Rubio of Florida on Thursday, featuring a mock focus group and a woman decrying Mr. Rubio as nothing more than a 'pretty face.' Few will see that ad, however. The woman who made the comment in the ad is a soft-core pornography actress. The woman, Amy Lindsay, as first reported by BuzzFeed, has appeared in multiple movies with titles like 'Carnal Wishes,' 'Insatiable Desires' and 'Private Sex Club.' Ms. Lindsay told BuzzFeed that she was a Christian conservative and a Republican, deciding between supporting Mr. Cruz or Donald J. Trump. The Cruz campaign pulled the ad soon after the report on Thursday."

[A new ad from the Cruz camp hits Donald Trump on eminent domain using the woman whose home Trump wanted Atlantic City to seize so he could build a parking lot.]

Rubio's comeback play - With his analysis as smooth as his pocket silk, David Drucker lays out Marco Rubio's new strategy with a narrowed field in the first-in-the-South primary: "'This isn't a resume competition; it's about judgment,' senior Rubio advisor Todd Harris told the Washington Examiner on Thursday."

Kasich nets Christie whale - WaPo: "Republican presidential candidate John Kasich's campaign has secured the coveted support of billionaire Ken Langone, who will join the team to help with fundraising as it seeks to build out a robust national campaign infrastructure."

Power Play: Dirty South - As the GOP heads south, can Donald Trump clinch another victory, or will evangelicals and conservatives come out again in force for Ted Cruz? GOP strategist Mercedes Schlapp and Democratic operative Chuck Rocha give their take to Chris Stirewalt. WATCH HERE.

[#mediabuzz - Host Howard Kurtz is joined by excellence purveyor and Georgia Bulldog enthusiast Mary Katherine Ham, who will share her experience as a debate moderator. Watch Sunday at 11 a.m. ET, with a second airing at 5 p.m.]

WITH YOUR SECOND CUP OF COFFEE…
Thursday marked 41 years since Margaret Thatcher became leader of the Opposition Party in Great Britain. She went on to become prime minister and an icon for the conservative movement in Europe, but the so-called "Iron Lady" was apparently not a fan of the European Union. The Telegraph brings us the recent story: "A private letter written by Margaret Thatcher reveals she would have campaigned to leave the European Union, according to the Eurosceptic Conservative MP who has released the note. Sir Bill Cash MP has revealed the private correspondence he had with the former Prime Minister, in which she describes the EU project as 'contrary to British interests and damaging to our Parliamentary democracy'…The letter to Sir Bill was composed shortly after the European Union was established under its current name in 1993 following the Maastricht Treaty. Lady Thatcher had stepped down and was no longer an MP in 1993, so was unable to vote."

Email FoxNewsFirst@FOXNEWS.COM

POLL CHECK
Real Clear Politics Averages
National GOP nomination: Trump 29.5 percent; Cruz 21 percent; Rubio 17.8 percent; Carson 7.8 percent
South Carolina GOP Primary: Trump 36 percent; Cruz 19.7 percent; Rubio 12.7 percent; Bush 10 percent; Carson 8.7 percent
National Dem nomination: Clinton 49.3 percent; Sanders 36 percent
South Carolina Dem Caucus: Clinton 62 percent; Sanders 32.5 percent
General Election Clinton vs. Trump: Clinton +4 points
Generic Congressional Vote: Republicans +0.5

UGLIEST DEM DEBATE YET
Fox News: "While Hillary Clinton launched her harshest debate attacks yet on Bernie Sanders Thursday in a clear attempt to distinguish their differences to voters, the Democratic candidates spent almost as much time uniting in their criticism of America's criminal justice system, the financial sector and more. The debate fell at a time when Sanders is trying to build his momentum after his big New Hampshire win, while Clinton is trying to regain hers. As Sanders pointedly reminded her, 'You're not in the White House yet.' But the candidates at times offered a similar message. This was evident as they vociferously called for an overhaul of local police departments that they suggested are unfair to black people…The comments were part of each candidate's revived appeal to minority voters, a key voting bloc as the Democratic presidential primary heads to South Carolina."

Hillary super PAC jumps in early - WaPo: "The main super PAC supporting Democratic presidential hopeful Hillary Clinton is making its first significant foray into the 2016 primary, launching a radio campaign in South Carolina and spearheading a $4.5 million effort to drive early turnout of African American, Latino and female voters in states that hold primary contests in March. The early engagement by Priorities USA Action — which originally planned to hold its fire for the general election — marks the first major infusion of super-PAC money on Clinton's behalf and underscores how crucial South Carolina has become in her battle with Sen. Bernie Sanders of Vermont."

[Ahead of this weekend's email dump The Federalist gives a quick review of the state of the Clinton email scandal.]

Young black voters 'lukewarm' on Hillary - NPR: "After a razor-thin victory in the Iowa caucuses, and a double-digit loss to Bernie Sanders in the New Hampshire primary, Hillary Clinton is looking to South Carolina for a big win later this month. And she's counting on strong black support in that state to give her a definitive victory. Most polls suggest she'll get that support; by some estimates, she could garner 80 percent of South Carolina's black vote in the Feb. 27 primary. Previously, even Bernie Sanders himself admitted as much. But there may be a hitch. Increasingly, young, black college-aged voters are turning lukewarm on Clinton."

Power Play: ¿Puede hacerlo? - The Democrats head west for their next contest in Nevada, and Bernie Sanders faces his biggest campaign challenge yet: Hispanic voters. So far, Sanders has been in hospitable territory in Iowa and New Hampshire, but Clinton won Hispanic voters over Barack Obama in '08. Does he have a shot at snagging some of that support? Democratic message master Chuck Rocha and GOP wise woman Mercedes Schlapp join Chris Stirewalt to debate. WATCH HERE.

[Fox News Sunday - Candidates campaign in Nevada and South Carolina and Mr. Sunday has all the latest news from the trail. Watch "Fox News Sunday with Chris Wallace" at 2 p.m. and 6 p.m. ET on the Fox News Channel. Check local listings for broadcast times in your area.]

TALK ABOUT 'NONESSENTIAL PERSONNEL'
BBC: "A Spanish civil servant has been fined [$30,000] after not going to work for 'at least' six years. Joaquin Garcia's absence was only noticed when he became eligible to collect a long-service award. The 69-year-old, whose job was to supervise the building of a waste water treatment plant, has since retired. He denied the allegations and said he was a victim of bullying. A court found in the authority's favour and ordered him to pay the fine. Mr Garcia was paid [$30,000] a year before tax by a water company run by local authorities in the south-western city of Cadiz. His fine was equivalent to one year's salary after tax and was the most that the company could legally reclaim. The court heard that the boss of the water company had not seen him for years despite occupying an office opposite his."

AND NOW, A WORD FROM CHARLES…
"[Hillary Clinton's] strategy is I think quite specific, pointed at South Carolina. She has to win big there. If not, I think her whole campaign could collapse." – Charles Krauthammer on "Special Report with Bret Baier" Watch here.

Chris Stirewalt is digital politics editor for Fox News. Want FOX News First in your inbox every day? Sign up here.