The border surge, a year later: Courts backlogged until 2019 to accommodate minors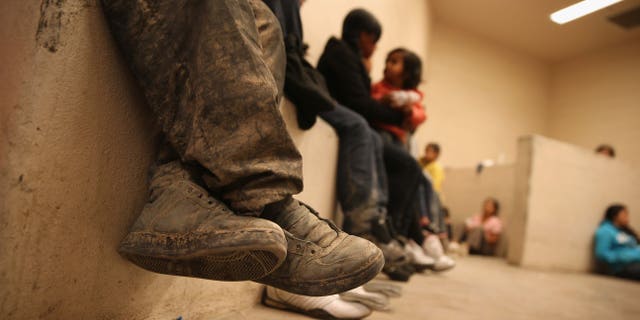 This is the third in a series of posts, one year after the surge of unaccompanied undocumented minors who crossed across the U.S.-Mexico border, examining the effects it has had on communities, schools and children themselves.
READ PART 1: Tens of thousands of immigrant children remain in limbo
READ PART 2: The border surge, a year later: As crisis overwhelms system, philanthropy steps in
The backlog in immigration cases, which started about 10 years ago, already was large and growing unabated when tens of thousands of undocumented and unaccompanied minors from Central America showed up at the U.S.-Mexico border, throwing courts and agencies tasked with dealing with them into further chaos.
The backlog, which grew to 419,000 in 2014 from 223,700 in 2010 – an 87 percent spike – now hovers at more than 450,000.
The outcry over the surge of unaccompanied minors prompted the Obama administration to set in motion an accelerated court process for them, as well as for mothers from Central America with children at the U.S. border.
Their move to the front of the line in immigration courts, as well as to the top of the heap of cases in government offices that handle political asylum claims, has had a ripple effect on others who have been waiting, some for years, to have their cases heard. Now, many seeking political asylum or refugee status are being told that their cases have been pushed back to as late as 2019, immigration lawyers and non-profit service groups say.
"I've been doing this since 2007," said Vanessa Allyn, the Human Rights First managing attorney for refugee representation, referring to immigration work, "and I have never seen it this bad."
The agency that handles immigration benefits – such as work permits and certain visas – also is behind, affecting the millions who depend on the timely granting or renewal of work authorization papers to get or keep a job. The United States Citizenship and Immigration Services, or USCIS, has seen its backlog grow bigger as it now deals with asylum requests and special juvenile visas – two things that many unaccompanied minors, or the mothers and children who were part of the surge from Central America, are seeking.
"There's no place (in the immigration system) that has any give anymore," Allyn said. "It's a real big hardship for the people who are waiting" for decisions, for green cards, for visas and work permits.
"They don't have any hope. They don't know when it will happen, or if it will happen," Allyn said. "People are losing their jobs. An employment authorization card is only valid for a year, and when it expires an employer cannot continue to employ them."
The recommended caseload for immigration court is 600 per judge. But each of the nation's 260 immigration judges has three times that – 1,800 cases.
Even after hearings conclude in courts, it can take years for the case to actually close.
Allyn says she only now received a decision on a case that has been pending since 2012.
"There's a delay in every phase of the process."
While funding and other resources have risen dramatically for immigration enforcement, the same has not happened for immigration courts.
Delaying immigration hearings can make getting an unfavorable decision – and an order to leave the United States – after years of waiting doubly difficult, said Matt Graham, an analyst with the Bipartisan Policy Center.
"It could feel to the immigrant as if they've been allowed to stay here," Graham said. "You give people that much time to live here, they may do things to set down roots – get a job, make friends, have kids."
While they're taking too long with many immigration cases, the system is going too fast as far as the unaccompanied minors, those who have worked with the children say.
Many unaccompanied minors go to court without legal representation, and most of those lose their cases. The ones who do get a lawyer end up being granted permission to stay in the United States.
When the minors are given some time to find a lawyer – many need one who will work pro bono or for a small fee – it may be only two weeks, experts say, not nearly enough time. Even if they find attorneys willing to work for free, the proceedings involve family court and immigration court, increasing the complexity of the cases and the time of the attorneys involved.
Parts of Minnesota have received unaccompanied minors from Guatemala who speak indigenous languages, and perhaps a little Spanish, making it even more difficult for them to get a meaningful hearing, said Bob Quasius, an interpreter who has worked on several such cases.
"Most of those kids who arrived last year are still in the United States and are still working their way through the immigration court system," said Marc Rosenblum, deputy director of the Migration Policy Institute's immigration policy program. "There's still a real crisis in the United States…in our immigration court system because the courts are completely overwhelmed and have a real problem processing these kids and determining who's eligible for asylum or some other visa that would allow them to stay in the United States."
Rosenblum added, "So when you look at the kids going all the way back to 2012 up to today, about 70 percent of the kids who have arrived since 2013 are still awaiting a resolution."