Texas Sen. Cornyn says he won't endorse Cruz in 2018 Senate run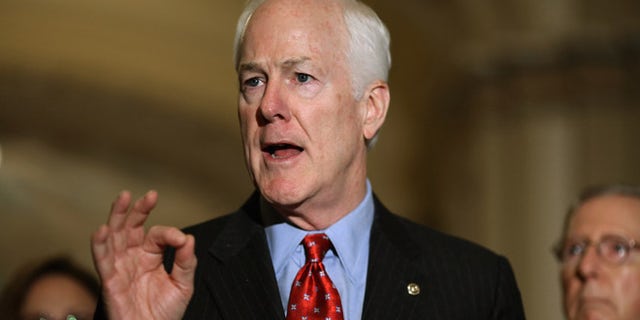 NEWYou can now listen to Fox News articles!
Texas senior senator John Cornyn said he won't be endorsing fellow Republican Ted Cruz when the firebrand lawmaker is up for re-election in 2018.
But he's not endorsing Cruz's potential challenger, Rep. Michael McCaul, either.
"I'm not going to get involved in any primary races, particularly with my colleagues in the Senate," Cornyn said, according to The Hill. "We'll see what happens, but we've got plenty to worry about between now and November 2016 before we start worrying about November 2018."
Cornyn added that he sees "no benefit" in getting involved in the primary.
Cruz, who many see as gearing up for another potential run at the presidency in 2020 if Donald Trump fails to win in November, faces a divided Republican Party as he tries to keep his Senate seat. On the national stage, many are angered at Cruz's failure to endorse Trump during July's Republican National Convention and in the Senate the Texan is viewed unfavorably by some of his colleagues for his lack of flexibility on a number of issues.
There are also rumors that influential members of Texas' GOP are working under the radar to build an intraparty challenge to Cruz and think McCaul, who has represented the state's 10th district since 2005, would be the ideal candidate.
McCaul has said that at the moment he is focusing on his reelection campaign this year. But, as chairman of the Homeland Security Committee, he has not ruled out the possibility of running against Cruz in two years.
"Congressman McCaul is focused on winning reelection to the House this November and continuing his work protecting the United States as the Chairman of the House Homeland Security Committee. He is also very focused on preserving the Republican majorities in Congress and winning the White House," McCaul spokesman Walter Zaykowski said in a statement, according to the Austin American-Statesman.
Whether or not a fellow Republican steps up to challenge Cruz, there are now also rumblings on the Democratic side of who will go against the junior senator.
Democratic Rep. Joaquín Castro of Texas said he is not ruling out a possible run for Republican Sen. Ted Cruz's Senate seat in 2018.
"I've said before, I'll take a look at all opportunities that come up in 2018," the 41-year-old congressman told Fox News Latino in July.
Cruz appears to be taking the threat of a Castro Senate run serious; issuing a series of emails over the summer warning Texas voters against heading to the polls in 2018 for the state representative.
"If the Castro brothers … get their way, the Texas we know will never be the same," one of Cruz's emails said. "Ted Cruz is the champion Texas needs to continue battling the Washington corruption and liberal values of the Democrat Party in D.C."
Cruz's emails also cited a quote that Joaquín Castro gave to Fox News Latino in July saying: "I think it is winnable."
"That was the first response from the Castro brothers after I alerted you of their plans for Texas in 2018," Cruz's email said. "I hope you will join me in saying to any liberal with designs on turning Texas blue – 'Come and Take it!'"
Like us on Facebook
Follow us on Twitter & Instagram