Texas nationalists keeping close tabs on impending 'Brexit' vote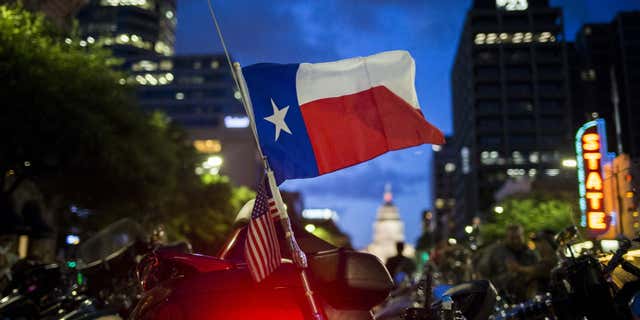 Some Texas residents are keeping a close eye on Britain's upcoming vote on whether to leave the European Union later this month and are hoping they could use the referendum as inspiration to break away from the U.S.
Daniel Miller, 42, the president of the Texas Nationalist Movement, told The Guardian Sunday that he's tracking every step of the so-called "Brexit" movement and is hoping Texas can conjure a similar "Leave" vote to secede.
"There are a lot of people asking, if Brexit why not Texit?" he told the paper. "I do talk with some folks over there on a pretty regular basis that are involved in Ukip and the Conservative party."
Miller said Britain's situation is nearly identical to Texas. He told The Guardian to replace the "EU" with the "US" and "Brussels" with "Washington." He told a local Tea Party group that the relationship between Britain and the EU was fractured over irreconcilable differences.
He said the reasons lawmakers have for wanting Britain to leave the European Union are nearly identical to why Texas nationalists want to secede from the U.S. Miller claims Texas could reach a higher potential if it wasn't "shackled" to the federal government.
Texas won independence from Mexico in 1836 and joined the U.S. in 1845. March 2 is an annual state holiday, and in 2003 a state law was enacted forcing students to pledge allegiance daily to the U.S. flag and the Texas flag.
The Republic of Texas, another Texas nationalist group, claims that Texas never ceded its sovereignty when it joined the U.S. On the group's website, it claims a "great deception can be undone – stay tuned."
The Texas Nationalist Movement wants to secede from the U.S., using the political system rather than force or setting up some kind of parallel government. Miller said his group has more than 250,0000 supporters, including Russians who have taken great interest in seeing the break-up of the U.S.
Jeff Sadighi, a Texas secession backer, told The Guardian that he wants the possibility of a "Texit" to be debated just as fiercely as gun rights, illegal immigration and marriage equality.
"The bottom line is, the federal government due to their legal structures can only offer one size fits all solutions," he said. "People in Massachusetts aren't going to approach challenges the same way we are."
As nationalists continue to try to get a vote on the floor of the State Legislature, Miller is waiting eagerly for the upcoming Brexit vote.
"At a cultural and spiritual level there are a lot of similarities. A fiercely independent spirit. Keep calm and carry on," Miller explains. "The stoicism. There's a sense that when you're pushed, you don't just crumple like yesterday's newspaper, you stand up for what you believe in. We are easygoing, we are friendly, but when our core values and principles are threatened, we don't take kindly to it."
There have been two Texas petitions on the possibility of secession in the last few years and both of them were rejected.
When President Barack Obama was re-elected in 2012, a Texit petition garnered more than 125,000 votes but was shot down by the White House.
A petition to put the issue to a non-binding vote didn't get enough signatures, but secession was debated at the party convention last month.
Click for more from The Guardian.