Texas GOP insiders urging Rep. McCaul to run against Ted Cruz in 2018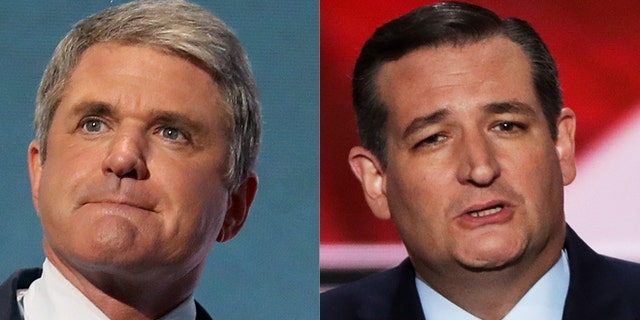 NEWYou can now listen to Fox News articles!
Some Republican donors and politicians, angered over Ted Cruz's speech at last month's Republican National Convention in which he did not endorse Donald Trump's bid for president, are urging Rep. Michael McCaul to run against the Texas senator in 2018.
Numerous influential Republicans in Texas are working under the radar to build an intraparty challenge to Cruz and think McCaul, who has represented the state's 10th district since 2005, would be the ideal candidate.
McCaul has said that at the moment he is focusing on his reelection campaign this year. But, as chairman of the Homeland Security Committee, but he has not ruled out the possibility of running against Cruz in two years.
"Congressman McCaul is focused on winning reelection to the House this November and continuing his work protecting the United States as the Chairman of the House Homeland Security Committee. He is also very focused on preserving the Republican majorities in Congress and winning the White House," McCaul spokesman Walter Zaykowski said in a statement, according to the Austin American-Statesman.
Unlike Cruz, McCaul, who also spoke at the RNC in Cleveland, has endorsed Trump's bid for the presidency.
Cruz's speech at the RNC earned him boos from the crowd gathered inside the Quicken Loans Arena last month and criticism from many in the GOP. The firebrand senator may have the last laugh if Trump's fail to win in November as it would set him up as a party leader in what would be the post-Trump era.
The Texas lawmaker's speech appeared to be a speech announcing his own candidacy for 2020.
"We're fighting, not for one particular candidate or one campaign, but because each of us wants to be able to tell our kids and grandkids, our own Carolines, that we did our best for their future, and for our country," Cruz said, referencing the daughter of one of the police officers killed in Dallas in July.
Democratic congressman Joaquin Castro has hinted he may run for Cruz's seat.
Like us on Facebook
Follow us on Twitter & Instagram