Texans Paul and Perry Trade Barbs in GOP Presidential Race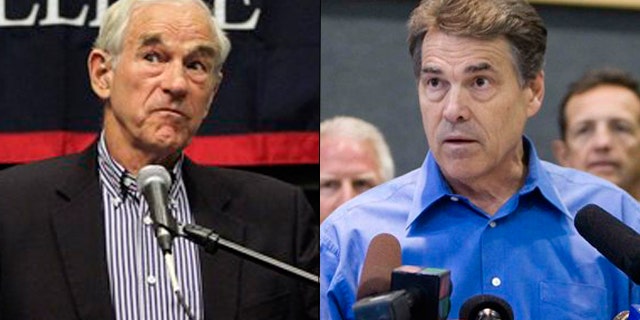 NEWYou can now listen to Fox News articles!
WASHINGTON -- A Texas-sized rivalry is brewing in the Republican presidential contest.
Texas Rep. Ron Paul is calling Texas Gov. Rick Perry "Al Gore's Texas cheerleader" for once working to help elect the Democrat. Perry's team, in turn, is branding Paul a turncoat for once leaving the GOP.
The back-and-forth between two Texans, who never have been particularly close, could spill over into Wednesday's debate at the Ronald Reagan Presidential Library in Simi Valley, Calif., a memorial to the conservative who counseled fellow Republicans not to speak ill about one another.
So far, neither Paul nor Perry is heeding that advice.
Over the past few weeks, both have seen their standing in the GOP field rise. Paul, a libertarian-leaning Republican who has a strong legion of diehard supporters and a big bank account, came within 152 votes of winning an important test vote in Iowa on the same day that Perry, who leads in several national and state polls, entered the race to great fanfare among the party's conservative base.
Since then, Paul has been poking at Perry, seeking to tarnish the governor's image.
Last week, Paul likened Perry to a "candidate of the week" and predicted Perry's poll numbers would fall quickly once voters got to know him better. He told The Associated Press, "Texas has had a lot of changes in these last eight years, not exactly positive either."
This week, Paul rolled out a TV ad suggesting that Perry wants to unravel the Reagan legacy.
The ad highlighted Paul's own endorsement of Reagan's unsuccessful bid for the GOP nomination in 1976 and Perry's work on then-Sen. Al Gore's unsuccessful presidential bid in 1988.
The ad said: "Rick Perry helped lead Al Gore's campaign to undo the Reagan revolution, fighting to elect Al Gore president of the United States. Now, America must decide who to trust: Al Gore's Texas cheerleader or the one who stood with Reagan."
Perry was a Democrat serving in the state legislature at the time. He switched parties in 1989 and successfully ran for state agriculture commissioner as a Republican.
Paul's ad drew a rebuke from Perry's campaign, which said in a statement, "Like President Reagan, Gov. Perry has cut taxes and freed employers from government regulations that kill jobs."
Perry aides also dug up and distributed Paul's 1987 letter of resignation from the Republican Party.
In it, Paul wrote, "I want to totally disassociate myself from the policies that have given us unprecedented deficits, massive monetary inflation, indiscriminate military spending, an irrational and unconstitutional foreign policy, zooming foreign aid, the exaltation of international banking, and the attack on our personal liberties and privacy."
Perry advisers promised not to shy away from highlighting parts of Perry's record that they say are inconsistent with his campaign pitch.
"Paul thought President Reagan was so bad, he left the GOP," Perry spokesman Mark Miner said, calling Paul's letter a broadside attack on every element of Reagan's record and philosophy.
Paul ran for president as a Libertarian in 1988; two decades later he ran as a Republican.
In 2008, Perry, who previously supported Texans Phil Gramm and George W. Bush for president, backed former New York Mayor Rudy Giuliani over Paul in the GOP nomination fight.
Asked at the time about Paul, Perry dismissed his home state lawmaker.
"I didn't ever consider Ron Paul," he said. "You get to make choices in life. And I made a choice. Ron Paul is not mine for president. It's pretty simple for me."