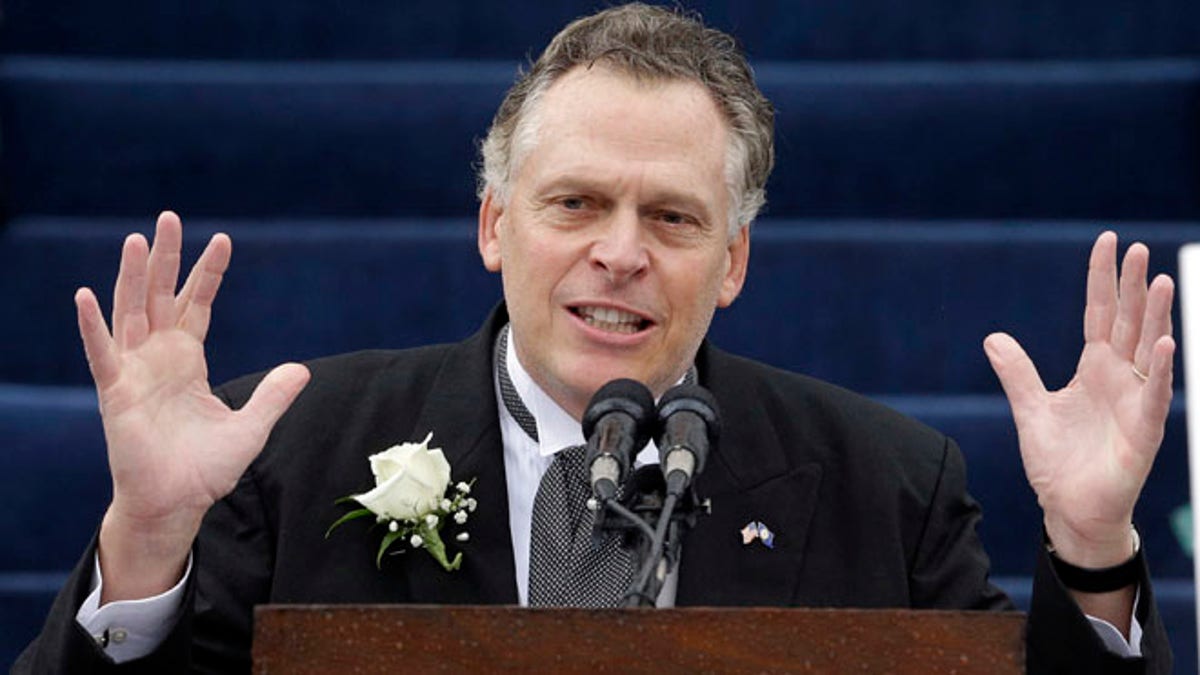 RICHMOND, Va. – Terry McAuliffe, the former Democratic National Committee chairman and rainmaker for Bill and Hillary Clinton, was sworn in as Virginia's 72nd governor on a mild and rainy Saturday.
In an inaugural address on the south portico of the state Capitol designed by Thomas Jefferson, McAuliffe emphasized bipartisanship as he put several years of campaigning behind him to begin the more challenging task of leading a politically divided government. Republicans have firm control of the House of Delegates, while the outcome of two special elections will determine control of the Senate.
"Common ground doesn't move towards us, we move towards it," McAuliffe told a drenched crowd that included the Clintons, who huddled under a black umbrella until the rain stopped and the sun briefly peeked out during the new governor's speech.
The state will face "serious economic headwinds" over the next four years, McAuliffe said, and skeptics are predicting partisan gridlock.
"Virginia, together, we will prove them wrong again," he said.
It was one of several references to consensus building that McAuliffe sprinkled throughout a 16-minute speech that drew praise from Hillary Rodham Clinton.
"I was very moved by it," she told reporters as she exited through the Capitol.
The former secretary of state called McAuliffe's election "a great personal achievement" and said "he is certainly relishing the moment."
The crowd cheered as the Clintons entered and made their way to their second-row seats. The former president, shaking hands as he descended the stairs, acknowledged the crowd with a brief wave but otherwise remained in the background.
In his speech, McAuliffe made a brief pitch for one of his top legislative priorities -- expanding Medicaid to about 400,000 low-income Virginians under the federal health care reform law. The proposal faces a tough hurdle in the GOP-controlled House.
"Like the majority of other states, we need to act on the consensus of the business community and health care industry to accept funding that will expand health care coverage, save rural hospitals, and spur job creation," the governor said.
His remarks promoting gay rights and abortion rights drew some of the loudest cheers. He said his administration would work to ensure equal opportunity for all "no matter whom you love," and to protect women's rights to make their own health care decisions.
He also commended legislators for reaching a bipartisan compromise on ethics reform prompted by the ongoing state and federal investigations into thousands of dollars in gifts and loans outgoing Republican Gov. Bob McDonnell and his family received from Jonnie Williams, the former CEO of dietary supplement maker Star Scientific Inc. McAuliffe said he will ask lawmakers to "enact the strongest possible new ethics rules to hold all Virginia elected officials to the highest of standards."
As one of his first orders of business, McAuliffe signed an executive order setting a $100 gift limit on executive branch members and their families, including himself and wife Dorothy and their five children. The order also creates an Executive Branch Ethics Commission to ensure compliance.
Immediately after McAuliffe raised his right hand, placed his left hand on the Bible and was sworn in by Virginia Supreme Court Chief Justice Cynthia Kinser, McDonnell and his wife Maureen stood and walked up the stairs and through the Capitol to an uncertain future.
A few minutes earlier inside the Capitol's Old Senate Chamber, McDonnell handed the key to the Executive Mansion to its new occupants but told them it's "something you'll never need" because a security detail is always present.
McAuliffe stayed after his speech for a "blessing dance" by Virginia's Indian tribes and a parade that wound around the statehouse and past a sparse crowd on a downtown street. Then it was on to the Executive Mansion for an open house. An inaugural ball was the last item on the day's agenda.
Winning an office once held by Jefferson and Patrick Henry was a years-long effort by McAuliffe, who unsuccessfully sought his party's nomination in 2009. He spent the next four years touring Virginia and campaigning, then won his first elective office by narrowly defeating Republican Attorney General Ken Cuccinelli.
The Syracuse, N.Y., native's ticket mates also won, giving Democrats their first sweep of Virginia's top three statewide offices in 24 years. Mark Herring was sworn in as attorney general and Ralph Northam as lieutenant governor.