Ted Cruz campaign lashes out at claims that the senator wants distance from Latinos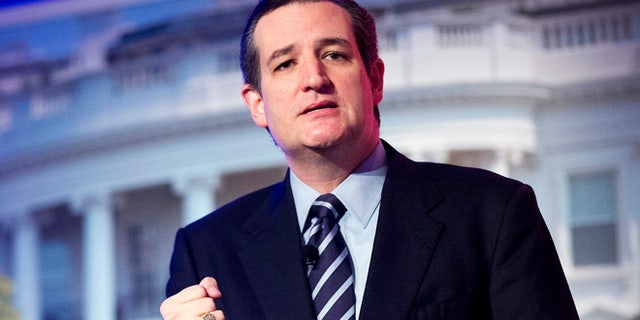 NEWYou can now listen to Fox News articles!
Sen. Ted Cruz's campaign criticized as ridiculous an assertion that the presidential candidate skipped a major Latino gathering in Washington D.C. to which he was invited because he wants to keep Hispanics at a distance.
In a meeting with reporters Thursday, Javier Palomarez, president and CEO of the U.S. Hispanic Chamber of Commerce, said that Cruz "chose not to come." He added: "I hope it is not indicative that he's backing away from the Hispanic community in order to get through the [GOP] primary."
Rick Tyler, the national spokesman for the Cruz campaign, said the notion that the Texas Republican is avoiding Latinos and his roots is baseless. He said Cruz regularly speaks with admiration of his immigrant father, Rafael Cruz, who fled Cuba.
Tyler said that the scheduling of the summit, which was held Wednesday and Thursday, coincided with an extremely busy time for Cruz, who announced on Monday that he is running for president.
"The assertion is ridiculous," Tyler said of Palomarez's comment. "It was simply a scheduling conflict… We had to keep our commitments limited" because of the launching of the presidential campaign.
Other presidential hopefuls such as Senators Rand Paul, R-Ky, and Marco Rubio, R-Fla., also did not speak at the U.S. Hispanic Chamber of Commerce's annual legislative summit. But Palomarez said they had scheduling conflicts and that they had good relationships with the chamber, joining them at events other times of the year and that both men have attended past Hispanic Chamber summits.
"If you're trying to get to the White House without openly trying to engage the Hispanic community," Palomarez said, "you're not going to get there."
Tyler, however, said Cruz is proud of his Cuban roots on his father's side, adding that the senator referred to his Latino roots in the speech launching his campaign on Monday.
"He's the son of an immigrant, and he talks about it in his speeches," Tyler said. "He talks about his position on immigration. He supports legal immigration, but he also suggested we need to control our borders to be fair to [legal] American workers, including Hispanic workers."
In past presidential election cycles, the GOP's conservative base has held increasing sway to the point of being able to shape the issues that arise in debates during the GOP primaries.
Republican presidential hopefuls have had to perform a sort of high-wire act, trying to get enough conservative support to do well during the GOP primary, but then appeal to a broader electorate – which includes crossover Democrats and Independents, besides moderate Republicans – for the general election.
While Cruz could do well in the primaries if conservatives retain their influence at that stage of the 2016 presidential campaign, many political observers say that his ironclad views against such things as Obamacare and immigration policies that would give breaks to undocumented immigrants will hurt him in the general election.
Tyler said many Latinos share Cruz's support for securing borders and controlling immigration.
"Sen. Cruz is trying to get a rational legal immigration system," Tyler said. "You can't do that unless you first have the will to control the border."
Speakers at the summit on Thursday included Republican National Committee Chairman Reince Priebus, Reps. Mike Coffman, R-Colorado and Carlos Curbelo, R-Florida. On the Democratic side, speakers included Sen. Robert Menendez of New Jersey, and Reps. Nancy Pelosi and Linda Sanchez, both of California.