Teachers need guns, says lawmaker whose son attended school with Colorado shooter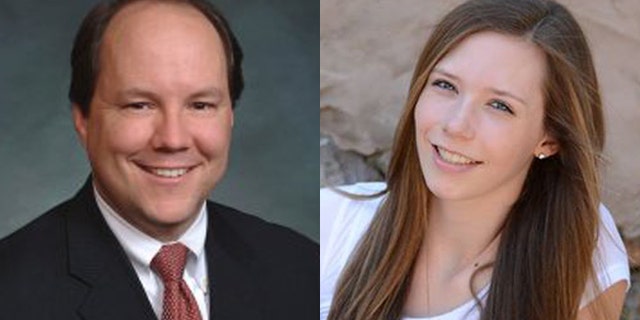 NEWYou can now listen to Fox News articles!
The 18-year-old student who stormed into his Colorado school last month with a shotgun and a bandolier of bullets across his chest, fatally shooting a classmate and setting fire to the library, provided fresh ammunition for one lawmaker's bill that would allow teachers to carry guns in schools.
The Dec. 13 incident struck a chord with Republican state Sen. Ted Harvey, whose own son attends the school, in Centennial. Harvey, whose wife is a schoolteacher, said armed teachers at Arapahoe High School might have been able to act even more quickly than the two staff members being hailed as heroes after running toward the library, where James Pierson, 18, had gunned down Claire Davis and ignited a Molotov cocktail.
"I don't want my wife and kids to be sitting ducks," Harvey told FoxNews.com. He said his own son was on the debate team with Pierson, who took his own life as the two staff members, including school resource officer James Englert, who was armed, and Rod Mauler, an unarmed school security guard and retired deputy, closed in on him.
[pullquote]
Harvey has introduced a bill to allow school districts in Colorado to let teachers carry guns. He sponsored the bill prior to the shooting, but says that the tragedy cements the measure's importance.
"It validated why I think an armed person in the school is a good thing," Harvey told FoxNews.com.
Pierson's 80-second attack started after he asked to see the school's librarian and debate coach, whom he was angry with. He did not find the coach, and instead ended up shooting Davis, a student he didn't know and who died after clinging to life for more than a week. Arapahoe County Sheriff Grayson Robinson said the sight of an armed official likely prevented further casualties and was a "critical element to the shooter's decision" to commit suicide.
Colorado was the site of one of the nation's deadliest school shootings, the 1999 attack at Columbine High School. In that attack, two students, Eric Harris and Dylan Klebold, gunned down 13 people, starting outside the school and then carrying on their rampage inside as students and faculty scrambled for cover. The attack lasted an estimated 49 minutes, and went on for more than 40 minutes after police were called.
Many schools in Colorado do not have armed guards, noted Harvey.
"Not every school in Colorado has an armed guard roaming the halls," Harvey said. "I think the situation that resulted at Arapahoe high school is not what we would have seen at other schools."
Mayors Against Illegal Guns, the Brady Campaign to Prevent Gun Violence, and the Violence Policy Center – all groups that support more gun control – declined to comment or did not answer questions from FoxNews.com about the bill.
But some took the opposite lesson from the shooting as Harvey did, and called for more gun control.
"It would have been more difficult for the gunman to purchase Sudafed than it was for him to buy bullets on his way to school that morning," the group Moms Demand Action for Gun Sense in America posted on its Facebook page after the shooting.
"In honor of Claire's life, ACT. Join us today to take our country back from the gun lobby," the group said in one post.
Harvey said stricter gun laws are not the answer.
"I don't think schools are safe when they are gun-free zones and criminals are the only people who carry guns. Then the others are sitting ducks and can't defend themselves."
Other gun-rights advocates agreed.
"We have armed security protecting banks and other valuables," Alan Gottlieb, president of the Second Amendment Foundation, told FoxNews.com. "Aren't our kids more valuable?"
Even after the shooting, Harvey is resigned to the likelihood his bill will go nowhere. Democrats control both houses of the state legislature and Gov. John Hickenlooper is also a Democrat, he noted.
"I introduced the bill as a statement," Harvey said.
But Harvey said his constituents were supportive of his push to allow teachers to carry. And some Colorado voters have already pushed back against new gun laws passed by the Democrat-controlled government by recalling two state senators who voted for gun laws ranging from a ban on gun magazines holding more than 15 rounds, to added fees for background checks, to requiring background checks for "private transfers" -- meaning when one citizen sells or gives a gun to another.
The recalls are encouraging, he said, and he hopes the political tide continues turning that way.
"Having somebody as armed as the assailant is the only way to ensure that our kids are protected," he said.