Tea Party Leader, GOP Condemn Racial Slurs Hurled at Black Lawmakers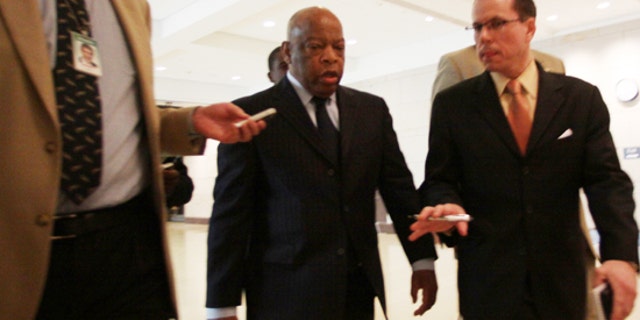 Republican National Chairman Michael Steele and one of the organizers of Saturday's Tea Party rally strongly condemned the racial slurs that some black lawmakers alleged were yelled at them by some health care protesters as they headed for a procedural vote at Capitol Hill.
"I absolutely think it's isolated," Amy Kremer, the grassroots coordinator of the Tea Party Express, told Fox News on Sunday. "It's disgraceful and the people in this movement won't tolerate it because that's not what we're about."
Steele rejected the notion that the incident may make any association with the Tea Party Movement a danger.
"It's not a danger," Steele told NBC's "Meet the Press on Sunday." "It's certainly not a reflection of the movement or the Republican Party when you have idiots out there saying stupid things."
"As Leader Boehner said, that's reprehensible," he said, referring to House Minority Leader John Boehner, R-Ohio. "We don't support that."
The incident occurred Saturday after thousands of Tea Partiers descended upon Capitol Hill to rally against Sunday's major vote on health care reform.
Some of the protesters targeted a handful of black members of Congress and one gay lawmaker as they walked from the House office buildings to the Capitol to make a procedural vote.
Reps. John Lewis, D-Ga, and Andre Carson, D-Ind., both members of the Congressional Black Caucus, said that a group of protesters hollered at them and called them the N-word.
"They were just shouting. Harassing," Lewis told Fox News. "People being downright mean."
Kristie Greco, spokeswoman for Democratic Whip Jim Clyburn, said a protester spit on Rep. Emanuel Cleaver who is black and said police escorted the lawmakers into the Capitol. Cleaver's office said he would decline to press charges, but Sgt. Kimberly Schneider of the U.S. Capitol Police said in an e-mail later: "We did not make any arrests today."
Clyburn, who led fellow black students in integrating South Carolina's public facilities a half century ago, called the behavior "absolutely shocking."
"I heard people saying things today that I have not heard since March 15, 1960, when I was marching to try to get off the back of the bus," Clyburn told reporters.
Lewis was one of the most pivotal figures of the civil rights movement in the 1960s. He spoke alongside the Rev. Martin Luther King at the Lincoln Memorial during the "I Have a Dream" speech. And Alabama State Police fractured the congressman's skull as he led a march across the Edmund Pettus Bridge on what became known as "Bloody Sunday" in 1965.
"It's okay, I've faced this before," Lewis told Fox News about the incident. "I haven't heard anything like this in 40, 45 years. Since the march to Selma, really."
Carson is one of only two Muslims in Congress and was born nine years after "Bloody Sunday." Carson conceded he wasn't used to hearing such epithets.
"The beauty is that I was walking with a good sage who had been there before," Carson said, who with Lewis at the time.
First elected in 1970, Rep. Charlie Rangel, D-N.Y., is one of the founding members of the Congressional Black Caucus.
"You don't see any black folks in these groups," said Rangel. "Ever, ever, ever, ever, ever."
Rangel suggested that some of the protesters knew Lewis' story and deliberately went after him.
"They knew what he represented," he told Fox News.
Fellow CBC member Rep. Bobby Scott, D-Va., said nothing would surprise him from some of the bands of health care protesters.
"I have never heard anyone campaign for their freedom to be uninsured. I've never heard anyone campaign against Medicare," said Scott. "That's what you're dealing with."
But black lawmakers weren't the only targets of the protesters' invective. Rep. Joe Crowley, D-N.Y., alleges some of the demonstrators also castigated Rep. Barney Frank, D-Mass., who is gay.
"I don't even want to repeat it," said Crowley when asked what they said to Frank.
A spokeswoman for the U.S. Capitol Police said she was unaware of any law enforcement inquiry into the incidents.
Fox News' Chad Pergram, Caroline Shively and The Associated Press contributed to this report.