Tea Party-Backed Paladino Wins GOP Nomination for New York Governor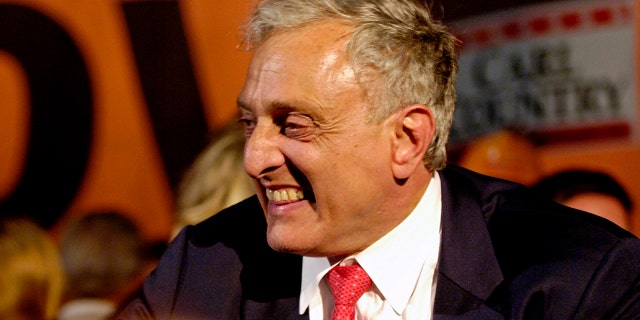 NEW YORK -- Tea party activist Carl Paladino wasted no time in setting his sights on Democrat Andrew Cuomo after confounding pundits and rolling over the leaders of New York's Republican and Conservative parties with a stunning win in the GOP primary for governor.
"Andrew Cuomo has to answer to the people," Paladino said Tuesday after defeating Republican Party designee Rick Lazio, a former congressman. Cuomo "is going to have to debate me. I'll debate him 49 days if there are 49 days between now and then."
"He was never vetted. He came in on Spitzer's coattails," Paladino said, referring to former Gov. Eliot Spitzer, who resigned in disgrace following a prostitution scandal after he led the 2006 Democratic ticket that included Cuomo as the attorney general nominee.
Paladino says he will succeed in fixing Albany's corruption and dysfunction because he's not a professional politician.
"They brought with them a desire to keep holding office. This is the first and last time I'm going to run for elected office," he said, repeating his promise to serve one four-year term.
Cuomo, the one-term attorney general who also was a private-sector lawyer, secretary of housing in the Clinton administration and an aide to his father, former Gov. Mario Cuomo, didn't immediately respond to a request for comment.
"I'm against career politicians because they've put the state in the disarray that it's in right now," said Rod Tobin, 64, a Buffalo Republican. "If people have run a business before or know how to manage an operation, I think they're better to handle things than the politicians today are running it."
With 89 percent of precincts reporting, Paladino had 63 percent of the vote to Lazio's 37 percent.
Paladino, a millionaire Buffalo developer, rode a wave of voter anger on his way to delivering another blow to the GOP in a heavily Democratic state.
There was a deafening cheer in his Buffalo headquarters when it was announced that The Associated Press had called the race for Paladino, 64, who promises to "take a baseball bat" to dysfunctional government in Albany.
"If we've learned anything tonight, it's that New Yorkers are mad as hell, and we're not going to take it anymore!" Paladino said. "The people have spoken."
He then welcomed Republicans who opposed him to join "the peoples' crusade ... New Yorkers are fed up. Tonight the ruling class has seen it now ... there is a peoples' revolution."
After speaking for about 15 minutes, Paladino led the crowd in an a capella version of "God Bless America."
Democratic Gov. David Paterson defended Cuomo, saying others tried to "take a baseball bat" to Albany "but ended up with a broken bat." He said Cuomo would work hard and is not "one who sits on a lead or think he's annointed."
Lazio wouldn't say if he would abandon a Conservative run for governor on the line he won Tuesday night. But such an effort hasn't been mounted for decades.
"We came up short and that is a disappointment," Lazio said in Manhattan. He said he embraces Paladino's platform of fiscal reform and that he wants to "be part of that effort ... and this campaign continues in terms of the ideas and the spirit."
Paladino overcame early criticism and ridicule over sexist and racist e-mail jokes he once forwarded to friends and his description of the Democratic Assembly leader as being like an anti-Christ. Some of his promised programs also were critically received, such as renovating prisons to provide jobs and "life lessons" including personal hygiene habits to welfare recipients, an idea he patterns after the New Deal's Civilian Conservation Corps.
State Republican Chairman Ed Cox, who had backed two candidates before embracing Paladino, called Paladino a tough competitor who would make a good governor.
Lazio, 52, hadn't conceded and was awaiting returns from all of Long Island, his base when he was a congressman. He was trounced upstate, where in his 2000 race for U.S. Senate against Hillary Rodham Clinton he made the mistake of saying the region's economy had "turned the corner."
Paladino lost to Lazio at the state GOP convention but then petitioned his way to the primary by securing 30,000 Republican signatures statewide.
"I don't know if he wins if he'd beat Cuomo, but I hope he does," said Kenneth Bray, a 54-year-old woodworker from Buffalo. Bray's goal: "Getting rid of the bums in Albany."
Paladino, 64, does little to follow traditional politics, bucking party bosses along the way. He has courted tea party activists angry over high taxes and the major political parties.
Cuomo has a better than 2-to-1 edge in the polls over Paladino and more than $23 million in his campaign account. Paladino has promised to spend up to $10 million in the whole campaign, but has spent just a fraction of that so far in his underdog effort.
In an unusual turn, Lazio's running mate for lieutenant governor, Chautauqua County Executive Greg Edwards, defeated Paladino's choice of Tom Ognibene of Queens. That gives the Republican a narrow geographic flavor, with both candidates from western New York.