Tea Partiers Rally, Send Warning to Lawmakers Ahead of Midterm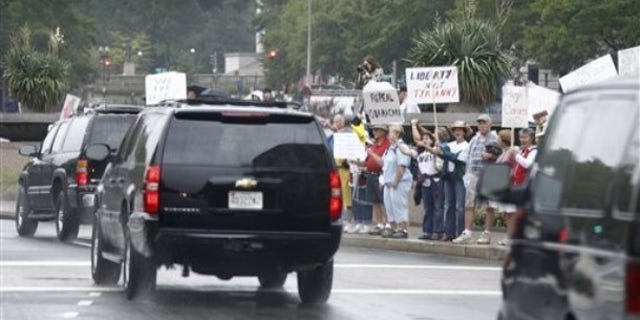 SACRAMENTO, Calif. -- Indiana Republican Rep. Mike Pence and Virginia Attorney General Ken Cuccinelli were among the keynote speakers at a thousands-strong rally in Washington, D.C., Sunday that was intended to send a message to big-spending lawmakers.
Tea Partiers are going to "throw the bums out" and "let failures fail."
Those were the notices on at least some of the signs at the FreedomWorks-sponsored march in Washington, D.C. Similar events were held in St. Louis and Sacramento.
Sunday's event, themed "Remember in November," is calling for less government spending and smaller government in general. Dick Armey, the former Republican House majority leader and founder of FreedomWorks, the Washington, D.C.-based conservative nonprofit advocacy group, said the march was about a simple decision.
"It's really a choice between small government conservatives and big government liberals," he told Fox News.
"We've lost respect in the world. We are going broke. The American dream is dying and our social and cultural fabric is unraveling," Pence told rally-goers in Washington. "People are scared. If we do not succeed in November, all that once was good and great about this country could someday be gone."
The event is different from a rally on the mall a couple weeks ago that drew hundreds of thousands of people who wanted to celebrate America without injecting politics into the day.
Sunday's march, on the other hand, started with a prayer service outside the Washington Monument, but the politically energized group then headed down to Capitol Hill, where lawmakers are set to return this week after a more than month-long recess.
Cuccinelli said his purpose in speaking was to talk about the health care law that he's fighting on behalf of his state.
"Really our lawsuit is about liberty and we're trying to preserve the Constitution," he told Fox News, adding that the law is "an incredible example of the federal government overstepping its authority and exercising dramatic power."
The march, scheduled one day after the ninth commemoration of the Sept. 11, 2001, terrorist attacks, aimed to generate the sense of national unity Americans felt that day, organizers said.
But the rallies also represented an opportunity to build momentum before the general election and demonstrate that the Tea Party movement is a political force with staying power.
"We do not see our commitment as a short-term process," said Ginny Rapini of Colfax, Calif., the national adviser and coordinator of NorCal Tea Party Patriots, the group behind the Sacramento event. "Our vigilance will not be finished this November, in 2012 or beyond. We see this as a lifetime struggle for all of us to preserve this precious Republic that was handed to us by our founders some 230 years ago."
The Sacramento event was at the former McClellan Air Force Base and is expected to draw between 25,000 and 50,000 people.
Tea Party Patriots claims to be the nation's largest Tea Party group, with 2,700 chapters across the country, including at least 175 in California.
Mary Jane Corcoran, 58, who works in medical administration, made the 360-mile trip from Dayton, Ohio to St. Louis.
"When you're used to your local tea party with 40 people, it's nice to get together with a lot of people that feel the way you do," Corcoran said. "This is like a shot in the arm to get us going for the November election."
Tea party activists reject characterizations of their movement as an extension of the GOP, but the vast majority of its members are Republicans and independents who vote Republican.
In California, a January Field Poll found that while 52 percent of registered Republicans in the state identify with the movement "some" or "a lot," just 14 percent of Democrats and 23 percent of independents felt that way.
"It's no secret that for the past year, House Republicans and their candidates have all embraced the Tea Party and Right Wing fringe in order to win votes," Ryan Rudominer, a spokesman for the Democratic Congressional Campaign Committee, said in an e-mail to The Associated Press. "As a result, the Republican Party agenda has become the Tea Party agenda and vice versa, and that's what will be on full display this weekend at these Right Wing rallies."
Tea Party Patriots identifies itself as nonpartisan and does not officially endorse candidates. But the lineup for Sunday's events is far from politically diverse.
Fox News' Steve Centanni and The Associated Press contributed to this report.