Tabloid offered to nix story on Edwards affair, ex-aide claims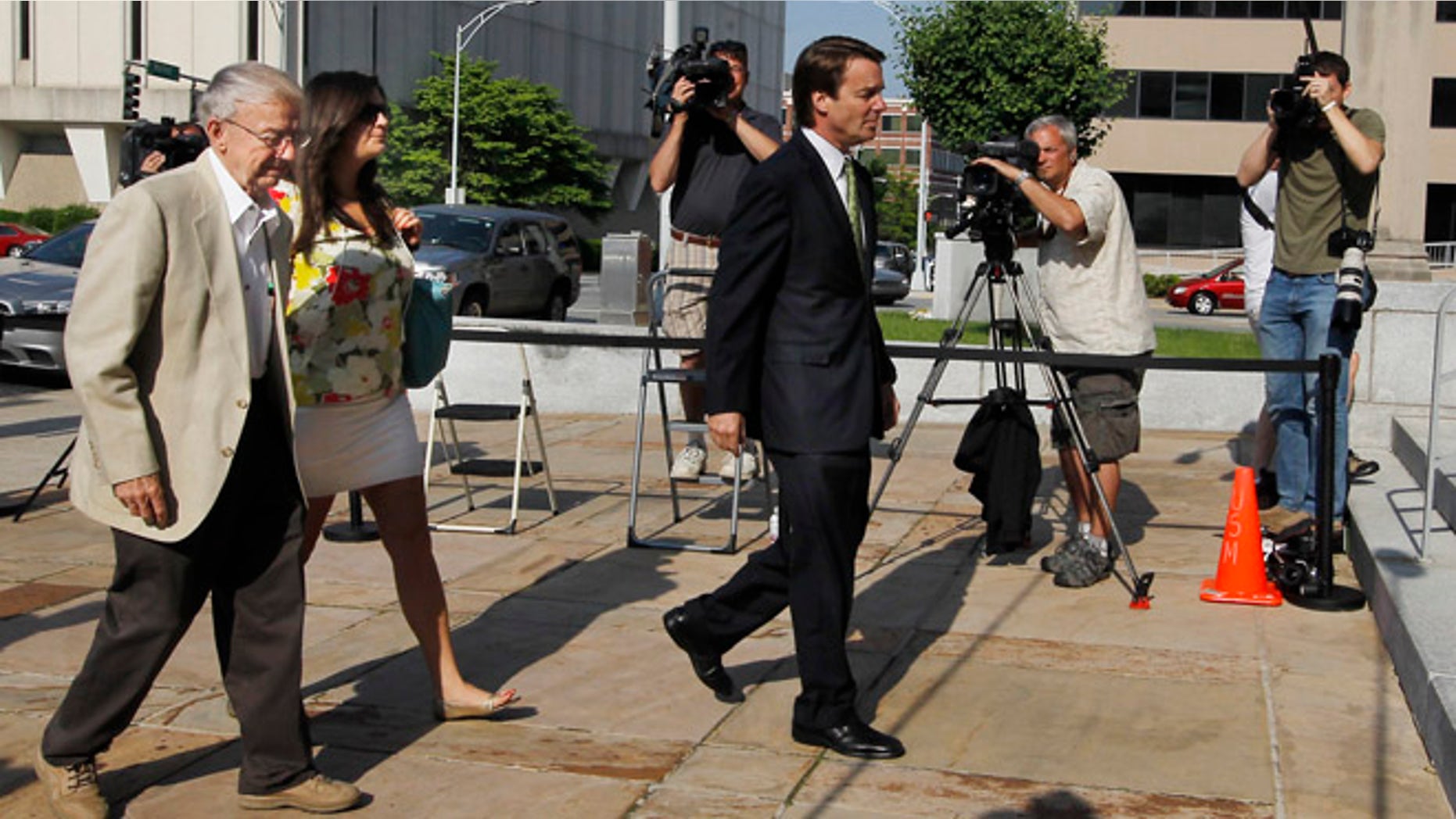 The tabloid that first exposed John Edwards' affair apparently offered the Democratic presidential candidate a way out -- it was an offer that, for obvious reasons, he could not accept.
A former campaign spokesman testified in Edwards' trial Thursday that the National Enquirer offered to consider killing its explosive story about Edwards' affair with Rielle Hunter and their love child if he would agree to the tabloid's terms.
Mark Kornblau, who served as Edwards' traveling press secretary during the 2008 campaign, said the Enquirer wanted Edwards to sign an affidavit swearing he was not the father and the affair had not occurred.
According to Kornblau, an affidavit was drafted, but Edwards decided not to sign it.
The issue, which came up during cross-examination, came as an apparent surprise to the prosecutor, who asked, "Did you ever share the story with the government that you just told (the court)?"
Kornblau replied, "I did not."
Asked why not, he said: "Because you didn't ask."
The incident marked the latest anecdote detailing how Edwards' staff was forced to deal with his affair -- though Edwards tried to hide it from some.
One former aide testified Thursday that he once overheard his boss asking his pregnant mistress in 2007 whether she was "showing yet," despite being told point-blank by the presidential candidate that Hunter was "crazy" and there was no affair.
Ex-aide John Davis testified that he had concerns about Hunter when she was first hired as a videographer during the 2008 presidential campaign.
"She's a very nice person, but different sort of person," he said. "The sorts of things she talked about, the sorts of things she did. She described herself as 'spiritual.'"
On the stand, Davis described running into Hunter in a hotel elevator after she had been fired from the campaign -- something Elizabeth Edwards had demanded after learning about her husband's affair with the campaign videographer.
David said Hunter told him, "She and Senator Edwards were very much in love. ... I told her that I did not care about this, that I was focused on the campaign."
Davis said he felt uncomfortable and wanted nothing to do with what was going on. But Davis said Edwards called him to his hotel room the next day, where the candidate told him Hunter was "crazy" and there was no affair.
Davis recalled a stay at another hotel in September 2007, during which he overheard Edwards speaking on the phone with Hunter.
"I heard him ask Rielle, 'Are you showing yet?'"
The prosecution asked how he knew it was Hunter.
Davis replied, "Her voice was distinctive and stood out to me."
The prosecution also called former staffer Jeff Harris to the stand. The ex-aide, who normally had access to sweep Edwards' hotel rooms, described his surprise to find the candidate's door dead-bolted during a Florida campaign stop. He said a person inside the room slipped him a note to contact Andrew Young.
The prosecution asked, "Do you recall one way or another from looking at the hand, the gender of the person?"
"Yes, female," Harris said.
The testimony of another former aide -- about an argument between Edwards and his late wife Elizabeth -- had prompted Edwards' eldest daughter Cate to leave the courtroom in tears a day earlier.
She left again briefly during Thursday's testimony and when she returned, her father turned around and she pointed to her eye. However, she did not appear upset as she did on Wednesday.
Edwards' lawyers on Thursday morning also wrapped up cross-examination of former staffer Matthew Nelson. Lead defense lawyer Abbe Lowell asked Nelson about another former staffer Andrew Young, who is the prosecution's key witness.
Lowell asked, "Do you have your own opinions about Mr. Young's character?"
Nelson replied, "I never found him to be the most honest and truthful person in the world."
But Davis had kinder words when asked by Lowell how Edwards treated him.
"Very well," Davis said.
Lowell asked Davis how Edwards treated other staff members, to which Davis replied positively.
"Do you like him?" Lowell asked.
"I did," Davis replied. "I still do."
That answer brought a gentle smile to Edward's face.
The defense also asked Davis about Fred Baron, one of the two donors who contributed money to keep Edwards' mistress in hiding. The defense is seeking to establish that Baron was a stickler for following federal campaign finance laws.
"He was very careful to make sure those rules were followed?" Lowell asked.
Davis replied, "Absolutely."
The defense, too, asked Davis about Young. Davis said the staff nicknamed Young "Rose Petals" because they believed he was overly obsessed with keeping Edwards comfortable.
Prosecutors are trying to prove that Edwards accepted an illegal campaign donation by allowing money from wealthy donors to go toward covering up the affair.
The case, though, has focused in large part on the intimate and salacious details of the behind-the-scenes drama as the secret started to leak out -- in the press, and among Edwards' family and staff.
Edwards has pleaded not guilty to six counts related to campaign-finance violations. He faces up to 30 years in prison and $1.5 million in fines if convicted on all counts.
Fox News' Jonathan Serrie contributed to this report.