Surging in Iowa, Ron Paul Takes His Turn as Rivals' Punching Bag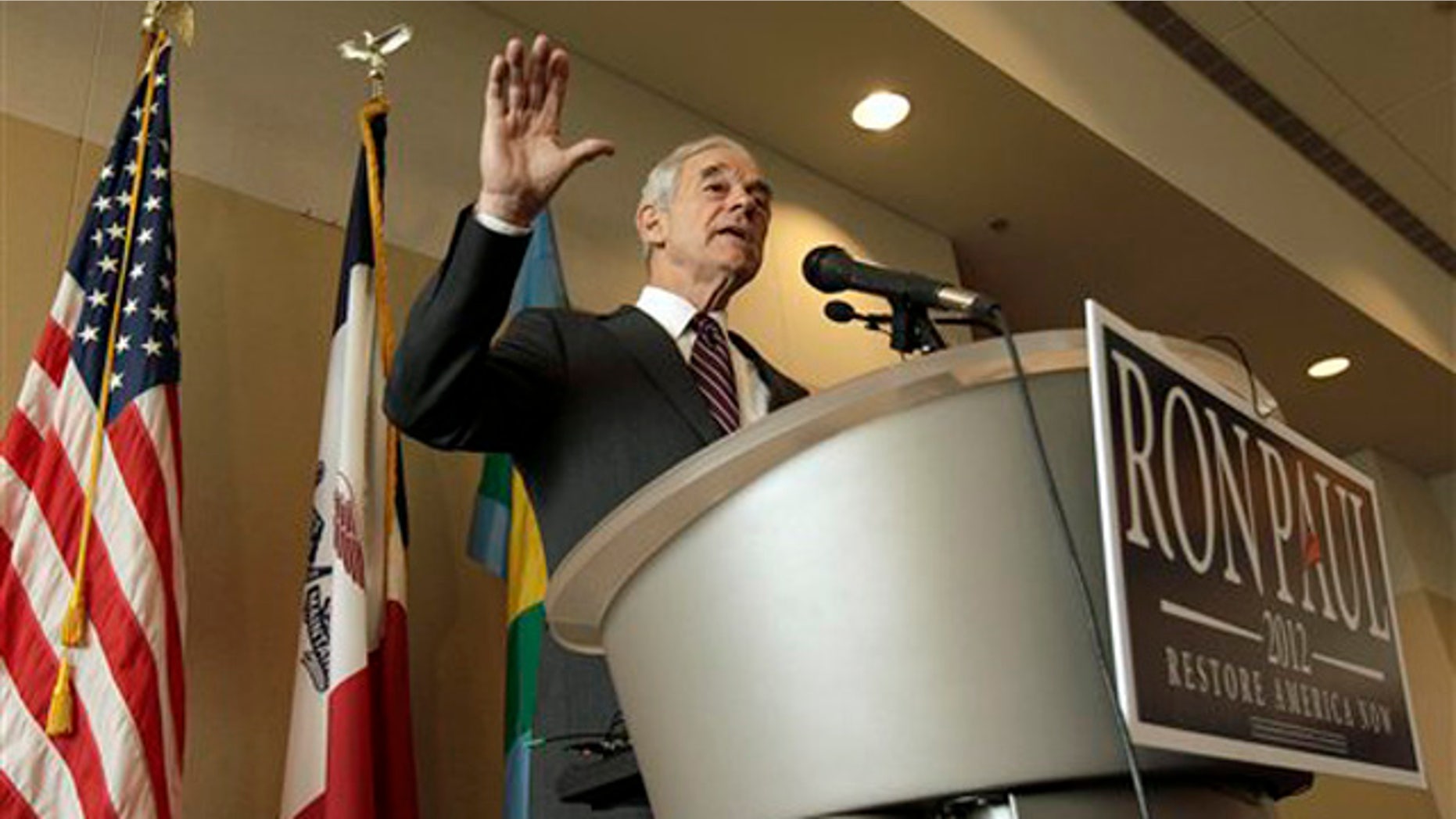 For months, Ron Paul was by turns ignored, tolerated and occasionally even praised by his opponents in the Republican presidential race.
But with the libertarian-leaning candidate surging to the front of the field in Iowa with less than a week to go before the caucuses, Paul's extensive record of outside-the-GOP-mainstream comments and views is coming under withering attack by his competitors.
While some of his fellow Republicans have practically adopted his unwavering criticism of the Federal Reserve and Washington's spending habits over the course of the campaign, they are picking apart other aspects of his record -- in particular singling out his foreign policy views as dangerously isolationist.
Former Massachusetts Gov. Mitt Romney, who mostly had stayed away from commenting on Paul's campaign, took a swipe Wednesday at the Texas congressman's hands-off attitude toward Iran's nuclear program.
"The greatest threat that Israel faces, and frankly the greatest threat that the world faces, is a nuclear Iran. ... We have differing views on this," Romney said at a cafe in Muscatine, Iowa. "Actually one of the people running for president thinks it's OK for Iran to have a nuclear weapon. I don't."
Former House Speaker Newt Gingrich, whose numbers in Iowa have dropped precipitously while Paul's have climbed, has emerged as one of the Texas congressman's toughest critics in the closing days of the Iowa blitz.
Asked Tuesday whom he would vote for if left with a choice between Paul and President Obama, Gingrich bucked Republicans' typical anybody-but-Obama answer, calling that a "very hard choice."
"I think Barack Obama is very destructive to the future of the United States. I think Ron Paul's views are totally outside the mainstream of virtually every decent American," he said.
Gingrich continued to criticize Paul over a series of newsletters dating back to the 1980s that bore Paul's name and contained a string of racially charged statements.
Paul has denied writing those statements and told Fox News last week that they made up just a tiny fraction of the newsletter content, which were devoted to monetary policy and other issues.
Paul earlier had launched a tough ad against Gingrich accusing him of "serial hypocrisy," but Gingrich said the newsletters undercut his message.
"He's attacking me for serial hypocrisy and he spent 10 years earning money out of a newsletter that had his name, that he didn't notice," Gingrich said on CNN. "Now all I'm saying is I think he's got to come up with some very straight, very straight answers to get somebody to take him seriously."
Former Pennsylvania Sen. Rick Santorum also had some choice words for Paul on the campaign trail.
On Tuesday, he described Paul as an unproductive member of Congress who is "left of Barack Obama" on national security.
Texas Gov. Rick Perry also said Tuesday that voters don't have to pick a candidate who would allow Iran to wipe Israel off the earth -- a reference to Paul's opposition to intervention regarding Iran's nuclear program.
"You don't have to stand for that," Perry said.
"I have all the respect in the world for the front-runners," he added.
The campaign trail tone toward Paul marks a turnaround from just a few weeks ago, when at an ABC News debate, Paul's opponents cited him as a positive example when asked to name something they had learned from the other candidates.
Perry thanked Paul for bringing attention to problems with the Federal Reserve and monetary policy.
"Congressman Paul is the individual on the stage that got me most interested in a subject that I found to be quite interesting, and at the root of a lot of the problems that we have, and I thank you for that," Perry said at the time.
Romney also praised Paul for his ability to generate a loyal following.
"He ignites an enthusiasm with a number of people that's very exciting to watch," Romney said.
By the next debate, sponsored by Fox News, the goodwill seemed to dissipate, as Minnesota Rep. Michele Bachmann ripped into Paul over his foreign policy views.
As Paul rises in the Iowa polls, the candidates have even less reason to be gracious toward him.
The RealClearPolitics average of recent polls shows Paul leading the field in Iowa by about 2 percentage points. Recent polls generally have him trading the lead with Romney -- while Gingrich, who used to maintain a double-digit lead in Iowa, falls back to third place.
Larry Sabato, director of the University of Virginia Center for Politics, suggested the dynamic in the Iowa race is becoming clear.
"You've got a battle for first place between just two candidates -- Romney and Ron Paul," he said Wednesday on Fox News.
Most of the GOP candidates are now aggressively courting Iowa caucus-goers. Paul is set to travel from a town hall in Newton, Iowa, on Wednesday to a set of stops in Des Moines before the end of the day.
Paul also has a slick new TV ad out in Iowa and New Hampshire that assails the "Washington machine" while casting Paul as the race's "consistent" and "incorruptible" candidate.
Without naming names, the ad says "serial hypocrites and flip-floppers can't clean up the mess" in Washington.