Supreme Court ruling on union dues could cost SEIU millions in payback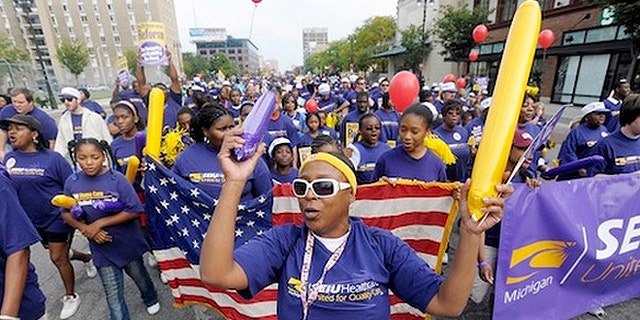 NEWYou can now listen to Fox News articles!
One of the nation's most powerful labor unions could face a costly onslaught of lawsuits seeking tens of millions of dollars in dues, after the U.S. Supreme Court ruled the money was collected improperly, legal experts said.
In a ruling Monday, the high court held that Service Employees International Union cannot force people who care for loved ones to be union members and deduct dues from the government checks of those they care for. The practice has gone on for several years in a handful of states, creating a lucrative stream of cash for the powerful labor organization, which represents more than 2 million workers and takes in about $300 million per year.
"The whole point of the decision was that the folks milked by the SEIU weren't really public employees and should not be forced to pay union dues at all," said Hans Bader, senior attorney for the Competitive Enterprise Institute. "So they should be able to sue for refund of their compelled union dues back as far as the statute of limitations will allow.
"It could have a large effect," he added.
[pullquote]
The National Right to Work Foundation, which also represented plaintiff Pamela Harris in Harris v. Quinn, plans to pursue improperly collected dues on behalf of its clients, who could become part of a class action, according to a spokesman.
"Although we won at the Supreme Court, the case will now continue in the lower courts to win back the money that was illegally taken from the providers," Anthony Riedel said.
Paul Kersey, an attorney and director of labor policy at the Illinois Policy Institute, which filed an amicus brief in support of Harris, said the legal consortium that backed her is "definitely looking at possible options going forward."
Home health aides have become a key segment of SEIU's base, comprising about 20 percent of the union's membership. In Illinois and other states, they were classified as public-sector workers, paid out of the proceeds of entitlement checks and thus automatically members of the SEIU. Harris' 25-year-old son, who suffers from a genetic disorder called Rubinstein-Taybi Syndrome, receives a monthly Medicaid check of approximately $1,300, from which about $90 was automatically deducted for union dues.
It is unclear exactly how much the SEIU reaped in the stricken dues collection scheme, but in Illinois, the union took in an estimated $20 million per year in dues collected from home health care and day care workers. Many of those workers are employed by state contractors and could opt to continue to be represented by the union.
Home health care unions are structured differently from state to state, but the broad interpretation of Monday's ruling is that home health care workers cannot be forced to join unions and can opt out of paying dues even if the union bargains on their behalf. Although Monday's ruling specifically applies to 26,000 home health care workers in Illinois, it could eventually affect hundreds of thousands of unionized home health care workers in states including California, Washington, Oregon, Massachusetts, Minnesota, Vermont and Connecticut.
Although the SEIU did not address the dues collection issue specifically, officials expressed confidence that workers will continue to see value in collective bargaining.
"No court case is going to stand in the way of home care workers coming together to have a strong voice for good jobs and quality home care," said SEIU President Mary Kay Henry. "At a time when wages remain stagnant and income inequality is out of control, joining together in a union is the only proven way home care workers have of improving their lives and the lives of the people they care for."
But if workers cannot be automatically signed up, the union will have to actively court them and membership will almost certainly drop. In Michigan, where the SEIU had dues deducted directly from Medicare checks sent to people cared for in their homes by loved ones, the practice ended when lawmakers passed legislation in 2012 making it a right-to-work state. Membership among people previously classified as home health workers plunged by 80 percent by some measures.
In Michigan, the SEIU kept people previously classified as union members on its rolls unless they affirmatively opted out during a one-month annual period. The legality of that under the state's right to work law is in dispute, and the Mackinac Center for Public Policy has launched a class-action suit to recoup $3 million worth of dues collected after 2012 from claimants who believed their membership ended when the law was changed. Monday's decision could prompt them to go back even further, subject to Michigan's three-year statute of limitations.
"Now that there is a constitutional violation, there is a possibility of looking for a claim [going back much further]," said Mackinac Vice Presidents for Legal Affairs Patrick Wright.
FoxNews.com first reported in April about the Michigan suit, with Mackinac plaintiff Patricia Haynes decrying how the union took dues out of entitlement checks she and her husband used to care for their two adult children who are afflicted with cerebral palsy.
"They couldn't get me a raise, they couldn't get me more vacation time and they certainly did nothing to improve my children's care," Haynes said. "I'd hate to say it, but in my opinion, they were stealing."
Rick Berman, executive director of Center for Union Facts, said the decision could spark several class-action suits in states where the union collected dues from people who didn't willingly join.
"It could be a case where individual people bring suit for restitution," Berman said. "In any particular state where dues were collected this way, that would definitely meet the test for a class action, because they would be similarly situated."
Even if workers previously classified as public-sector union workers can't claw back dues that were improperly collected, the ruling will have a big negative impact on SEIU going forward," he added.
"I don't know if they're going to have to give the money they collected back, but they won't be able to deduct it that way going forward, and that is a big hit," Berman said.