'Stuttering John' says he was visited by Secret Service after Trump prank call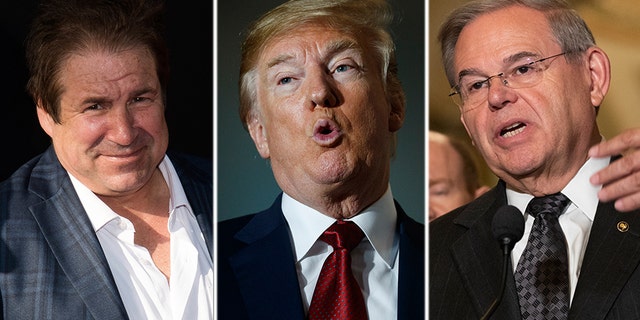 A shock jock comedian who was patched through to President Trump on Air Force One after impersonating a Democratic senator claimed on Saturday he was visited by the Secret Service after his prank went public.
Comedian John Melendez of "The Stuttering John" podcast posted audio on Thursday of his conversation with the president, where Melendez claimed to be Sen. Bob Menendez, D-N.J. The two appear to have spoken while Trump flew back from North Dakota on Air Force One.
A senior White House official declined to comment to Fox News about the call, citing security issues.
But on Saturday, Melendez tweeted that he had been visited by the Secret Service, though he said he didn't answer the door.
"Secret Service at my door. I guess my old friend Donald wants to continue this," he tweeted. "Stay tuned."
He later said he was at an undisclosed location.
The alleged visit comes as Politico reports that the White House is scrambling to figure out how the prank caller got Trump on the line.
During the podcast, Melendez played audio of his call to the White House switchboard, where he claimed he needed to talk to the president immediately about pending legislation.
He reached several White House operators before being told the president would call him back. According to the comedian, senior White House adviser Jared Kushner returned the call, connecting him to Trump.
"Hi, Bob!" the voice identified as Trump is heard saying as he picks up the phone, apparently from Air Force One.
He referenced last year's mistrial in the high-profile bribery case against Menendez, indicating he sympathized with the Democratic senator's case.
"Congratulations on everything," he said. "We're proud of you. Congratulations. Great job. You went through a tough, tough situation. And I don't think a very fair situation, but congratulations."
The pair also discussed issues from illegal immigration to the replacement of Justice Anthony Kennedy on the Supreme Court. Trump told Melendez that he was planning to make a decision "over the next two weeks."
On his Twitter account, Melendez blasted Trump for allegedly being more concerned with going after him than the staffers responsible for the botch.
"Alright I guess Donald is more concerned with pursuing this legally as opposed as to firing his screening staff," he tweeted
Fox News' Alex Pappas and Matt Leach contributed to this report.