Study: States Reap Windfall in Federal Highway Money No Matter What They Pay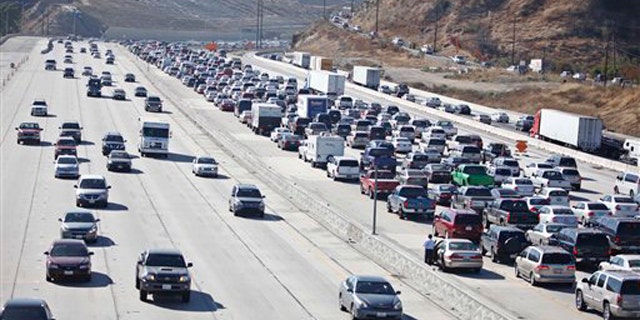 Despite complaints that states are not getting their fair share of road dollars, the Government Accountability Office found that every state but one received more federal highway money than their taxpayers contributed since 2005.
The report by the government watchdog looked at the complicated system through which the federal government allocates billions to the states for highway construction and repair. The system was originally set up to be user-funded -- the states pumped gas taxes and other fees into the national Highway Trust Fund and the federal government distributed it back to the states.
But with Congress beefing up programs to shield states from losses with a guaranteed federal funding cushion, the system has turned into a kind of lottery where everybody wins -- regardless of whether they need the jackpot. Alaska received nearly $5 for every dollar it put in between fiscal 2005 and 2008. The District of Columbia received $5.63 for every dollar. Seven other states absorbed more than double what they paid.
"This occurred because, overall, more funding was authorized and apportioned than was collected from highway users," the report said.
Only one state saw a loss, but it was slight -- Texas received 99.7 cents for every dollar.
The study was done at the request of the House Committee on Transportation and Infrastructure. Jim Berard, spokesman for committee chairman Rep. James Oberstar, D-Minn., said the committee commissioned the report because states were complaining that they were getting short-changed. The study contradicted those complaints.
"That's a myth -- states are getting back more money ... than they're putting in in just about every case," he said.
But Berard said the concern is not that states are getting too much money, since many still are not able to tackle their infrastructure problems. He said the problem is the way the federal government divvies up the cash.
"We're not talking about the size of the pie here. We're talking about how the pie is sliced up," Berard said. In other words, the money's not going where it's needed most and not going where it's being used best, according to Berard. He said money is basically flowing to the federal government and then flowing straight back -- with a bonus.
The GAO seemed to agree. Since Congress in 2005 started a program to guarantee a 92 percent rate of return, the GAO said the system is "at odds with reexamining and restructuring" programs so that "performance and accountability for results is factored into transportation investment decisions." Congress has since 2005 provided $44 billion in "bonus" money to help states make back what they put in -- Berard said that's a combination of fuel taxes, interest and general fund money, which he claimed was paid for. On top of that, about $27 billion in stimulus money went to states for highways funding.
The GAO report said the distribution calculations are "not meaningful because they are overridden by other provisions designed to yield a largely predetermined outcome -- that of returning revenues to their state of origin."
Oberstar said, rather, it needs to be spent where it can do the most good.
"I have long believed that a federal surface transportation program should focus less on the 'donor' and 'donee' debate and more on the needs of a national system," Oberstar said in a written statement. "The GAO report released ... provides a consistent set of figures and a better understanding of how federal-aid highway funding is distributed among states."
The GAO report concluded that the current system has veered away from its original design -- where highway taxes funded highway construction -- and "may not be sustainable." Part of the problem is that fuel tax revenue is going down because fuel-efficient vehicles are guzzling less gas on the road. The report recommended a review of the current system.