Still waiting for his breakout moment, Marco Rubio continues upward climb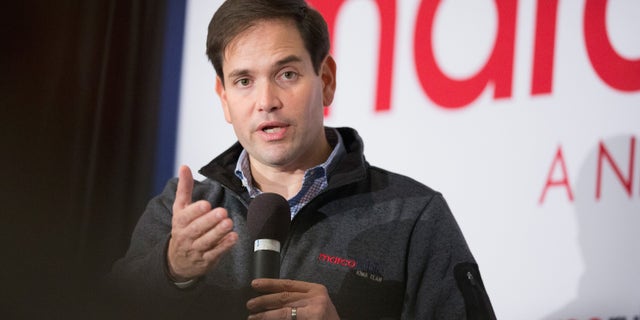 Up, down. Up, down. Up, down.
That's how it's been for Sen. Marco Rubio in the polls, and now, fortunately for him, he's up again.
In a new national Quinnipiac University poll of registered Republicans, Rubio has risen 3 percentage points, putting him behind Donald Trump, who also rose 3 percentage points.
Notably, however, Rubio came out on top on the issue of favorability, with a net-positive rating of 58 points.
As for those in the GOP, and the conservatives among them, Rubio is seen as the candidate who can pull the most voters together from within those who lean Republican.
Even many of those who are leaning toward the more conservative Sen. Ted Cruz, the Texas firebrand, as their favorite presidential candidate, have expressed that they would be comfortable if Rubio ended up being the GOP nominee.
He's staked out moderate positions in the past on immigration, but is also staunchly conservative on such matters as abortion, same sex marriage and foreign policy. The Florida first-term senator also is seen as someone of substance, displaying an academic knowledge of the economy and geopolitical issues.
Lately, Rubio has gone from focusing largely on party influencers to meeting with voters, who have given him a thumbs-up after hearing him speak.
"Of course you're not going to agree 100 percent with any politician, but from what he talked about tonight, I was very impressed," the National Review quoted Neja Linhart, an Iowa resident who heard Rubio speak to a small group of faith leaders at a private function last month.
"This was the first time I'd heard him publicly speak about his faith."
The National Review noted that Rubio "is fluent in the language of the grassroots, and solid on the three traditional legs of the conservative 'stool:' social, fiscal, and national-security issues."
Republican Jenny Beth Martin, who chairs the Tea Party Patriots Citizens Fund, was quoted in the Review as saying that if the GOP nomination race came down to being between Cruz and Rubio, it would still be a "win-win" for conservatives because the two men "ran and got elected originally based on tea-party values, and they are running again based on tea-party values."
Mike Needham, the CEO of Heritage Action for America, said the fact that Rubio and Cruz are at the top ranks of GOP candidates for president is a "tremendous testament to what conservatives have been able to achieve."
To be sure, Rubio has risen and slipped by rather small degrees in polls. But he nonetheless has been viewed as a steady performer in debates, usually coming across as well-informed, composed and eloquent on stage.
He had avoided the personal attacks than often characterize elections, but after being a target of criticism by Trump, Cruz and even his one-time mentor, Bush, he began to push back.
Rubio and Cruz, in particular, have engaged in increasingly hostile criticism of each other in recent weeks, particularly on the issue of immigration.
Cruz favors a hard line, and has assailed Rubio for backing a reform bill in 2013 that called for, among other things, providing a path to legal status for certain undocumented immigrants.
Rubio, for his part, says Cruz is being hypocritical because he has himself supported immigration plans that would, for example, expand the number of immigrants who could come to the United States.
The party leaders have watched Trump's continuing strong showing in polls, and trying to come up with a plan about how to address it, with many fearing that the brash candidate will doom the GOP's chances of winning back the White House if the billionaire ends up being their party nominee.
Despite recent weeks of yet more controversy, in the Quinnipiac poll, for instance, Trump commanded the top with 27 percent, followed by Rubio with 17 percent, and Carson and Cruz, each with 16 percent.
Former Florida Gov. Jeb Bush got 5 percent, and former Hewlett-Packard CEO Carly Fiorina got 3 percent.
"It doesn't seem to matter what he says or who he offends, whether the facts are contested or the 'political correctness' is challenged, Donald Trump seems to be wearing Kevlar," said Tim Malloy, assistant director of the Quinnipiac University Poll.
"Dr. Ben Carson, moving to center stage just one month ago, now needs some CPR. The Doctor sinks. The Donald soars. The GOP, 11 months from the election, has to be thinking, 'This could be the guy.'"
Last month, Carson was almost neck and neck with Trump in national polls, getting 23 percent compared with the real estate mogul's 24 percent.
Carson, who in some polls in Iowa surpassed Trump, downplayed his recent slide in polls.
"Poll numbers will go up and down. It's a marathon, not a sprint," Carson said in an NBC interview.
On the Democratic side, where there is less unpredictability and competition, former Secretary of State Hillary Clinton continues out front.
Clinton led over Sen. Bernie Sanders of Vermont 60 to 30 percent, compared to 53 to 35 percent in a November 4 survey by Quinnipiac. Former Maryland Gov. Martin O'Malley has 2 percent, with 6 percent undecided. Among Democrats, Clinton earned the highest net favorability (85 percent to 11 percent).
Like us on Facebook