State of denial: Venezuela's Maduro says opposition is causing financial crisis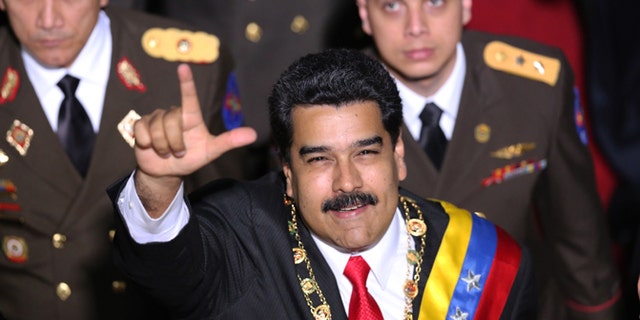 NEWYou can now listen to Fox News articles!
CARACAS, Venezuela – Venezuela's embattled president pulled out all the stops, including props and a video, in a three-hour national speech Wednesday night announcing a boost in wages while dismissing talk that his oil-dependent nation is headed to triple-digit inflation and a deepening recession.
He called on Venezuelans to "come together and work to overcome our economic difficulties," adding that while oil prices are unlikely to bounce back to the highs of last year "God will provide."
President Nicolas Maduro had promised several times in the past month to make announcements regarding the South American country's worsening shortages of basic goods and its deepening recession, and many people had expected him to drastically change the price and currency controls that economists say contribute to crippling 60 percent inflation.
Instead, an optimistic Maduro promised to strengthen safety net programs and rejected devaluing the currency while repeating accusations that the opposition is sabotaging the economy. He also urged Venezuelans to keep faith that government programs will continue despite the steep drop in the price of oil, which is virtually the country's only export.
He unveiled a new round of social spending, including promises to raise wages and pensions 15 percent, deliver 400,000 new homes for the poor and increase grants for students.
The only hint that the embattled leader was considering a turn toward austerity were proposals to increase gasoline prices and add transparency to the multi-tiered currency exchange rate system blamed by economists for much of the South American country's economic troubles.
Maduro called the country's lowest-in-the-world gas prices a distortion, inviting Venezuelans to "crucify" him for saying so, but he also stopped short of actually raising them. Gas costs the equivalent of 5 U.S. cents a gallon.
Venezuelan currency can currently be exchanged at three rates, and the bolivar will continue to be exchanged at three rates under the new system. The best rate will remain the same and will be used for essentials like food and medicine, as it is now. The other two current rates will be merged and a new, third rate is being introduced for the exchange of local currency through private dealers. Maduro did not provide details.
Earlier Wednesday, the International Monetary Fund predicted that Venezuela's economy would contract 7 percent this year, while the rest of the region sees moderate growth. Maduro said in his speech that the economy contracted 2.8 percent in 2014 and acknowledged worsening shortages.
Supporters in Congress chanted "They won't return" as Maduro began speaking, referring to previous regimes they say excluded the poor from political discourse and a share in the country's oil wealth. In Caracas' wealthy eastern district, drivers began honking their horns in protest when Maduro's address interrupted regular broadcasting.
Based on reporting by The Associated Press.