State lawmakers push bills to punish protesters who block traffic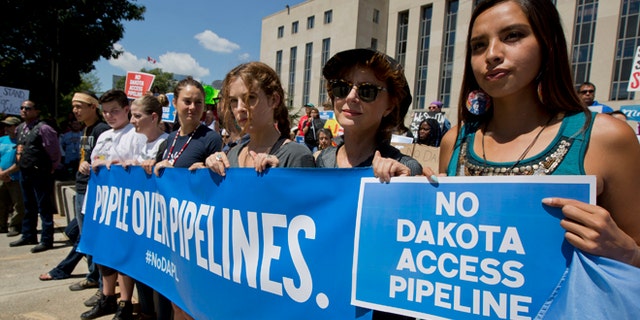 NEWYou can now listen to Fox News articles!
Several states are considering bills that target protesters who block or disrupt traffic, in the wake of widespread demonstrations that choked off roads and even highways.
Some bills came about after protests spilled out onto roadways and created havoc for motorists. In Indiana, watching national protests grow large and affect traffic prompted Republican state Sen. Jim Tomes to propose a measure calling on police to disperse crowds that block traffic.
In recent days, protesters in cities across the nation gathered at or near airports to denounce President Trump's travel restrictions and the detention of dozens of people who had a connection to one of seven countries deemed terrorist risks. When protesters blocked traffic in front of the airport in Los Angeles, police in riot gear moved to confine them to another area as motorists who were stuck missed flights.
The lawmakers behind the measures appear to be mainly Republican and say that such actions are aimed at control at a time when protests sometimes grow violent and create chaos.
Civil rights groups, however, say the bill sponsors are really seeking to undermine protesters and that they are ready to fight such attempts in court if they become law.
North Dakota state Rep. Keith Kempenich, a Republican, has proposed a bill that would relieve a motorist from punishment who accidentally hits or kills a protester who is obstructing traffic.
Kempenich, whose bill has come under fire, drafted it after the large protests over the pipeline project near Standing Rock Indian Reservation last year.
Kempenich said he was moved to address concerns from relatives who described protesters walking in front of their cars as they were driving near the demonstrations.
"There's a First Amendment right to assemble," Kempenich told Fox News. "But there's also the First Amendment right of people who don't have to pay attention to it" and should be able to pass by and not be bothered.
"When people get aggressive, then the peaceful assembly [right] protected in the First Amendment disappears," he said.
"Protesters stood in front of their cars and flashed signs in front of them," Kempenich said of his relatives' experiences. "If they'd hit the gas instead of their brake, someone would have been hurt."
Lee Rowland, a staff attorney for the American Civil Liberties Union, said that the measures are unnecessary because localities and states already have laws that forbid the intentional disruption of traffic.
"These bills are not isolated," Rowland said. "There's an alarming trend of bills that penalize protesters in many different ways. They're dressed up as '[traffic] obstruction' bills, or bills on public safety."
"These bills are about one thing and one thing only – silencing dissent."
Rowland said the ACLU and other groups are closely keeping track of the measures and are prepared to fight them in court if they become law.

States that have pending legislation seeking or increasing penalties for obstructing highways include Iowa, Indiana and Minnesota, according to the National Conference of State Legislatures. Other state legislatures have discussed introducing bills, according to NCSL officials. Proposed legislation in the state of Washington seeks to punish protestors who participate in "economic disruption," which includes obstructing "the passage of any train, truck, car, ship, boat, aircraft, or other vehicle or vessel engaged in the carriage, hauling, transport, shipment, or delivery of goods, cargo, freight, or other item, in commerce."
Tomes created a stir when he introduced a measure that directed police to use "any means necessary" to disperse protesters who block traffic.
Critics say the bill raises "serious constitutional questions" that were likely to impinge on First Amendment rights. And they say it could be used to justify brutal tactics, similar to those used on black civil rights activists in the 1960s.
Democratic Sen. Karen Tillian challenged the wording in Tomes' bill at a state Senate Local Government Committee hearing in which she held up historical photo of protesters cracking down on protesters during civil rights demonstrations.
"The object of this measure is very simple," Tomes said in a statement sent to Fox News. "We need to keep our streets and interstates open to commerce, traffic, motorists and emergency personnel."
"Anyone who wants to stage or participate in a protest or demonstration is free to do so," Tomes said. "But…an ambulance needs to be able to get to an individual who is having a heart attack, and law enforcement needs to be able to respond to a call to attend to someone who needs help."
The Associated Press contributed to this report.