State Department reportedly deems mission to rescue Americans in Yemen too risky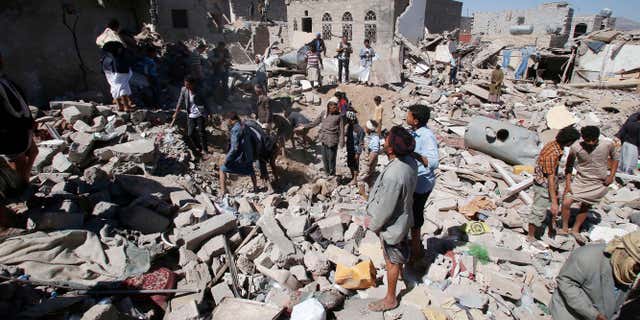 The State Department has reportedly deemed any mission to rescue U.S. government assets in war-torn Yemen too risky.
The Wall Street Journal, citing a State Department official, reports that any evacuation point designated in a country where an Al Qaeda affiliate is active and an unstable security picture puts Americans and any U.S. military assets involved at risk.
Instead, State Department spokeswoman Marie Harf has pointed to an online system where Americans stranded in Yemen can register to receive updates on opportunities to leave the country. The department has also talked to other countries about Americans joining their rescue missions, she said.
The decision of saving Americans puts U.S. authorities in a tight spot. They must choose between rescuing Americans abroad or becoming a target for armed groups, including an Al Qaeda branch and anti-American Houthi rebels.
Usually, the journal says, the U.S. evacuates citizens when commercial methods of transport are cut off. However, the State Department made clear that no such operation was in the works for Yemen, where airports have been bombed and seaports are closed to commercial traffic.
The Yemen crisis has been building for quite a while. The State Department has warned travelers for decades not to travel to the country. The U.S. Embassy in the capital closed in February.
Despite warnings, Americans have kept coming and going.
"It's not like Syria or Iraq where it's just straight-up wars," Summer Nasser, an American from New York told the Wall Street Journal, who fled her family's villa in Aden to escape the escalating violence. "I thought it's OK—it's not going to happen overnight."
Muslim rights activists have filed a lawsuit in federal court in Washington to try and get trapped Americans out. The groups also launched a website called stuckinyemen.com for Americans who want to leave. It has drawn 700 people, its organizers told the journal.
Yemen's instability flared up last year when Iran-linked Houthi rebels expanded their control from their stronghold in the north and spread south. In September, Houthis overran the capital and took over the government in February prompting Western-backed President Abed Rabbo Mansour Hadi to flee to Saudi Arabia.
As a Saudi-led coalition began to engage the rebels with bombing missions, trapped Americans began to flee to remote villages in the country. Others have decided to escape despite the dangers that await them.