Split screen frames Obama's struggle on race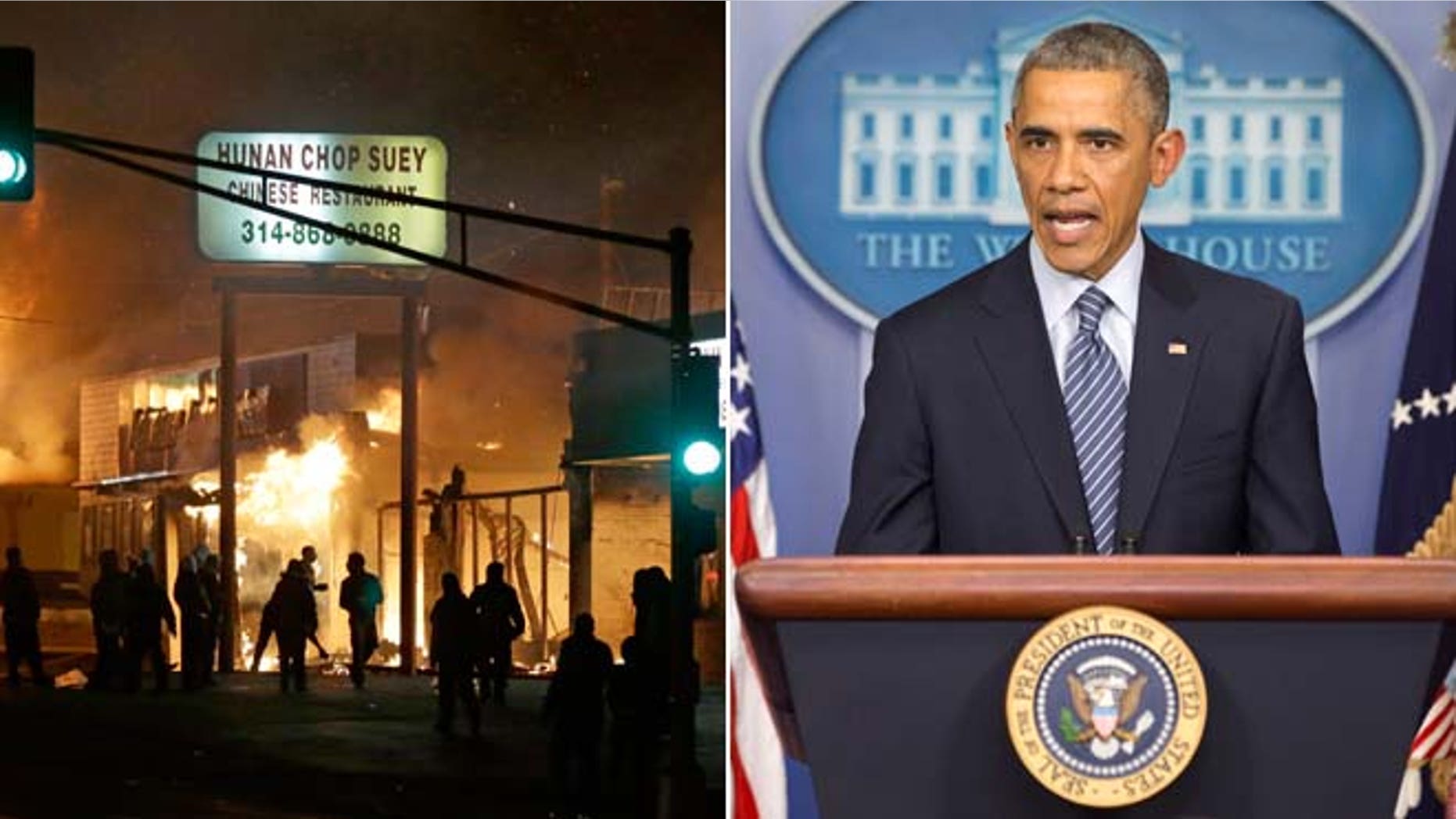 **Want FOX News First in your inbox every day? Sign up here.**
Buzz Cut:
• Split screen frames Obama's struggle on race
• Q Poll: Strong opposition to amnesty edict, Obama job approval approaches all-time low
• Gruber set to testify
• Hillary ad pushes social justice
• When reindeer are outlawed, only outlaws will have reindeer
SPLIT SCREEN FRAMES OBAMA'S STRUGGLE ON RACE
President Obama couldn't beat the rioters to the airwaves. Moments after the announcement of a grand jury's decision to not charge Officer Darren Wilson with a crime for shooting robbery suspect Michael Brown, Obama came before television viewers to call for calm and for media outlets to focus on peaceful protests taking place. But before Obama could get off the dais, the arson, riots and looting that would rage through the night had already begun. That split-screen image was the starkest illustration yet of the limitations of a man whose rationale for seeking the presidency despite a slim resume was his ability to meet what he said was America's greatest need: Someone "to bring the country together." Obama explained in February 2007 that he would run because "one of the skills that [he brings] to bear is being able to pull together the different strands of American life and focus on what we have in common." Nearly seven years later, quite the opposite has proven to be true.

[Much blame in the media was placed not on the rioters themselves but on St. Louis County Prosecutor Robert McCulloch's nighttime announcement. One television analyst called it an "invitation to chaos" and others hinted McCulloch was trying to precipitate a riot.]

Beyond divided - In his remarks amid the opening moments of Monday's riot, Obama said America has "made enormous progress in race relations" over the past "several decades." But any of Obama's recent predecessors certainly could have said the same thing. The more important question: How is Obama, who rationalized his upstart candidacy on his skills on the subject, doing at pulling together "the different strands" of our culture? The broad consensus is strongly negative. Many on the left blame a racist backlash against the first non-white president, while many on the right blame a president who has embraced divisive politics and demonized rivals. But whatever the reasons, Obama's presidency has witnessed a marked decline in race relations in America. Americans have a dimmer view of race relations, with one poll showing a 10-point drop from 2013 to 2014 alone. But now, despite several "major" speeches on race the president said he is considering traveling to Ferguson where supporters say he should again try to give a talk to heal the nation's wounds.  But what would he say?

[Not over yet - WaPo: "The Justice Department still has two opportunities to bring criminal charges and overhaul the Ferguson Police Department in the case that grew from the fatal police shooting of Michael Brown.]

What would you say? - In his remarks Monday, Obama encouraged Americans to use their energies "to start tackling much-needed criminal justice reform" rather than engaging in violence. Obama was presumably referring to efforts to decrease mandatory minimum federal sentences for narcotics offenses, an idea with some bipartisan support. Other legislative options include state-level changes to laws governing the use of force by police officers, something highly unlikely in all but a few jurisdictions and an unlikely cause for a president. Obama bowed to the fact that he could not argue with the grand jury's decision saying – no doubt to the grimaces of Republicans who deem his recent temporary immigration amnesty a usurpation of power – "First and foremost, we are a nation built on the rule of law. And so we need to accept that this decision was the grand jury's to make." The other issues at hand, particularly activists' claims of "white privilege" or a deepening cultural famine among low-income families, defy simple solutions. For speeches to be "major" in the true sense, they have to contain a powerful idea and a call to action. It's hard to see Obama delivering such a speech in this waning phase of his presidency.

[Fox News contributor Juan Williams writes: "Street violence only plays into the hands of racial provocateurs who are too weak to engage in the constant, ongoing struggle for equal rights and protections for black people. Those self-promoters are never around to clean up after a riot destroys a black neighborhood and tears at the trust between good people of all races."]

Sharpton, again - As is usually the case amid racial unrest, the president is turning to MSNBC host Al Sharpton, a favorite of top Obama adviser Valerie Jarrett. Initially skeptical, it was reportedly Jarrett who convinced Sharpton together they could make changes for the country. The controversial television host advised Obama on the Trayvon Martin case, the selection process for the new attorney general, post-Election losses for the Democrats and the latest battle over immigration and executive action. In the initial days following the shooting of Michael Brown, it was said to be Jarrett who reached out to Sharpton to advise how to handle the situation.

Q POLL: STRONG OPPOSITION TO AMNESTY EDICT AS OBAMA APPROVAL APPROACHES ALL-TIME LOW
With his approval rating dropping, a majority of Americans oppose President Obama's move to take unilateral action on immigration, according to a new poll. Forty-eight percent of respondents in the Quinnipiac University poll released today say the president should not go around Congress and issues an executive order, 43 percent say he should. The poll found a 9-point drop (to 48 percent) in support for allowing illegal immigrants to stay and be given a path to citizenship. Thirty-five percent say illegal immigrants should be required to leave. President Obama's approval rating dropped to 39 percent, one point shy of his lowest-ever approval score in a Q-poll.

IT'S A DATE: GRUBER SET TO TESTIFY
ObamaCare architect Jonathan Gruber, whose brags about tricking voters in passing the law has further damaged the administration's defense of the troubled program, has agreed to comply with a call to testify before the House Oversight Committee on Dec. 9.

WITH HAGEL OUSTER, OBAMA'S CIRCLE SHRINKS
NYT: "Shortly after President Obama announced the resignation of Defense Secretary Chuck Hagel at the White House on Monday, he walked over to a meeting of his entire National Security Council staff, where he told the embattled group that they were critical to an ambitious foreign policy agenda. The timing was a coincidence, but it seemed an unmistakable sign that Mr. Hagel's departure does not portend a broader internal shake-up.  If anything, it may represent the final triumph of a White House-centric approach to national security. Mr. Obama does not appear likely to replace his national security adviser, Susan E. Rice, who skirmished with Mr. Hagel over Syria policy and others. Nor is he mulling a change in his chief of staff, Denis R. McDonough, who has exerted heavy influence over foreign policy, at times acting almost as a shadow national security adviser."

Cruz trolls Obama - "One strong option would be former Sen. Joe Lieberman, a member of the President's own party with deep experience and unshakable commitment to the security of the United States. I urge the President to give him full and fair consideration for this critical position."—Sen. Ted Cruz, R-Texas, in a statement Monday.

[Reed out - Providence [R.I.] Journal: "Defense Secretary Chuck Hagel may be stepping down but don't look for U.S. Sen. Jack Reed [D-R.I.] to be replacing him.]

Obama gives Iran another nuke reprieve - NYT: "A yearlong effort to reach an enduring accord with Iran to dismantle large parts of its nuclear infrastructure fell short on Monday, forcing the United States and its allies to declare a seven-month extension…The failure to agree even on the framework for a comprehensive deal, after extended high-level diplomacy over an issue that was arguably President Obama's top foreign policy priority, had to be a disappointment for the administration."

[AP: "Ayatollah Ali Khamenei on Tuesday said, 'On the nuclear issue, the United States and European colonialist countries gathered and applied their entire efforts to bring the Islamic Republic to its knees but they could not and they will not,' Khamenei's website reported."]

Voters more hawkish on Islamists - CNN: "Most Americans now believe ISIS poses at least a somewhat serious threat to the United States and Americans are growing slightly more hawkish on the U.S. strategy to combat the militant group, according to a CNN/ORC poll released Monday."

WITH YOUR SECOND CUP OF COFFEE...
This week, retailers and shoppers are counting down to the most dreaded shopping day of the year, Black Friday. This multi-billion-dollar orgy of consumerism brings increasing reports of violence in stores including the use of stun guns, pepper spray and knives. But what causes such extremes? Professor Laurence Ashworth writes that the impulses at work far predate the arrival of Tickle-Me Elmo. "The first is a valuable reward, something we are highly motivated to obtain. On Black Friday, the reward is a bargain…The second condition is competition. And the competition originates in the limited number of products that are typically offered at the most heavily discounted prices…the third relevant condition: the presence or absence of norms that might promote or prevent violent behavior." When those norms are disrupted by someone butting in line upsetting those following the norm, a free-for-all can ensue. As such, shoppers will resort to anything including violence to protect their potential reward.

Got a TIP from the RIGHT or LEFT? Email FoxNewsFirst@FOXNEWS.COM

POLL CHECK
Real Clear Politics Averages
Obama Job Approval: Approve – 42 percent//Disapprove – 53.1 percent
Direction of Country: Right Direction – 27 percent//Wrong Track – 66.5 percent

SOUNDS SERIOUS: JEB TO GIVE BIG SPEECH IN SOUTH CAROLINA
The Hill: "Former Florida Gov. Jeb Bush (R-Fla.), a potential 2016 Republican presidential candidate, will visit the critical early primary state of South Carolina next month. The University of South Carolina announced on Monday that Bush will give the Dec. 15 commencement speech and receive an honorary degree for public service. Bush's father, former President George H.W. Bush, and brother, former President George W. Bush, both spoke at the same commencement and received honorary degrees from the school.  While Bush's participation at the school's events aren't political, potential candidates often use their time in early primary and caucus states to meet with supporters and party leaders, laying the groundwork for a potential run."

[The Hill: "Bush has been coy about whether he'll run, but in what is expected to be a crowded field, he presently enjoys the best name recognition out of all potential candidates, according to a Wall Street Journal/NBC News poll released last week."]

HILLARY AD PUSHES SOCIAL JUSTICE
The Weekly Standard: "The pro-Hillary Clinton group Correct the Record has released this tribute video encouraging former Secretary of State Hillary Clinton to run for president in 2016. The video, which looks a lot like a campaign spot, is titled, 'The American Dream: Hillary Clinton Writing A New Chapter.' 'America needs a president like Hillary Clinton, who will expand opportunity for all Americans. Whether it's the poor, the sick, the middle class, children or women, Hillary Clinton has given a voice to those who could not speak up for themselves,' Correct the Record writes in an email to supporters."

[The Democratic National Committee announced the finalists to host the 2016 convention: Columbus, Brooklyn and Philadelphia. Republicans are set to meet in Cleveland in June of 2016, with Democrats eyeing July dates.]

Behind closed doors, Hillary boosts Landrieu - CNN: "Hillary Clinton will host a high-dollar fundraiser for Sen. Mary Landrieu [D-La.], an embattled Democratic incumbent who finds herself behind in a closely watched runoff to reelection. The Dec. 1 event, which will be hosted at the New York City home of Sarah & Victor Kovner, longtime Clinton supporters, will boost Landrieu's coffers after she was unable to best her opponent Bill Cassidy [R-La.] on Election Day. Polls currently show the Republican with a sizable lead in the runoff. Tickets to the event start at $1,000 and go up to $12,000. The event is being branded as 'Cocktails with Hillary Rodham Clinton in support of Sen. Mary Landrieu.'"

[[New Orleans] Times-Picayune: "Republican Texas Gov. Rick Perry will campaign for Rep. Bill Cassidy [R-La.] at early voting rallies across South Louisiana [today.]

WHEN REINDEER ARE OUTLAWED, ONLY OUTLAWS WILL HAVE REINDEER
The Cairngorm Reindeer Herd in Aviemore, Scotland is being forced to live in a state of secrecy following several incidents with People for the Ethical Treatment of Animals (PETA). The group doesn't want live reindeer used for Christmas events, the pressure is so high that the Cairngorm group cannot publicize any events they plan to attend. Employee Tilly Smith says the situation would get out of control if events were publicized, saying "We're erring on the side of caution by asking people. We believe the protesters are aiming to stop venues from hiring us." Meanwhile PETA believes that the secrecy is because of the unethical displays, "When someone asks their customers to be secretive, you know they've got something to hide," Ben Williams, a PETA spokesman said. Cairngorm employees say that their reindeer have the only free-roaming habitat in the Scottish Highlands.

AND NOW, A WORD FROM CHARLES…
"[Chuck Hagel] went against the White House and Susan Rice and the NSC, who were trying to manage his department and manage the Department of Defense over his head. And when he said the truth, he criticized the administration. Obama can tolerate a lot -- cluelessness, incompetence, laziness -- but not criticism; he had to go." —Charles Krauthammer on "Special Report with Bret Baier" Watch here.

Chris Stirewalt is digital politics editor for Fox News.  Want FOX News First in your inbox every day? Sign up here.