South Carolina Republican Party could skip 2020 primary to help Trump
The South Carolina Republican Party potentially could decide to forgo a 2020 primary election if President Trump runs for re-election -- but a concrete decision has not yet been made, state GOP Chairman Drew McKissick told Fox News Wednesday.
The Washington Examiner first reported the state party may abandon a primary this year to "protect" Trump – setting off a flurry of speculation about the South Carolina GOP's plans for the upcoming election.
But McKissick stressed a decision would not be made until the party's executive committee meets in the summer of 2019. Then, McKissick, along with one voting member from each county in the state, will determine their plan for a primary to submit to the Republican National Committee.
"The purpose of political parties is to unify around a platform and elect candidates who would advance that platform," McKissick said, adding that the entire state party supports Trump in that regard.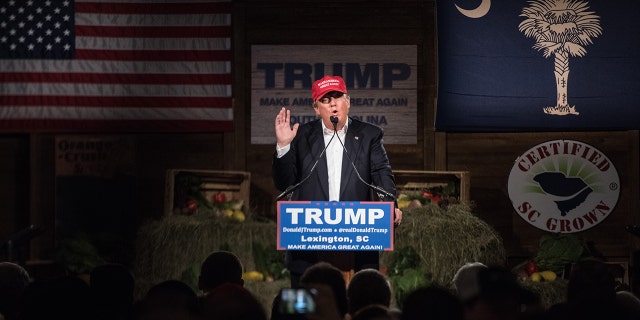 "It is completely on the table that the executive committee will make one decision or another about a party. But nobody is pushing or prodding in any direction about doing it one way or another at this point," he said. "Nobody was even thinking or talking about this before."
TRUMP SAYS HE HOPES JOHN KASICH RUNS AGAINST HIM; KASICH ADVISER WARNS, 'BE CAREFUL'
Should the state GOP opt out of a primary, it certainly wouldn't be the first time it's happened in the Palmetto State. Republicans opted out of primary in 1984 during former President Ronald Reagan's largely uncontested re-election bid and again in 2004 when former President George W. Bush ran for re-election.
Democrats, too, skipped primaries for former President Bill Clinton's re-election bid in 1996 and former President Barack Obama's re-election campaign in 2012, according to The State newspaper.
Still, the idea the Republican Party was even considering scrapping the "First in the South" primary drew widespread condemnation among the state's Democrats.
"The Republicans have themselves a pig in a poke. I don't know why anyone is surprised as the Republicans have become experts at denying people the right to vote," South Carolina Democratic Party Chairman Trav Robertson told Fox News. "They have a president that half of the Republican base doesn't support, and they want to deny them the right to vote."
KAMALA HARRIS' CHIEF OF STAFF LEAVING TO JOIN HER PAC, RAISING SPECULATION OF A 2020 PRESIDENTIAL RUN
His party tweeted the popular, but at times snide, Southern phrase: "Bless their hearts."
Jaime Harrison, the associate chair of the Democratic National Committee, also took to social media to say: "To hell with democracy."
"I will laugh loudly the next time I hear a GOP official talk about saving democracy or the rule of law. I only have time for fairytales when I'm reading them to my son," Harrison, the former chair of the South Carolina Democratic Party, said.
But Matt Moore, a Republican strategist and former chair of the South Carolina GOP, noted delegates – who would cast votes at the national convention – are elected by their communities so the "voices of the people will still be heard." He also pointed out state primaries can cost "well over $2 million," and with Trump's approval ratings so high in South Carolina, there would be "no need to waste taxpayer dollars" on the race.
"Party leaders are weighing the cost of a primary versus what's likely a foregone conclusion," Moore told Fox News.
JEFF FLAKE REPORTEDLY CONSIDERING 2020 TRUMP CHALLENGE: 'SOMEBODY NEEDS TO RUN ON THE REPUBLICAN SIDE'
South Carolina is responsible for footing the bill for presidential primaries.
Ahead of the midterm elections, Trump's approval rating was at 44 percent in South Carolina, according to a Winthrop Poll.
Dr. Scott Huffmon, a political science professor at Winthrop University and director of the Center for Public Opinion & Policy Research, speculated the state GOP could be trying to protect Trump "from being weakened in the general election by having to slog through a primary fight" as opposed to being fearful he could lose the state.
And while the South Carolina GOP has yet to decide on if it will hold a primary, McKissick said he's already looking forward to the Democrats' own.
"Our purpose is not to provide political entertainment but to advance our agenda. [Democrats] will have a clown car running through South Carolina for the next year. I'll get out the popcorn and watch," he said.