Sources: Obama to nominate ex-P&G head to lead Veterans Affairs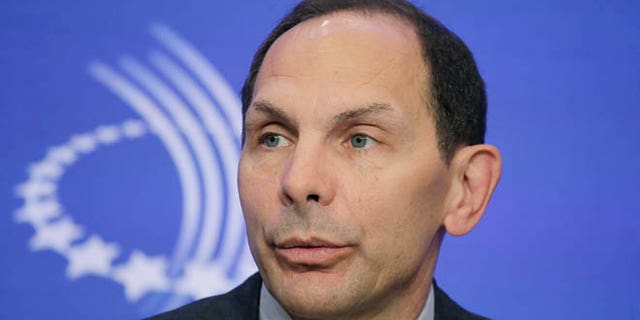 NEWYou can now listen to Fox News articles!
President Obama plans to nominate former Procter and Gamble executive Robert McDonald to lead the Department of Veterans Affairs, sources confirm to Fox News.
The president is expected to make the announcement on Monday. The nomination comes on the heels of a critical White House report which cited a "corrosive culture" at the department that has come under fire for making veterans endure long wait times while misrepresenting their own internal numbers.
[audio-clip]
"If confirmed by the Senate, Robert McDonald will inherit a Department of Veterans Affairs under a specter of corruption that may very well surpass anything in the history of American government," House Veterans Affairs Committee Chairman Jeff Miller, R-Fla., said in a statement.
He said McDonald would need to "root out the culture of dishonesty and fraud that has taken hold within the department and is contributing to all of its most pressing challenges."
McDonald, 61, is a native of Gary, Ind., who grew up in Chicago. He was at the helm of Proctor and Gamble -- a Fortune 500 company with more than 120,000 employees -- from July 2009 to July 2013. While there, he was known for trying to make steep cuts to the company's large staff, but was also replaced last year for various reasons.
Under McDonald's leadership, the company struggled to grow under increased competition and global economic challenges. Critics suggested he was having trouble getting the 150-year-old-plus company to fire on all cylinders.
Investors, including activist investor William Ackman, voiced frustration over the company's slow revenue growth and stagnant market share gains. Ackman, who took a 1 percent stake in the company, pressed for the company to streamline operations and improve results.
In a letter announcing his retirement from P&G, McDonald wrote, "This has been a very difficult decision for me, but I'm convinced it is what is in the best interests of the company and you."
"During the past year, much attention has been focused on me from several angles, which has been a distraction that is not in our best interests," he wrote.
But in tapping McDonald for the VA post, Obama is signaling his desire to install a VA chief with broad management experience. McDonald also had military experience, graduating near the top of his class from West Point and serving as a captain in the Army, primarily in the 82nd Airborne Division.
If confirmed by the Senate, McDonald would replace Acting VA Secretary Sloan Gibson, who replaced Eric Shinseki as head of the agency.
Shinseki resigned May 30 after apologizing for the agency's problems.
Senate Veterans Affairs Committee Chairman Bernie Sanders, I-Vt., reacting to the news of McDonald's nomination, said he looks forward to meeting with him.
"The VA needs significantly improved transparency and accountability and it needs an increased number of doctors, nurses and other medical staff so that all eligible veterans get high-quality health care in a timely manner," he said in a statement.
Fox News' Chad Pergram and The Associated Press contributed to this report.