Sonny Perdue named State of the Union's 'designated survivor': 5 things to know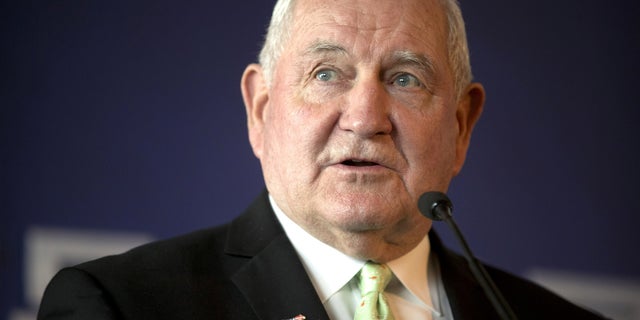 NEWYou can now listen to Fox News articles!
Agriculture Secretary Sonny Perdue was named the "designated survivor" for President Donald Trump's first State of the Union address.
During Trump's speech, Perdue was taken to a secure location away from the U.S. Capitol. As part of the administration's Cabinet, Perdue was sworn in to lead the U.S. Department of Agriculture in April 2017.
Here are five things to know about Perdue.
1. Sonny isn't his real name.
Perdue, 71, was born as George Ervine Perdue III. However, he uses his nickname "Sonny" in his official capacity.
2. Perdue was Georgia's governor.
Perdue was born and raised in Georgia and went on to become the Peach State's 81st governor in 2003.
He served two terms as a Republican governor.
Perdue also served as a state senator, initially as a Democrat. He joined the Republican Party in 1998.
3. Perdue is a movie star.
While Georgia's governor, Perdue starred in the film "We Are Marshall," playing East Carolina University's football coach. The movie is based on the plane crash that killed members of Marshall University's football team in 1970.
"We Are Marshall" was filmed in Georgia.
4. He is a former veterinarian and college football player.
Perdue earned a doctorate in veterinary medicine from the University of Georgia in 1971. He practiced veterinary medicine briefly as well as served in the U.S. Air Force, according to Perdue's National Governors Association biography.
He also played football as a walk-on for the University of Georgia.
5. Perdue has four children and was a foster parent to numerous others.
Perdue and his wife, Mary Ruff, have four children and fostered eight newborns awaiting adoption, according to his Georgia governor biography.