Son of actor Robert Mitchum blasts Dem for 'deceptive' ad in congressional race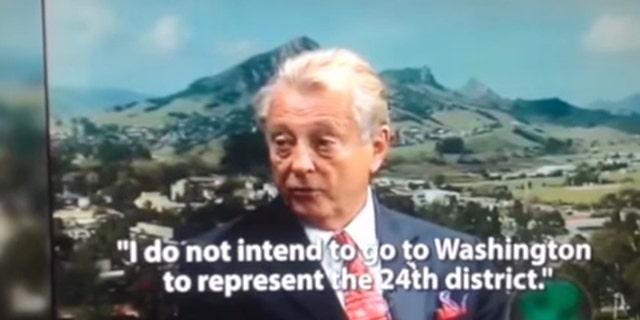 Chris Mitchum, the son of legendary actor Robert Mitchum, is getting a bitter taste of politics as he mounts a bid for Congress in southern California – accusing his opponent of running a "deceptive" ad that twists his words.
Mitchum, who like his dad was an actor but is trying to transition into politics, is running against Rep. Lois Capps, a longtime Democratic lawmaker. Her campaign ran an ad – which since has been pulled after a complaint from Mitchum's lawyers – that depicts Mitchum appearing to tell an interviewer that he does "not intend to go to Washington to represent the 24th District." The tape then cuts off and jumps to a Capps message of approval.
The Mitchum remarks, though, actually come from a longer clip that shows him making a point about pet projects. What he actually said is he does not intend to go to Washington "to bring back baseball fields. That's not why I'm going."
A representative for Mitchum, Tab Berg, called the editing "deceptive" and said it completely altered the meaning of Mitchum's words.
"The Capps campaign pulled the ad quietly, and tried to tell reporters that it had nothing to do with getting caught," Berg told FoxNews.com. "Capps neglected to respond to the media about the issue, and in fact has been a no-show at five debates planned by community groups."
In response to the ad, the Mitchum camp has launched its own "Truth" web video and online fundraising effort to address the incident. The spot opens with the original Capps ad, and then switches to the unedited clip from the interview.
"When it comes to the Lois Capps' campaign, you can't believe anything they say," a laughing Mitchum says directly to the camera after his statement finishes.
Mitchum, a Republican, ran in 2012 but failed to make it past the primary.
Despite the allegations of clip-doctoring, Capps spokesman Chris Meagher said the ad still represents the "narrow political philosophy" of Capps' opponent and is consistent with Mitchum's views that residents of the 24th District are "not a priority."
"My boss, on the other hand, has consistently advocated for the central coast," Meagher said.
Since the ad was pulled, Capps has released two new ads in its place.
Polling suggests that the election in the typically Democratic district will be surprisingly tight—numbers from Problosky Research show Mitchum with a narrow lead over Capps, 41.5-40.8 percent.
Capps, meanwhile, also has been dealing with a controversy this year, involving an aide who struck and killed a young woman in Santa Barbara with his car last December.