Some Worry Lawmakers' Conflicts Over Immigration Reform Will Doom Entire Effort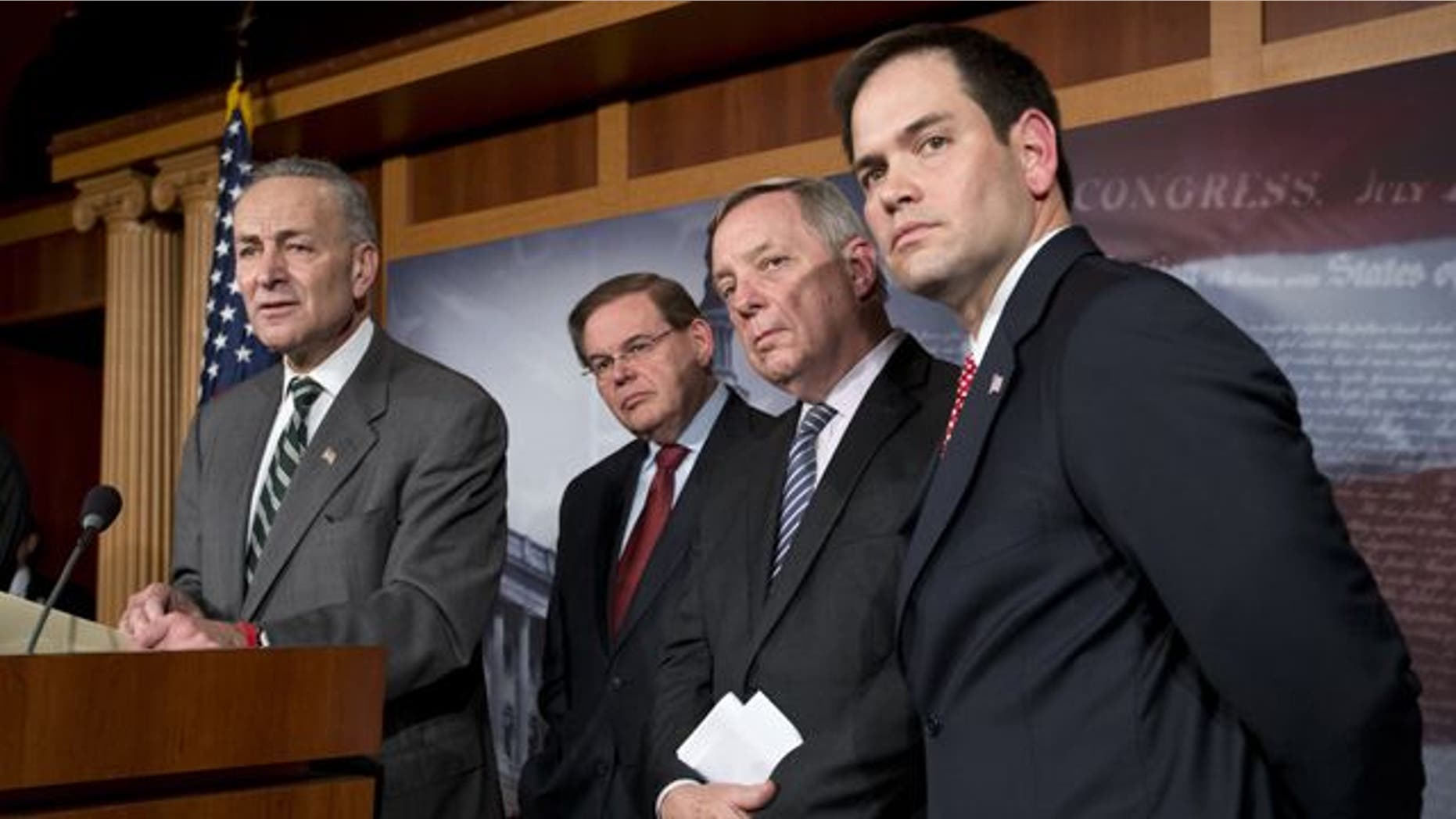 Evangelical leaders took to the phones and to email on Wednesday and Thursday to urge pastors and congregants in the nation's most conservative states to press their lawmakers to pass an immigration reform bill.
The leaders felt an urgency to act, one said, because of several conflicts among lawmakers this week over key points of immigration reform bills. They say they fear these conflicts, some within the Republican Party, can doom the whole immigration reform effort.
Others involved in the reform push, however, say the conflicts are just another rough patch on the difficult road to achieving consensus on the emotionally-charged issue of immigration.
"There's no way we can have an immigration reform bill passed if the House of Representatives, which has a Republican majority, does not pass legislation," said Rev. Miguel Rivera, chairman of the National Coalition of Latino Clergy & Christian Leaders (CONLAMIC). "And the only way they'll pass it is if the Senate bill is stronger on issues like border security."
Rivera put out an email Thursday urging evangelical pastors to press the importance of immigration reform with their congregants, many of whom are undocumented, he said.
"Many of our churches are in conservative areas," he said. "People need to reach out to the representatives in Congress and urge them to pass immigration reform and put aside politics."
On Wednesday, Rep. Raul Labrador, an Idaho Republican, dropped out of a bipartisan group that was working on an immigration reform bill.
Labrador told reporters that he left the group because a working draft of the House bill did not ensure that taxpayers would not get stuck paying for health care of undocumented immigrants.
"I'm just going to move on and work with other members of the House Judiciary Committee to try to craft legislation that can actually pass the House," Labrador said. "We just couldn't agree on health care."
Then Sen. John Cornyn, a Texas Republican, proposed allowing a path to legal status only after evidence that border enforcement is effective enough to catch 90 percent of people trying to cross illegally. Many Democrats, and some Republicans, have said they oppose such "triggers" as conditions of providing a path to legalization. They say they would not support a bill that would include such an amendment.
And capping the developments making reform supporters nervous was a statement by Sen. Marco Rubio –a Florida Republican who is central to Congress's immigration overhaul effort– in a media interview that he would not support the Senate bill if border security is not better addressed.
In an answer to conservative talk radio host Hugh Hewitt's question about whether he would support the bill –in its current state– that he and seven other senators helped draft, Rubio said: "If those amendments don't pass, then I think we've got a bill that isn't going to become law and I think we're wasting our time. So the answer is no."
Rubio, however, held out hope.
"If they don't pass, then we have to keep working to ensure that we get to a bill that does."
Members of some leading immigration advocacy groups downplayed the negative ramifications of this week's conflicts among lawmakers.
"We are still optimistic that reform will be enacted this year," said Frank Sharry, executive director of America's Voice, which favors more lenient immigration policies. "We've always said this journey would be a roller coaster ride, and recent events have proved us right."
"Our optimism is based on the fact that the fundamentals are strong: a strong majority of the general public wants Congress to solve this problem, Latinos are watching closely and care deeply, the coalition for reform is broad and deep, and both parties want to prove to Latino voters that they can deliver."
The big push for immigration reform got going in earnest after the November election, when many Latino voters – who were seen a key factor in the re-election of President Barack Obama – cited the issue as important to their decision to vote, and to choose the president.
More than 70 percent of Latino voters chose Obama, while only 27 percent voted for his GOP challenger Mitt Romney. In many polls, likely Latino voters said that even while immigration was not directly an issue in their lives, the seeming hostile rhetoric about the matter by Republicans had helped turn them against the party and Romney.
The postmortem on the role of immigration and Latino voter sentiment during the election prompted many Republican Party leaders to soften their stance on such matters as providing a path to legal status for undocumented immigrants and expanding guest worker programs.
"We predict that these forces," Sharry said, "are stronger than the resistance to reform within the GOP and the dysfunction of the Congress."
Some of the key players in Congress in immigration reform immediately are trying to strike a reassuring tone, essentially saying it is only normal for such a major undertaking to go through philosophical storms.
"Congressman Labrador was a very important part of the group and contributed a great many good ideas to the process," said Rep. Luis Gutierrez, an Illinois Democrat who is chairman of the Immigration Task Force of the Congressional Hispanic Caucus and a member of the Judiciary Committee. "I am sorry to see him pull out, but I think he will be tremendously helpful in getting immigration reform passed by the House and signed by the President this year when all is said and done."
Gutierrez said the bill is far from complete and perfect.
"There are still many things in this bill I don't like and many things my Republican colleagues don't like," Gutierrez said in a statement, "but that is what it takes to compromise, move forward, and solve the vexing problems we have with our immigration and deportation system. The children of deportees I met with yesterday, the immigrants I meet around the country, the clergy and employers and law enforcement that are fighting for immigration reform want us to keep moving forward and we are."
Others, however, are less sanguine about immigration reform's prospects.
Dan Stein, executive director of the Federation for American Immigration Reform, which supports strict enforcement, said one massive bill addressing an overhaul of the system was doomed from the start.
He voiced opposition to provisions that would expand guest worker visas for farm workers and other laborers considered "low-skill," and provide a path to legalization shortly after the bill is passed.
"The bill is simply unreasonable," Stein said. "The Senate bill is a behemoth legislation that has so many things to dislike. There are too many broadening philosophical divides."