Soldiers relocate Hawaii wedding so Obama can play golf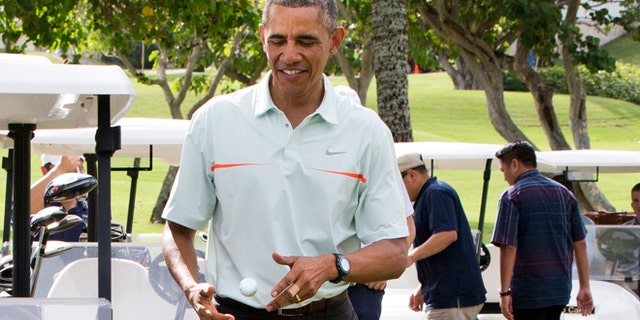 NEWYou can now listen to Fox News articles!
Before they could say "I do," President Obama needed to play through.
Two Army soldiers reportedly had to relocate their Hawaii wedding over the weekend so the commander-in-chief could play golf.
Bloomberg reports that the Army captains, Natalie Heimel and Edward Mallue Jr., had planned to get married at the 16th tee box at Kaneohe Klipper Golf Course, on Marine Corps Base Hawaii, on Sunday.
But just as they were finishing their wedding rehearsal on Saturday, they were told they'd have to move -- to accommodate the president's round the following day.
"It was emotional, especially for her -- she's the bride and in less than 24 hours they had to change everything they had planned," Mallue's sister Jamie McCarthy told Bloomberg.
The couple reportedly ended up moving to a lush site overlooking the 16th hole, which one of the wedding planners said was more secluded and prettier anyway.
The White House may not have even known about the wedding in advance.
And after Bloomberg asked the White House about the incident, Obama apparently tried to make it right.
McCarthy told Bloomberg the president called the bride to apologize and congratulate them. "Made their day," she said.
A source familiar with the incident confirmed the phone call to Fox News.
Still, the incident proved fast fodder for the president's critics.
"I usually say at least he isn't doing something harmful when he's playing golf..." Sen. Rand Paul, R-Ky., quipped on Twitter, linking to a story on the relocated wedding.