Sheriff Joe Arpaio to close controversial squad targeting immigrant ID thefts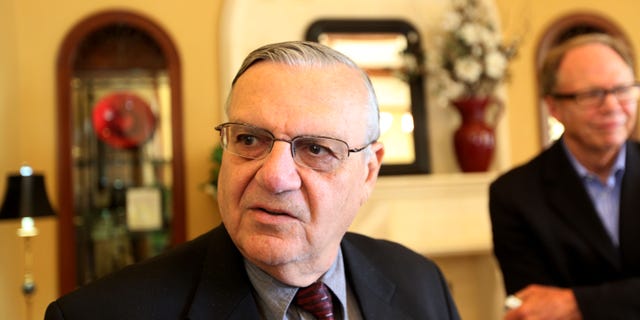 NEWYou can now listen to Fox News articles!
PHOENIX (AP) – An Arizona sheriff known for arresting hundreds of immigrants on charges of finding work using fake or stolen identities is planning to close the controversial squad that investigates such cases.
Maricopa County Sheriff Joe Arpaio's decision to disband the criminal employment squad will end his last major foothold in immigration enforcement after the courts and federal government have gradually reined in his powers in recent years.
Since 2008, Arpaio has raided 83 businesses, leading to more than 700 immigrants in the country illegally being charged with using fake or stolen IDs to get jobs. The raids have been criticized as focusing too heavily on the workers instead of employers.
"Here is guy who abused these laws and twisted them in such a sick way to do it for political gain. But I am glad that the reign over immigrants is over," said Lydia Guzman, a civil rights advocate who documented many of Arpaio's business raids and immigration patrols.
The agency didn't immediately respond to a request for comment Thursday morning.
The sheriff's office announced the squad's planned closure late Wednesday as part of a legal challenge to the immigrant ID-theft cases. The squad will close in January or February after it completes an investigation.
A memo by a sheriff's official said the agency will be voluntarily halting its work-related ID theft enforcement and that the decision was made after the courts have shelved certain Arizona immigration laws.
Annie Lai, one of the attorneys leading the challenge, said opponents of Arpaio's raids will try to get prosecutors to stop bringing work-related ID theft cases against immigrants arrested by other metro Phoenix police agencies.
The ID theft laws were part of a package of legislation that sought to confront employers who hire immigrants in the country illegally. Only one employer has been criminally charged in those investigations.
But the immigrants arrested for ID theft typically plead guilty to a felony, frequently face deportation and are unable to re-enter the U.S. legally.
Arpaio's immigration powers have dwindled as the federal government curtailed his authority or courts struck down several Arizona laws seeking to confront illegal immigration.
In late 2009, Washington stripped some of his deputies of their power to make federal immigration arrests. The restrictions continued when a judge ruled in May 2013 that Arpaio's office had systematically racially profiled Latinos in regular traffic and special immigration patrols. Arpaio vigorously denies the court's conclusions.
Another squad, focused on enforcing an Arizona immigrant smuggling law, has come under scrutiny from the judge in the profiling case after allegations of misconduct surfaced earlier this year, including whether a squad member had been shaking down immigrants who were in the country illegally.
A federal judge last month struck down the state's smuggling law, which was the legal underpinning for Arpaio's immigration patrols.
Still, a small number of Arizona's immigration laws have been upheld, including a key section of the state's landmark 2010 immigration law that requires police to check people's immigration status under certain circumstances.
Like us on Facebook
Follow us on Twitter & Instagram