Sestak Opens Arms to White House After Job Offer Allegation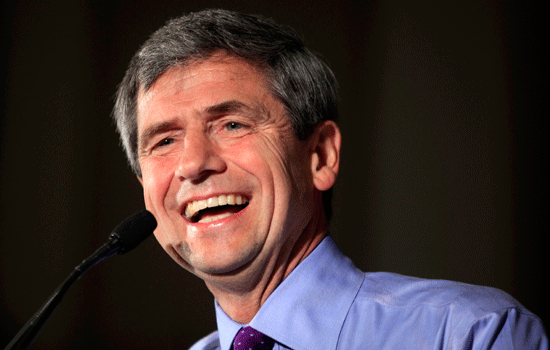 Rep. Joe Sestak, the newly crowned Democratic nominee for U.S. Senate from Pennsylvania, faces a major decision: Will he embrace the White House after he accused it of trying to bribe him into dropping out of his primary race against Sen. Arlen Specter?
The Sestak campaign told FoxNews.com on Wednesday that it would gladly accept President Obama's seal of approval. But critics were decrying the prospect of such an alliance.
"It would be incredibly disingenuous and reek of political payback" for Sestak "to accept any support from the Obama administration to become the next senator of Pennsylvania while knowingly protecting the very White House that tried to bribe him," said Kurt Bardella, a spokesman for Rep. Darrell Issa, R-Calif., who has been pressing for more information on the charge Sestak made during the primary campaign.
While it's not clear whether Obama will stump for Sestak, Vice President Biden said Wednesday he's ready to hit the campaign trail for him.
"I spoke to Joe Sestak last night and congratulated him on his impressive victory," Biden said in a written statement. "He will make a great candidate in the fall, and a wonderful United States senator. I look forward to campaigning for him in Pennsylvania and celebrating his victory in November."
It would make sense for the White House to lend support to Sestak in his run against his Republican opponent, former Rep. Pat Toomey, as part of its efforts to fend off a GOP attempt to regain control of the Senate in November.
But the history between the White House and Sestak is complicated.
In February, Sestak accused the White House of offering him a federal job last summer to drop out of the primary after abandoning its efforts to recruit him to run when Specter switched parties. Sestak has since refused to elaborate on the allegations.
Issa has called on the Justice Department to appoint a special prosecutor to investigate the matter, and last week he pushed Attorney General Eric Holder, who has refused to say whether he's looking into it, to take action. Issa says a bribe offer would amount to "multiple felonies."
"Could the reason why Congressman Joe Sestak refuses to name names is because the very people who tried to bribe him are now his benefactors?" Issa said in a written statement Wednesday. "Was Joe Sestak embellishing what really happened or does he have first-hand knowledge of the White House breaking the law? If what he said is the truth, Joe Sestak has a moral imperative to come forward and expose who within the Obama administration tried to bribe him."
The Sestak campaign, meanwhile, said it would welcome support from the White House for the November campaign.
Sestak "would be proud to stand with the president and vice president," Sestak campaign spokesman Jonathan Dworkin told FoxNews.com, adding that the candidate spoke to both after winning Tuesday's primary and harbors no hard feelings.
"He wants to be President Obama's strongest ally in the Senate," Dworkin said.
He declined to comment on Sestak's allegations. "The congressman has said all he has to say about it," he said. "He wants to focus on issues that are important to voters."
Toomey's campaign said it had no plans to make the controversy an issue in the general election.
"I don't believe we plan to comment on it," Toomey campaign spokesman Tim Kelly told FoxNews.com. "We're focused on the issues."
White House spokesman Robert Gibbs has said that he's been told "whatever conversations have been had are not problematic." He also said the matter was "in the past."