Sessions stays mum on Rosenstein speculation, Cohen probe at Senate hearing
Attorney General Jeff Sessions kept quiet Wednesday about whether he would recuse himself from the criminal investigation into Trump attorney Michael Cohen and refused to speculate on resigning should President Donald Trump choose to fire Deputy Attorney General Rod Rosenstein.
During a hearing held by the Senate Appropriations Subcommittee on Commerce, Justice, Science, and Related Agencies, Sessions was pressed by Democratic Sen. Patrick Leahy on whether he had "honored" his recusal from the investigation into Russian meddling and potential collusion with Trump campaign associates ahead of the 2016 election.
"Sen. Leahy, I am honoring the recusal in every case, in every matter that comes before the Department of Justice. I have honored that, and will continue to honor that," Sessions said.
Leahy, D-Vt., then asked whether the attorney general would recuse himself from the Cohen case, following the announcement from the U.S. Attorney's Office in the Southern District of New York that Cohen was under criminal investigation, and the empaneling of a grand jury for that case.
"It is the policy of the Department of Justice that those who have recused themselves not state the details of [the recusal] or confirm the existence of an investigation, or the scope or nature of the investigation," Sessions said. "So, I feel like by following the rules of the department, which I am teaching all of our people to do, I cannot answer that question."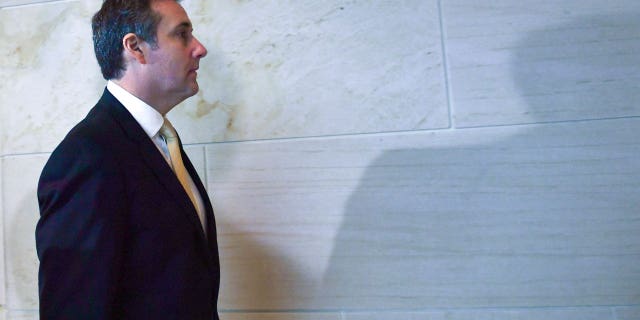 Leahy's question regarding a potential recusal from the Cohen case came after a Bloomberg News report on Tuesday, suggesting Sessions would not recuse himself from the Cohen investigation.
Justice Department officials refused to confirm the report, telling Fox News they could not talk about recusals because that would confirm the existence of the investigation. Justice Department officials also told Fox News that they neither could confirm nor deny a Sessions recusal because the existence of the investigation already was public knowledge, and the confirmation of a recusal would reveal the scope and nature of the investigation.
Sessions doubled down on his initial answer, telling Leahy and the panel that he would "comply" with his recusal.
SESSIONS REPORTEDLY SAYS HE MAY QUIT IF ROSENSTEIN SACKED; WHAT IS TRUMP SAYING? 
"The best answer for me is that I should not announce that. Recusals are not made public, but internally binding," Sessions said. "I can assure you I have not violated my recusal."
Leahy, the appropriations committee's vice chair, went on to press Sessions on whether the attorney general would resign should Trump choose to remove Rosenstein, who oversees the Russia investigation for the Justice Department.
Leahy cited a Washington Post article from last week suggesting Sessions would quit amid a potential Rosenstein termination.
"That calls for a speculative answer. ... I'm not able to do that," Sessions replied with a smile.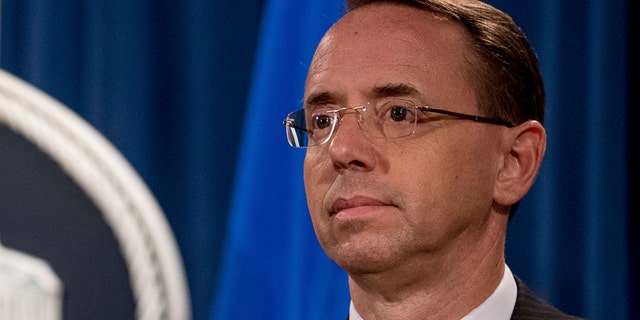 JUDGE WON'T LET TRUMP ATTORNEY COHEN REVIEW SEIZED FILES BEFORE THE FEDS, AS STORMY DANIELS SPEAKS OUT 
Leahy responded: "Your smile answers the question."
Last week, during a joint news conference with Japanese Prime Minister Shinzō Abe, reporters pressed Trump on whether he would fire Rosenstein and Special Counsel Robert Mueller.
"They've been saying I'm going to get rid of them for the last three months, four months, five months, and they're still here," Trump said, referring to the media reports suggesting Mueller and Rosenstein's potential ouster.
Cohen, who formerly worked at the Trump Organization, is under criminal investigation as part of a grand jury probe into his personal conduct and business dealings, including a $130,000 payment made to adult film star Stormy Daniels in exchange for her silence about an alleged sexual encounter with Trump in 2016.
Sessions was asked whether Trump would pardon Cohen, to which Sessions did not answer, noting he would not reveal conversations he had with the president.
Fox News' Jake Gibson contributed to this report.