Senators Rubio, Menendez meet wives of jailed Venezuelan opposition leaders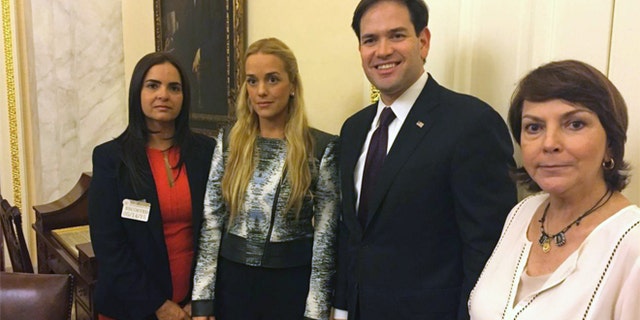 NEWYou can now listen to Fox News articles!
Senators Marco Rubio and Bob Menendez met with three female opposition leaders from Venezuela Wednesday, a few days after the country held primaries to select candidates to run against the ruling socialist party later this year.
One of them was Lilian Tintori, the wife of Leopoldo López, an opposition leader who has been jailed since February 2014 for allegedly inciting the Venezuelan people to protest the regime and policies of President Nicólas Maduro.
Another noted spouse was Mitzy Capriles, the wife of Caracas mayor Antonio Ledezma — the 60-year-old was rushed out of an office building three months ago by the Bolivarian National Police and is now being held under house arrest due to a health condition.
In the meeting with the senators was also Tamara Suju, international director of the Venezuelan human rights group, Foro Penal.
"I was humbled and honored to meet with these courageous leaders who want nothing more than a better future for Venezuela that the current regime's corruption and incompetence cannot achieve," Sen. Rubio (R-Fla.) said in a joint statement issued after the meeting on Wednesday.
"The struggles Leopoldo López and Mayor Antonio Ledezma are enduring is a fight embraced by all who value democracy and human rights, and reject the suppression of universal freedoms," Menendez (D-N.J.) said for his part.
"President Maduro's repressive government and ruinous policies are failing the Venezuelan people and unjustly silencing opposing voices," Menendez added.
MUD, the 29-party coalition that opposes the country's socialist regime, held a primary on Sunday to select some of the candidates that will be running in congressional elections on a date yet to be announced.
"Later this year," Rubio said, "a critical moment will come when Venezuela holds legislative elections that we fully expect the Maduro regime to try to undermine and outright steal. The U.S. must lead a movement of free and democratic societies calling for a fully free and fair election."
At a press conference after the meeting, Tintori said that the U.S. could be an instrument for change in Venezuela and asked that Washington continue asking for the release of all "political prisoners."
She also thanked the U.S. for sending State Department envoy Thomas Shannon earlier this week for a second-round of face-to-face talks with Maduro.
"We are thankful that he sees with his own eyes what is occurring in Venezuela," Tintori said.
Capriles stressed that former Spanish Prime Minister, Felipe González, who has agreed to represent both Ledezma and López in their upcoming trials but who was blocked from entering Venezuela by the regime, be allowed into the country.
"It is extremely important that a man with the democratic stature that González has be allowed to attend the defense proceedings of our political prisoners," she said.
EFE contributed to this report.
Like us on Facebook
Follow us on Twitter & Instagram