Senators Rubio, Menendez challenge new policy on Cuba in first hearing on the issue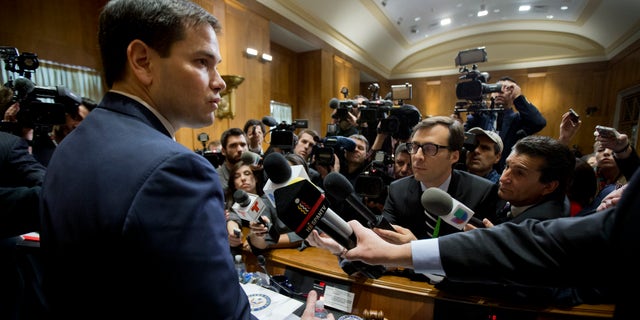 NEWYou can now listen to Fox News articles!
In an often pointed exchange on Tuesday with Obama administration officials, Cuban-American senators challenged the new policy, unveiled in December by the president, that calls for normalizing relations between Cuba and the United States.
Testifying at the first Senate hearing chaired by Sen. Marco Rubio, a likely presidential candidate, Assistant Secretary of State for Western Hemisphere Affairs Roberta Jacobson said that the United States won't curtail its support for democracy and human rights activists in Cuba as part of any agreement to restore embassies between the two countries.
Sen. Bob Menendez of New Jersey complained that the U.S. won no concessions from President Raul Castro's government and demanded that Cuba extradite a woman convicted of killing a policeman from his state.
Rubio, a Florida Republican, asked Jacobson and State Department human rights chief Tom Malinowski if they would be willing to sacrifice human rights in an embassy agreement. He read from an interview that Josefina Vidal, Cuba's top negotiator, gave The Associated Press after two days of historic talks in Havana last month in which she tied the establishment of embassies to reduced U.S. support for Cuban dissidents.
"We would not curtail the activities we're doing now," Jacobson answered. When Rubio pressed her for a firm commitment, she said she couldn't imagine a U.S. embassy operating in Havana under such conditions and suggested that Vidal's comments may have been more posturing than an actual negotiating position.
Jacobson's trip to Havana last month made her the highest-level U.S. official to visit Cuban capital in more than three decades. The talks encompassed the details of reconstituting embassies in each other's capitals, managing migration flows and the much larger process of normalizing ties between governments with unresolved issues ranging from fugitives to financial claims.
Jacobson said she raised several barriers to the re-establishment of diplomatic relations during her Havana discussions, including U.S. resistance to any restrictions on American diplomats, shipments to the U.S. Interests Section and Cuban access to that building.
Concrete progress was limited in the first round of talks, which focused largely on setting an agenda. Jacobson said in prepared testimony Tuesday that the two sides intend to talk again in February. Those talks are likely to be in Washington.
"This Administration is under no illusions about the continued barriers to internationally recognized freedoms that remain for the Cuban people, nor are we under illusions about the nature of the Cuban government," Jacobson said in her prepared comments. "When we sat down with our counterparts in Havana, we were clear that our governments have both shared interests and sharp differences."
"I raised with the Cuban government our concerns about its harassment, use of violence, and arbitrary detention of Cuban citizens peacefully expressing their views."
Among senators, positions on Obama's sudden rapprochement with Cuba crisscrossed party affiliation and political interest. Countering Rubio among Republicans was Sen. Jeff Flake of Arizona, who wants to end all U.S. travel restrictions to Cuba. Rand Paul of Kentucky, another GOP senator who supports the thaw, didn't show up for the hearing.
Obama and Castro vowed to improve ties after announcing in December a spy swap and the release of Alan Gross, a U.S. aid contractor who had been held in Cuba for five years. In the weeks that followed, Obama's administration relaxed several restrictions on Cuba under the American economic embargo and Castro's government released 53 political prisoners.
However, the Cuban government also tallied 140 new, short-term detentions since December, the State Department's Malinowski said.
"The nature of the Cuban regime has not changed," Malinowski told the senators. Still, he said he was "absolutely confident" that Cuban people fighting for change would prevail.
Based on reporting by The Associated Press.
Follow us on twitter.com/foxnewslatino
Like us at facebook.com/foxnewslatino