Senate paves way for Lynch nomination with deal on stalled human trafficking bill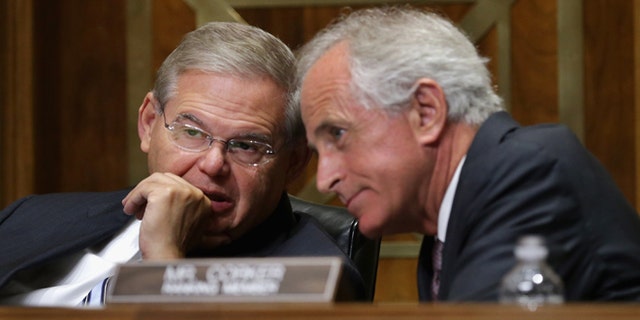 NEWYou can now listen to Fox News articles!
A deal was reached Tuesday to move forward a stalled human trafficking bill, which clears the way for a vote on President Barack Obama's attorney general nominee.
The deal unveiled on the Senate floor aimed to solve a dispute over abortion that had stalled the once-popular bipartisan bill for weeks. The nomination of Attorney General-designate Loretta Lynch got caught in the crossfire, as Senate Republicans refused to take up her nomination until the matter of the trafficking bill was resolved, infuriating Democrats, civil rights leaders and women's groups.
"I'm glad we can say there is a bipartisan proposal that will allow us to complete action on this important legislation so we can provide help to the victims who desperately need it," said Majority Leader Mitch McConnell, R-Ky., said of the compromise work-around. He said he anticipated a vote on Lynch, who will become the nation's first black female attorney general, "in the next day or so."
Late last month Democrats prevented the legislation from moving forward because of an amendment regarding abortion that few lawmakers had noticed when the bill, which was co-sponsored by Bob Menendez (D-N.J.) and Bob Corker (R-Tenn.), was first introduced.
GOP presidential candidate, Sen. Marco Rubio, R-Fla., said he was "inclined not to" vote in favor of Lynch's nomination, though he said he had not made a decision. Rubio said he was extremely concerned about Lynch's answers on President Obama's executive actions on immigration.
"To have the next attorney general of the United States argue with a straight face that that is legal and constitutional, I think is in the minds of many people and increasingly mine, a disqualifier," Rubio said in an interview with the Associated Press.
Senators of both parties loudly lamented their impasse on the trafficking bill, yet blamed each other in a spectacle of fruitless bickering notable even for Congress.
The finalized deal aims to address Democratic concerns that the legislation expands existing prohibitions on spending federal funds on abortions. Republicans had to be satisfied that those prohibitions were not curtailed.
"Let's get out of this quickly," said Democratic Leader Harry Reid. "Let's get Loretta Lynch confirmed."
Based on reporting by the Associated Press.