Senate moves toward Iran sanctions, as Graham offers deal that would give Congress a vote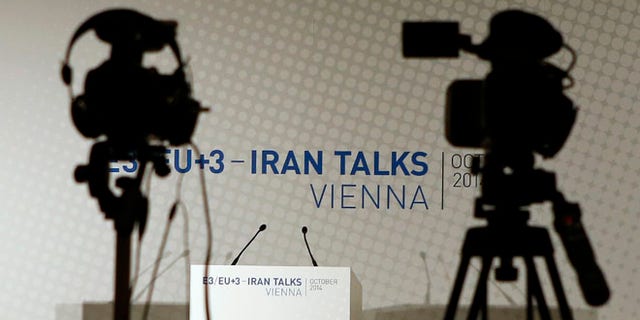 NEWYou can now listen to Fox News articles!
South Carolina GOP Sen. Lindsey Graham said Sunday that he would set aside efforts to impose more sanctions on Iran if President Obama allows Congress to vote on a final deal with that country over its nuclear program.
"I'm willing to forgo that vote with the understanding that any deal he negotiates will come to the Congress for our approval or disapproval as a check and balance," Graham said on NBC's "Meet the Press."
Imposing sanctions on Iran to force the country to curtail its nuclear enrichment program, presumably to build a nuclear weapon, has bipartisan support in Congress.
This weekend, Senate staffers confirmed with Fox News some details about upcoming legislation sponsored by Illinois GOP Sen. Mark Kirk and New Jersey Democratic Sen. Bob Menendez, members of the Senate Banking, Housing and Urban Affairs Committee.
They said the legislation supports international negotiations with Iran, provides a diplomatic insurance policy if the talks fail and that no new sanctions will be imposed if a deal is reached.
The committee will hold a hearing Tuesday on possible new penalties against Tehran, amid calls from President Obama for Congress to wait as negotiations near two key deadlines.
The United States and five other world powers are trying to reach a framework agreement with Iran by March and hope to complete a longer-term deal by June 30 that would limit Iran's ability to produce a nuclear weapon.
Iran says its program is for peaceful purposes.
Secretary of State John Kerry has stepped up talks with Iran's foreign minister, Javad Zarif, and they may hold further discussions this week when both are expected to attend the World Economic Forum in Switzerland.
Graham described congressional efforts as signaling to the Iranians that "we would like a political negotiation, a diplomatic solution. But please understand in Iran that the Congress is intent on reapplying sanctions if you walk away from the negotiating table and if you cheat."
Graham also said: "I don't think that's a disruptive message."
White House adviser Dan Pfeiffer told NBC that Graham "would like to make all the foreign policy decisions of the United States and be commander in chief. ... It's the president's authority."
Pfeiffer added, "It does not make any sense for Congress to scuttle that deal ... because that would put America in a bad place, not just in dealing with Iran but with the world."
The White House will continue to consult with Congress, he said.
Obama said at a news conference Friday that imposing new sanctions probably would doom the nuclear negotiations and heighten prospects of a military showdown. "Just hold your fire," the president pleaded to Congress, while also issuing the veto threat.
British Prime Minister David Cameron, who was visiting Washington last week, said he was calling senators to convey the message that new penalties would hurt international unity.
The Associated Press contributed to this report.