Senate Dems threaten to block DHS funding bill unless curbs on immigration action are cut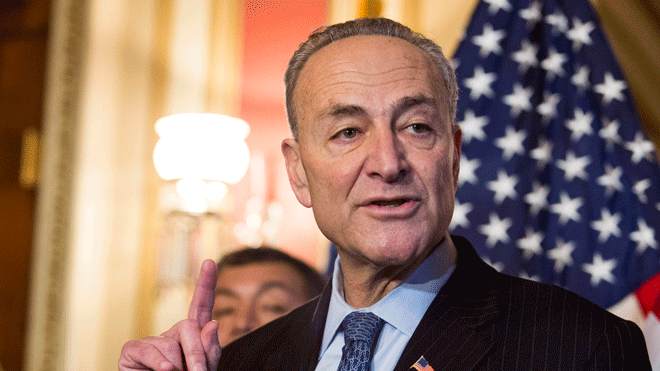 NEWYou can now listen to Fox News articles!
WASHINGTON (AP) – Senate Democrats threatened Thursday to block action on legislation funding the Department of Homeland Security (DHS) unless Republicans jettison House-passed provisions that reverse President Barack Obama's key immigration policies.
Without action by Congress by Feb. 27, the department will lose a portion of its funding for counterterrorism and other activities, an event lawmakers in both parties say they want to avoid.
Republicans have vowed since last fall they would use the funding measure to reverse Obama's recent shifts in immigration policies, and the House-passed bill is due on the Senate floor in the next few days.
But Sen. Charles Schumer, D-N.Y., said Democrats are not willing to go along, and blasted Republicans in unusually strong terms.
"They seem to dislike the idea of supporting homeland security. They dislike Dreamers more than they dislike ISIS," he said.
The term "Dreamers" applies to young immigrants brought into the country illegally with their parents. ISIS refers to the Islamic State militants who have taken over portions of Iraq and Syria.
Schumer said the Democratic rank and file is united behind a strategy of preventing action on the House-passed measure until Republicans drop the immigration provisions.
The House-passed bill provides $39.7 billion to finance the DHS through the rest of the budget year for counterterrorism, cybersecurity and other priorities at a time when attacks in Paris and elsewhere are fresh in the public's mind. Unaffected by the measure is additional money the agency receives from fees.
As passed in the House, the legislation would also reverse Obama's decision last fall to provide temporary deportation relief and work permits to an estimated 4 million immigrants in the country illegally, mostly people who have children who are citizens or legal permanent residents.
The bill also would eliminate a 2012 directive that has granted work permits and stays of deportation to more than 600,000 immigrants who arrived illegally in the U.S. under the age of 16.
Obama has threatened to veto the House-passed bill.
The Congressional Budget Office estimates that the measure would increase the federal deficit by $7.5 billion over a decade.
Like us on Facebook
Follow us on Twitter & Instagram