Senate Approves $2B To Address Child Migration Crisis; 2nd Bill Would Beef Up Border Patrol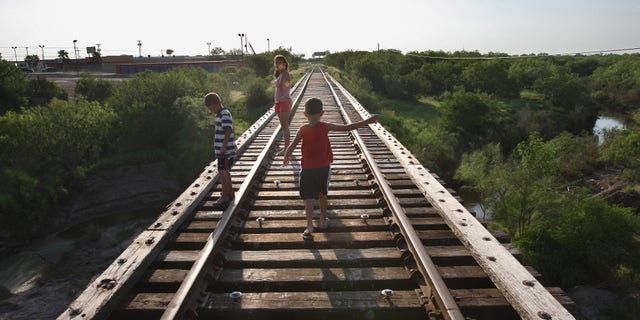 NEWYou can now listen to Fox News articles!
The growing immigration crisis at the U.S.-Mexico border, where tens of thousands of unaccompanied children have arrived in the last year, is sparking efforts in Congress to contain the situation.
On Tuesday, a Senate appropriations panel voted to give the Obama administration $2 billion it requested to handle the dramatic increase in child migration.
The money is more than $1.1 billion more than President Barack Obama initially asked for in his budget proposal for the Health and Human Services division that cares for and houses immigrant children caught alone at the border. It would effectively come from yet unspecified changes in mandatory programs.
Advocates with organization that assist undocumented immigrants and push for policies that would help them lauded the efforts to address the crisis.
"This will help the federal government and non-governmental organizations respond to the arrival of unaccompanied minors, most of whom have fled violence, suffered abuse and are, after all, kids," said Frank Sharry, founder and executive director of America's Voice, a D.C.-based group that advocates for comprehensive immigration reform.
"Not all of them will get to stay in America," Sharry said to Fox News Latino, "but every one of them deserves to be treated humanely while their request for protection is adjudicated."
Another proposed bill in the Senate would change the pay structure of the Border Patrol to add manpower and allow more flexibility around overtime wage restraints.
The bill, which is backed by Sens. John McCain, an Arizona Republican, and Jon Tester, a Missouri Democrat, could add some 1,500 border agents to help with the surge of undocumented immigrants – many of them youth traveling alone – that is overwhelming immigration authorities who are working in the area.
James W. Ziglar, who served as immigration commissioner under President George W. Bush, told Fox News Latino the proposal is only putting a Band-Aide on the problem.
"An additional 1,500 agents will help, but I don't know that it will end the problem," Ziglar said. "If people are determined to come here, they'll come."
"What we need is to do something about the overall immigration policy – it doesn't work."
Border Patrol Deputy Chief Ronald Vitiello told the Senate Homeland Security Committee on Monday that it would give the agency more capability, according to ABC News.
"It's in essence," he said, "giving us nearly 1,500 agents more capability along the borders with current staffing levels."
Brandon Judd, whose labor union represents about 17,000 border agents, noted in the Homeland Security committee hearing that the unaccompanied children influx and pay restrictions for agents are having a detrimental impact.
"It's pulling agents out of the field. They're no longer patrolling the border," he said, according to ABC. "They're having to deal with this whole influx of minors that are coming in. They're having to process them. They're having to watch them. They're having to feed them. They're having to do all these different things instead of actually being out and patrolling the border."
The number of children found trying to cross the Mexican border without parents has skyrocketed in recent years. Between 2008 and 2011, the number of children landing in the custody of HHS's Refugee Resettlement fluctuated between 6,000 and 7,500 per year.
In 2012, border agents apprehended 13,625 unaccompanied children and that number surged even more — to over 24,000 — last year. The total is expected to be as high as 90,000 this year.
Office of Management and Budget Deputy Director Brian Deese wrote to committee chairwoman Sen. Barbara Mikulski, D-Md., to formally ask for more money on May 30.
The HHS budget approved by the committee would also allow the government to move money from other areas if the flow of child immigrants grows beyond the latest estimate of up to 90,000.
The full Senate will have to approve the final version of the HHS budget. And the House has not yet acted on the issue.
Most children caught crossing the border alone are from Honduras, El Salvador and Guatemala and cannot be quickly repatriated.
Under federal law, the children are supposed to be turned over to HHS within 72 hours. Most are then reunited with parents or other relatives already living in the United States.
Because of the massive influx of children this year, the Border Patrol IN TEXAS has been forced to house many children in local patrol stations and recently has moved some young immigrants to Nogales, Arizona, where they are being quartered temporarily in a warehouse.
The administration has turned to the Department of Defense to use three military bases in California, Texas and Oklahoma to temporarily house other children once they are transferred to HHS care.
Ziglar, now a senior fellow at the Migration Policy Institute, a think tank, said unaccompanied minors arriving illegally in the United States has always been a problem.
"The surge has come and gone" over the decades, but "I have no memory of anything of this significance," Ziglar said about his time as immigration commissioner between 2001 and 2002.
"It's not totally unexpected that older kids want to come here, and that many people want to get their kids here," said Ziglar, "It's really, in a sense, the most heartbreaking of all [immigration] situations. These are minors, who are here with no family. You can't just let these kids run the streets or starve."
The Associated Press contributed to this report.