Sen. Rubio leads GOP presidential field, polls best in match-up against Clinton, survey finds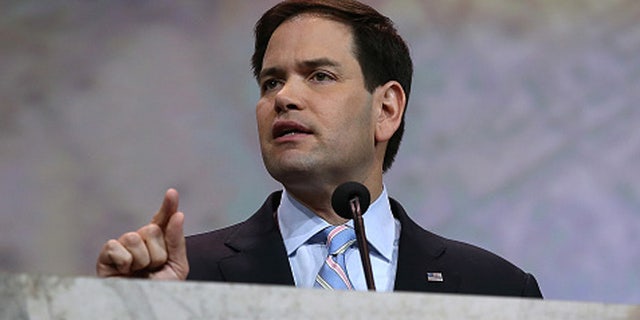 NEWYou can now listen to Fox News articles!
Sen. Marco Rubio leads the Republican pack against Democrat Hillary Clinton in the early going of the 2016 presidential race, according to a new Quinnipiac University national poll released Thursday.
The Republican primary field shows the junior senator from Florida currently grabbing 15 percent of the vote among registered Republicans, with former Florida Gov. Jeb Bush pulling in 13 percent, and Wisconsin Gov. Scott Walker with 11 percent. No other candidate tops 9 percent, and 14 percent remain undecided.
"The youngest member of the GOP presidential posse moves to the front of the pack to challenge Hillary Clinton, whose position in her own party appears rock solid," said Tim Malloy, assistant director of the Quinnipiac University poll, in a press release. "This is the kind of survey that shoots adrenalin into a campaign. Marco Rubio gets strong enough numbers and favorability ratings to look like a legit threat to Hillary Clinton."
When it comes to the general election, the poll found that Clinton would get 45 percent of the vote to 43 percent for Rubio, should they win their parties' nominations. It is the closest head-to-head match-up between the former secretary of state and any Republican challenger. Bush faired worst against Clinton, pulling in 39 percent to Clinton's 46, while Kentucky Sen. Rand Paul would draw 42 percent of voters to Clinton's 46.
In the Democratic primary race, Clinton has clear control of the field with 60 percent of possible voters supporting her, compared to 10 percent for Vice President Joe Biden and 8 percent for U.S. Sen. Bernie Sanders of Vermont. Former Maryland Gov. Martin O'Malley got 3 percent and 14 percent were undecided.
Clinton, however, does run into some issues with American voters, according to the poll.
54 percent of voters say that Clinton is not honest and trustworthy, 16 points higher than those who say she is honest – a lower score than those the top Republican candidates. Voters were also evenly divided on whether Clinton cares about their needs and problems, with 47 percent saying she does and the same number saying she doesn't.
"Yes she is a leader," Malloy said, "but can she be trusted? Mixed reviews for Hillary Clinton on key character traits."
Like us on Facebook
Follow us on Twitter & Instagram