Sen. Rubio joins growing criticism of Obama administration for not attending Paris rally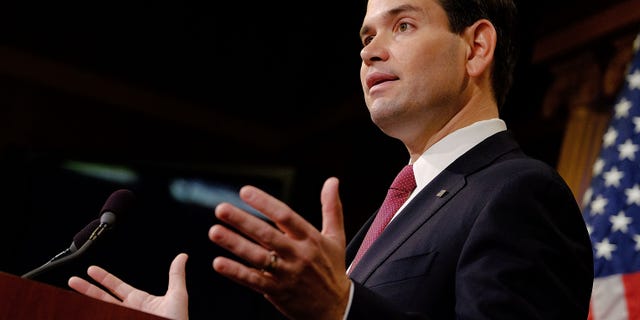 NEWYou can now listen to Fox News articles!
Sen. Marco Rubio has joined the chorus of critics who say the Obama administration should have had more of a presence at events that were held in Paris and in Washington D.C. to show support for the French people after last week's terrorist attacks.
The Florida Republican, who's considering a run for the presidency, told "CBS This Morning" on Sunday that he can understand the security concerns why the president didn't travel there but, he said, "I think, in hindsight, I would hope they would do it differently" next time.
Secretary of State John Kerry plans to be in Paris Thursday. Asked about it as he departed India Monday, he told reporters, "I really think that this is sort of quibbling a little bit."
The Obama administration did not send a senior official to Sunday's rally for unity in Paris that was attended by some 40 world leaders and more than a million people.
Kerry said at a news conference that U.S. officials, including himself and Obama, had been "deeply engaged" with French authorities almost immediately after the first attack occurred and had offered intelligence assistance.
"As everybody knows, I have been here in India for a prior planned event," he added when explaining why he was not at the Paris march. "I would have personally very much wanted to have been there but couldn't do so because of the commitment that I had here and it is important to keep these kinds of commitments."
Kerry said he is going to France to reaffirm U.S. solidarity with America's oldest ally. He said as soon as he heard about the march, he asked his team what the earliest time was that he could go.
"It's stunning, truly stunning," said Aaron David Miller, a former U.S. State Department official whose duties included determining what officials should attend certain events, according to Politico. "It's a poster child for tone deafness."
Miller said to Politico that such absence by the highest levels of the Obama administration could be justified if U.S. intelligence had learned about a major threat to Obama or the first lady, for instance, or that Obama is planning a major gathering with NATO allies about the Paris attack.
The Associated Press contributed to this report.
Follow us on twitter.com/foxnewslatino
Like us at facebook.com/foxnewslatino