Sen. Menendez donor friend, Salomon Melgen, indicted for Medicare fraud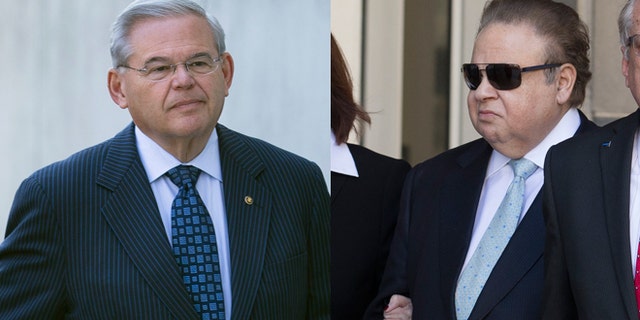 NEWYou can now listen to Fox News articles!
Associated Press – The Florida doctor charged in a political corruption case along with New Jersey Sen. Robert Menendez was indicted Tuesday in a 76-count Medicare fraud scheme that prosecutors said attempted to bilk the health care program out of as much as $190 million.
Miami U.S. Attorney Wifredo Ferrer said Dr. Salomon Melgen, 60, was charged with 46 counts of health care fraud as well as additional charges of filing false claims and making false statements. Melgen is an ophthalmologist with offices in Palm Beach and St. Lucie counties.
The indictment charges that he operated the fraud scheme between 2004 and 2013, a time frame during which Melgen billed Medicare for more than $190 million and was paid more than $105 million. In 2012 alone, health official say he billed Medicare more than any other doctor in the nation at $21 million.
"Medical professionals who violate their oath by failing to attend to the health of their patients and who submit falsified billing statements for their own personal gain jeopardize the viability of government benefit programs," Ferrer said in a statement.
"People who defraud Medicare indirectly increase the cost of health care for everyone," added George L. Piro, FBI special agent in charge of the Miami field office.
Melgen has already pleaded not guilty in the New Jersey corruption case, in which he is accused of funneling nearly $1 million in gifts and campaign donations to Menendez in exchange for political favors. Menendez, a Democrat, has also pleaded not guilty, and he is not implicated in the Medicare fraud case.
Melgen attorney Annie Lyons declined comment Tuesday on the Medicare fraud charges, but has previously said the charges are "highly defensible." Melgen is scheduled to make his first appearance in the case Wednesday in West Palm Beach federal court.
The total maximum prison time for all 76 counts — if Melgen is convicted in the health fraud case and the sentences are imposed consecutively — comes to a staggering 610 years.
According to the indictment, Melgen falsely diagnosed many patients with serious eye conditions, such as macular degeneration and retinal disorders, which allowed him to then perform unnecessary and costly procedures such as laser surgery and eye injections for which he would bill Medicare.
In addition, the indictment claims that Melgen made exorbitant profits from a costly macular degeneration drug, Lucentis, by splitting vials intended for single use into multiple-use vials and then billing Medicare as if each were for a single use. Melgen is also accused of falsifying patient and billing files and filing claims for unperformed diagnostic tests.
Melgen graduated from medical school in his native Dominican Republic and has lived in the U.S. since at least 1980, holding posts across the country while building a reputation as a top eye surgeon, records show. He was licensed in Florida in 1987 and treated "presidents, governors, politicians, celebrities and actors," the website for his four-office practice boasted before being taken down when the initial charges against him were announced earlier this month.
Melgen and Menendez have been friends for decades. The senator has said they celebrated holidays and weddings together, mourned together at funerals and exchanged gifts on birthdays.
The corruption indictment unsealed earlier this month against the men claimed Menendez intervened on his friend's behalf to gain visas for Melgen's foreign girlfriends, press Dominican officials to honor a lucrative port contract for one of the doctor's businesses and influence CMS officials on the billing dispute. In exchange, authorities say, Melgen showered the senator with flights, vacations and contributions.
In Washington on Tuesday, Menendez made the best of his diminished status in international matters Tuesday, backing bipartisan changes to a measure he had co-authored regarding Iran's nuclear program.
He surrendered his post as the top Democrat on the Foreign Relations Committee after being indicted on the corruption charges. The New Jersey senator watched Tuesday as Ben Cardin of Maryland replaced him in the Democratic leader's chair and helped usher the revised bill to unanimous committee approval.
The legislation would give Congress a say in a pending deal meant to prevent Iran from developing nuclear weapons in exchange for relief from economic sanctions. The White House accepted the compromise, which would shorten the congressional review period to 30 days.
Aside from yielding the minority party's "ranking" position on the Foreign Relations Committee, he is assuming his normal Senate role.
At Tuesday's committee session, Cardin and others praised Menendez's earlier role in crafting the Iran bill with Republicans. Menendez returned the compliments, and endorsed the final language.
"Let's send a message to Tehran that sanctions relief is not a given and certainly not a prize for signing on the dotted line," Menendez said.
Earlier, Menendez said he wasn't frustrated by his voluntary demotion on the committee. Even without the leadership post, he told reporters, "I'm playing just about any role I would, for all intents and purposes."
Like us on Facebook
Follow us on Twitter & Instagram