Sen. Marco Rubio on family's immigration story: 'I have a debt to America that I will never be able to repay'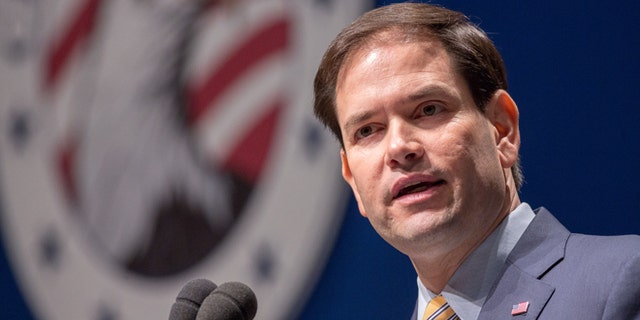 ASSOCIATED PRESS – Florida Sen. Marco Rubio spoke only briefly Saturday, taking just a few minutes on stage before conservative activists in South Carolina to share the story of his family's immigration to the United States.
"I have a debt to America that I will never be able to repay," he said.
Rubio recounted how his parents emigrated from Cuba and worked menial jobs after their arrival in this county. But he praised them for saving their money, raising four children, buying a home and living the "American dream."
He said: "They were never rich or famous, but they were successful," and added that his parents had "limited skills," but "it paid enough for them to get a better life."
Rubio, who declared his candidacy for president last month, said Saturday that people are now wondering if those days are over. He said the U.S. economy is still struggling and America is being challenged all over the word — by Iran, Russia and China.
He said: "There are question about whether the American dream will survive much longer. And he noted that too many people are "living from paycheck to paycheck," graduating from college owing thousands in student loans and are unable to find jobs.
Like us on Facebook
Follow us on Twitter & Instagram