Sen. Cotton calls on Trump to decertify Iran nuke deal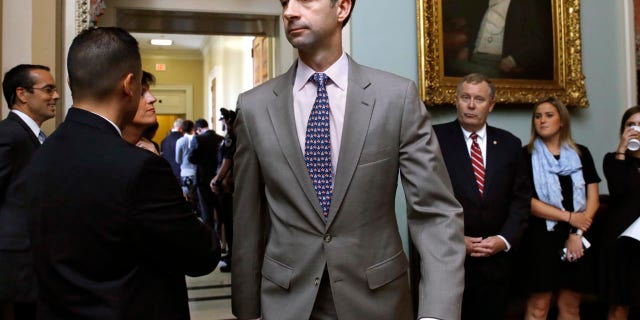 NEWYou can now listen to Fox News articles!
Hours after Defense Secretary Jim Mattis said the U.S. should remain in the Iran nuclear deal, Sen. Tom Cotton, R-Ark., called on the Trump administration to decertify the 2015 accord.
Cotton, a member of the Senate Armed Services Committee, told an audience at the Council of Foreign Relations that President Donald Trump was correct in calling the deal "a direct national security threat."
"Put simply, this deal only makes sense if you assume, contrary to all experience, that Iran will evolve into a peaceful, law-abiding regime in ten years," Cotton said. "To put that differently, it was the Obama administration -- not its critics -- that based our Iran policy on a fanciful vision of regime change."
"Decertification" could lead Congress to reintroduce economic sanctions on Iran that were suspended under the deal. If that happens, Iran has threatened to walk away from the arrangement and restart activities that could take it closer to nuclear weapons.
Trump has called the agreement one of America's "worst and most one-sided transactions" ever.
Officials said what Trump hates most is a provision — known as the Iran Nuclear Agreement Review Act — that requires him to tell Congress every three months if Iran is meeting promises to scale back its nuclear program in exchange for broad international relief from oil, trade and financial sanctions.
But Trump has said repeatedly that he doesn't want to certify Iranian compliance again after having done so twice already.
"They are two different pieces," Mattis said, referring to the Iran Nuclear Agreement Review Act and the international agreement. "I've been dealing with the president and the secretary of state and it is being considered in terms of security for the U.S. — the law plus the agreement."
Trump declared last month that he made up his mind on what he'll do next.
Late last month, Secretary of State Rex Tillerson suggested that the president had made his decision on whether to withdraw from the agreement but had not shared that decision "externally."
Gen. Joseph Dunford, chairman of the Joint Chiefs of Staff, told the Senate Foreign Relations Committee on Tuesday, "Iran is not in material breach of the agreement and I do believe the agreement to date has delayed the development of a nuclear capability by Iran."
The Associated Press contributed to this report.