Security concerns after 500 pounds of still-missing explosives stolen from federal bunker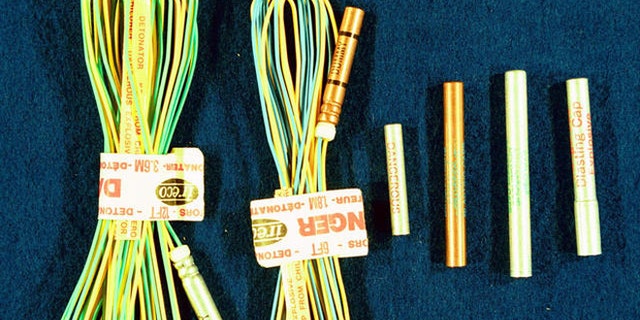 Around the same time the nation was transfixed on the hunt for the Boston Marathon bombers last month, thieves on the other side of the country pulled off a little-noticed heist -- swiping 559 pounds of explosives from a federal storage facility in Montana.
As of Friday, not one ounce of it has been found.
The incident, federal officials believe, was not terrorism-related. But it's the latest to raise security concerns in an age when authorities are warning about the desire of violence-bent terrorists to inflict mass casualties with bombs.
Rep. Steve Daines, Montana's only congressman, told FoxNews.com he's "deeply concerned" about the theft in his state and will be "closely monitoring" the investigation.
The explosives were stolen from a locked U.S. Forest Service bunker near Billings. Thieves took off with various emulsion-type explosives, cast boosters and detonating cord.
Federal officials weren't able to point to why the explosives were taken and have downplayed what could happen if they fall into the wrong hands. Some in the area -- who did not want to be named publicly -- believe the facility might have been looted by local miners or by private forestry-related companies that want to bypass buying the explosives legally.
[pullquote]
The types of items that were taken are often used in mines, to clear rockslides and construction trails, and to blow up animal carcasses. Strapping sticks of dynamite to a dead animal is a common method used in the region to dispose of the bodies. When animals -- like elk or horses -- start decomposing, the scent attracts bigger animals like bears to populated areas.
Carbon County Sheriff Thomas Rieger told FoxNews.com his office is working with federal authorities to find the culprit but admits it's disturbing to think that someone walked off with hundreds of pounds of bomb-making material.
"We still don't have any idea who done it," Rieger said, adding, "It's under a full investigation."
Daines, a member of the Homeland Security Committee, said he's looking into the investigation and it's "critical that the USFS, ATF and local law enforcement find answers about how the security of this site was breached and work to strengthen the security measures for these storage sites to ensure that a theft like this does not happen again."
Bureau of Alcohol, Tobacco, Firearms and Explosives spokesman Brad Beyersdorf said the agency is offering a $5,000 reward for information on the incident. Stealing explosives and possession of stolen explosives is punishable by up to 10 years in prison. To date, there have been no arrests made in connection to the case, though the Billings Gazette reports that the ATF is chasing some recent leads.
While Beyersdorf stressed that security at ATF-affiliated facilities in the country is tight, there have been an alarming amount of explosives lost from private sites over the past decade.
On Aug. 11, 2011, Travis McQueen broke into storage units at the Buckley Powder Company in Cass County, Neb., and stole 100 pounds of blasting agents, two cases of boosters and 3,000 feet of detonating cord. Authorities in the eastern Nebraska area put up flyers asking residents for help in cracking the case. An anonymous caller led federal agents to McQueen. Soon thereafter, authorities arrested Christopher Bousman in connection to the crime.
According to court records, McQueen stole the explosives and asked Bousman to help get rid of them. The two dumped the bulk of the stolen property into the Missouri and Platte rivers. McQueen was sentenced to 63 months in prison. On Monday, an Omaha federal judge sentenced Bousman to 18 months behind bars followed by three years of supervised release, Criminal Chief Jan Sharp told FoxNews.com.
Not much of the blasting agent was recovered after it was thrown into the river, Sharp said. The incident is the only sizeable theft of this nature in Nebraska.
In 2005, massive amounts of stolen explosives were also found after they went missing from the Cherry Engineering storage site near Albuquerque, N.M. ATF agents recovered 150 pounds of C-4 explosives, 250 pounds of sheet explosives, 20,000 feet of detonator cord and 2,500 blasting caps.
Federal authorities at the time said they didn't know what the thieves planned to do with the material but did say the amount that went missing was enough to flatten a large building. Most of the explosives eventually turned up in Bloomfield and Ignacio.
The problem of stolen dynamite isn't just a domestic one.
Missing explosives and other weapons made in the U.S. or under the guard of U.S. security forces, have mysteriously disappeared from multiple locations across the world -- most recently in Kuwait. The Interior Ministry said last month thieves broke into an unguarded warehouse and took 20,000 U.S.-origin M-16 assault rifles. Also lifted were 15,000 rounds of ammunition for 9mm pistols. According to Middle East Newsline, thieves broke down three doors before clearing out all the contents in the warehouse.