Secret Plan B? HHS boss denies claim agency preparing fallback if court guts ObamaCare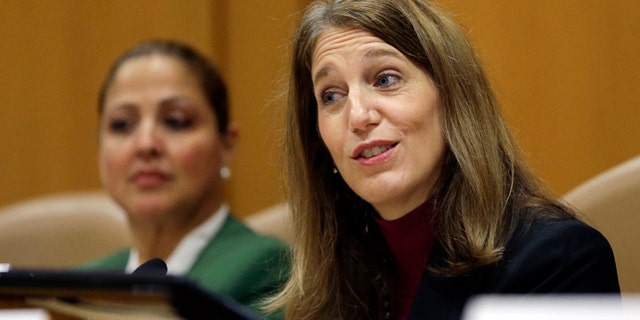 NEWYou can now listen to Fox News articles!
WASHINGTON – Health and Human Services Secretary Sylvia Burwell reiterated to Congress Thursday that the Obama administration does not have a Plan B if the Supreme Court strikes down a key part of the Affordable Care Act -- despite a Republican congressman claiming he heard a contingency plan is being drafted.
Rep. Joseph Pitts, R-Pa., who chairs a House health subcommittee, claimed he has been told the Obama administration is preparing a 100-page contingency plan in case it loses the high court challenge. The Supreme Court next week is hearing a case over whether subsidies at the heart of the law can be distributed through the federal health care exchange.
Pitts gave no further information about a potential Plan B, but said he got information about the report from a source in the Health and Human Services Department.
When Pitts, during a congressional hearing, directly asked Burwell Thursday about the existence of a report, she testified she was unaware of such a document.
"So, if the court strikes it down, the administration is just going to say, 'we surrender?'" Pitts asked.
Burwell answered, "An administrative remedy is something we don't believe we have."
Burwell's testimony came as Republican lawmakers grilled the HHS secretary about what President Obama plans to do if the justices say the Affordable Care Act reserved premium tax credits for customers on state-established exchanges, and not for those relying on the federal exchange known as HealthCare.gov.
Congressional Republicans have been angered for weeks by administration officials' refusal to say directly whether they are planning for a possible loss in the court case. Burwell has said the administration believes it will win the case, and that no administrative actions could solve the problems that would result should it lose.
Such responses have not helped the GOP-controlled Congress. Should the court nullify the subsidies, many lawmakers will feel pressure to propose a way to help the millions of Americans who could suddenly find their federally mandated health care unaffordable.
On March 4, the Supreme Court will be asked to decide whether the IRS illegally extended subsidies to millions of Americans in order to underwrite the cost of their health insurance policies under the Affordable Care Act, also known as ObamaCare.
The language of the law says the subsidies will be awarded in states that set up their own exchanges, but more than three dozen states opted not to do that. Despite that fact, the IRS extended subsidies into those states.
Burwell has repeatedly said striking down the current subsidy structure would be "devastating."
Grace-Marie Turner, founder of the Galen Institute, which advocates for free market health care reform, said GOP leaders are ready to step in.
Galen also said lawmakers could offer a temporary solution that would give states more control over subsidies, but stop short of gutting the ACA.
"I do think there's a chance that if they do this right, if they play their cards right, that the president would, in fact, sign it," Turner added.
Republicans, who control Congress after having won the Senate in November, say dismantling ObamaCare remains a priority. But they appear to think their best chance of undoing the 2010 law is the court case. And they have so far taken a wait-and-see approach, instead of trying to immediately repeal the law or dismantle it in parts.
Some ACA critics fear the Supreme Court may hesitate to block the current subsidies because of a lack of confidence in the legislative branch in general.
Fox News' Doug McKelway, Shannon Bream and The Associated Press contributed to this report.