Sean Spicer promises to 'set the record straight' in upcoming book
Former White House Press Secretary Sean Spicer announced on Monday he was inspired to write a book because he "looked back at the coverage" of Trump's campaign, transition and the first few months of the administration and wants to offer a truthful account of the three stages.
"The stories that are being told are not an accurate represent[ation] of what President Trump went through to get the nomination, to transition to the White House and then his first six months in office," Spicer told Sean Hannity. "I'm going to write a book… to set the record straight.
Spicer promises to "give people a real understanding of what happened" during each of the crucial points in Trump's journey. Hannity called it "one of the most fascinating elections ever" and said he looked forward to reading Spicer's side of the story.
"There is a lot of stuff that [mainstream media] got wrong," Spicer said.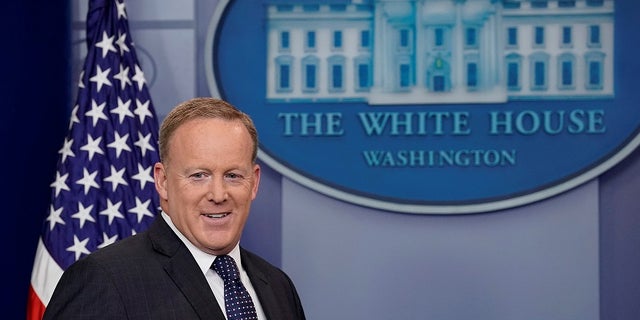 Spicer became a household name after combative press briefings resulted in NBC's "Saturday Night Live" parodying him on a regular basis. Melissa McCarthy famously played an exaggerated version of Spicer who travelled around New York City on a motorized podium. Spicer even joked in September that he wanted to "share" in McCarthy's Emmy win.
Regnery Publishing offered a brief synopsis of the upcoming book, "Sean Spicer takes readers behind the scenes of his turbulent tenure as President Trump's press secretary, shedding new light on the headline-grabbing controversies of the Trump administration's first year."
Spicer resigned as press secretary in July and his former deputy, Sarah Sanders, took over the gig. He quietly stayed on as a White House staffer until August to ensure a smooth transition.
"I especially want to thank the President and the First Lady for their support during my tenure and for giving me this opportunity. Walking into the White House every day is a privilege that few in our country experience and I am grateful for it," Spicer wrote in a final email to White House staff, noting that his role working for President Trump had been the "honor of a lifetime."
"The Briefing" is scheduled to hit book stores on July 23.